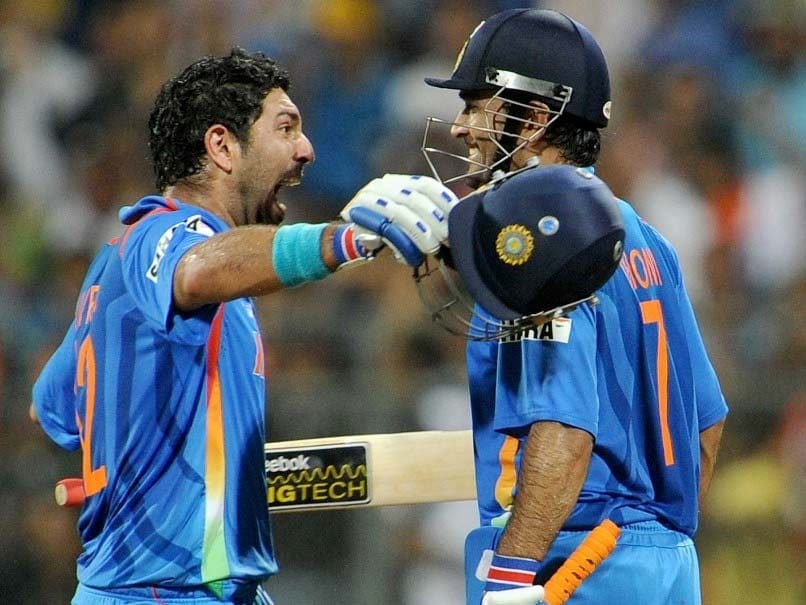 Yuvraj Singh has played a major part of his career under MS Dhoni's leadership.
© AFP
Applauding MS Dhoni for his decision to quit limited-overs captaincy, star batsman Yuvraj Singh has said that him and the wicketkeeper-batsman can start playing fearless cricket, like they used to in the earlier days.
"It will be like the old days playing with him (Dhoni) when we had started. Obviously, I started much before him (Yuvraj made his India debut in 2000 and Dhoni in 2004) but back then we were fearless when we used to play together. We can do the same this time, in the upcoming series," Yuvraj told bcci.tv on Monday.
"I think he took a very good decision in stepping down (as captain)," he added.
"We have won the T20 World Cup, the ICC World Cup and the ICC Champions Trophy and were also the number one Test team under him. I'm not sure how many captains have that," Yuvraj said.
The Punjab batsman also said that Dhoni had to hand over the team to the next man in order to prepare for the 2019 World Cup in England.
"I'm sure he saw that it's time for the next guy to take over and build the team for the 2019 World Cup and he must have seen that in Virat (Kohli)," he said.
'Kohli commands performance'
"Talking about Virat Kohli, I have seen him grow up in front of my eyes as a youngster and was always getting better and better. What's special about Virat is that he commands performance. He has been very consistent throughout his career and that fire and consistency has converted him into a very good captain.
"I think that is what he demands from the team all the time. 100 percent commitment and that's the hallmark of a good captain. Every year he gets better with his performances. He I think sets his own goals tries to get better with every performance.
"Earlier, he (Kohli) used to get lot of runs, converted them into hundreds and then this year he has started getting double hundreds. I don't know, who averages over 50 in all three formats. Hopefully, Virat continues that and takes India to the next level," Yuvraj said.
Yuvraj, who was recalled to the Indian ODI side for the England series, also highlighted the fact that he was working extremely hard on his fitness.
"I need to be very careful with everything I do. The science of fitness has advanced and that is how we are learning," he said, "If you see the boys in the Indian team, everybody is training pretty hard and physically fit. Being physically fit is a very important part of improving mental strength," the 35-year-old said.
Dhoni stepped down from India's limited-over cricket captaincy last week but remained available for selection. Kohli, India's Test skipper, was given charge of the limited-overs sides and will look to implement his vision for the side going forward.
(With inputs from PTI)