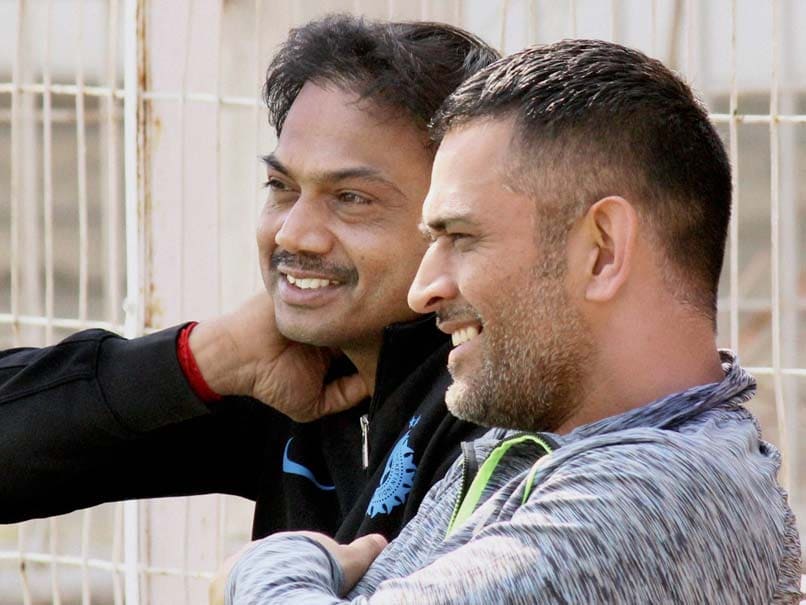 MS Dhoni led India to a win over Pakistan in the Asia Cup.
© PTI
Former India captain MS Dhoni played another crucial knock on Sunday to help the team clinch the match and series against Sri Lanka with a win in the 3rd ODI at Pallekele. This knock comes on the back of another stellar innings from the wicketkeeper-batsman in the 2nd ODI where he teamed up with Bhuvneshwar Kumar to script a thrilling win for the visitors. The back-to-back knocks helped highlight the value Dhoni adds to the Indian team even at this stage of his career. There is a lot of focus on Dhoni at the moment as Team India prepares to get its combinations right for the 2019 World Cup. Chief selector MSK Prasad's comment about looking at alternatives if Dhoni does not perform created quite a stir in the cricketing circles. Prasad was even trolled by Dhoni fans for his statement. However, Prasad's latest remarks are bound to bring a smile on the faces of fans of the World Cup winning skipper.
Speaking at an event, Prasad shared an interesting anecdote about Dhoni and his commitment to the team. Prasad (who was a selector at the time) recalled an incident when Dhoni had injured himself ahead of India's Asia Cup match against Pakistan.
"While training at the gym late in the night, Dhoni picked up weights and suddenly there was a catch in his back and (he) fell with the weight. Thankfully, the weight did not fall on him. He could not walk, he was literally crawling. He pressed the alarm bell, and the medical staff immediately came and attended him. He was taken on stretcher.
"As I reached Dhaka, the journalists questioned about Dhoni and I had no answers. The game against Pakistan was crucial, that too, it was on a seaming track. So, I went to Dhoni's room to know what the issue was. He said, 'don't worry MSK bhai.' I even asked him what should I tell the scribes, and the answer again was 'don't worry MSK bhai.' I asked him whether we should call for a replacement, and he again told me not to worry,", Prasad said.
Considering the importance of the match, Prasad was worried about Dhoni's potential absence.
"There was so much pressure before a big match. The next morning I went to his room and he told me not to worry. But I felt things were not right. (As a selector) I couldn't take Dhoni's words for granted, so I called up the then chief selector Sandeep Patil and told him the situation. Immediately, Parthiv Patel was sent in as a replacement. By evening, Parthiv had joined the team," Prasad said.
"I went to his room in the evening and he was just trying to get up from his bed. I asked him if things are alright. As per the Asia Cup rules, we had to submit the team list 24 hours before a game, so I had to check on him. He clearly said that he would play," he added.
Prasad once again went to Dhoni for a chat.
"Again at 11 pm, when I went to his room, he was not there. Fortunately, I went to the top floor and I saw Dhoni was trying hard to walk towards the swimming pool. He was literally crawling. Dhoni said he was trying to walk. I was thinking how could he even think of playing when he could barely walk. Dhoni looked at me and said, 'don't worry, you have anyway got Parthiv without telling me. So, you are safe," Prasad said.
On match day however, a padded up Dhoni took everyone by surprise.
"Before the team was announced in the afternoon, Dhoni was all dressed up for the game. He called me to his room and asked me why was I worrying so much? Then he said, 'even if my one leg is not there, I will still play against Pakistan'. This is what Dhoni is made of," Prasad said.
Dhoni went on to lead India to a win over Pakistan in that match.