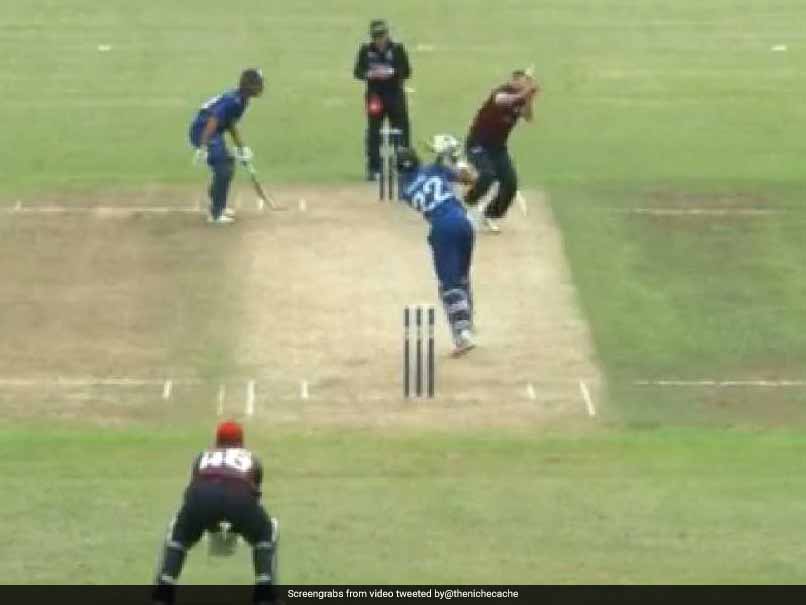 Mercifully, Andrew Ellis was not badly hurt.
© Twitter
The world of cricket has seen many players sending the cricket ball out of the park with their brute power. The moment we refer to brutal hitting, the names of Shahid Afridi, Virender Sehwag, AB de Villiers, Chris Gayle, Brendon McCullum, Glenn Maxwell and many more pop up in our minds. But, New Zealand's Indian-origin cricketer Jeet Raval managed to do what these power-hitters couldn't. He got a six even after the ball hit the bowler's head! The incident happened during New Zealand's domestic 50-over competition Ford Trophy match between Auckland and Canterbury on Wednesday and a video of the same was posted on Twitter.
Ol' Jeets used Andy's head as a ramp today. Don't worry, nobody died. #FordTrophy https://t.co/g2EsYaYifJ

— The Niche Cache (@thenichecache) February 21, 2018
Raval stepped out against the medium pacer Andrew Ellis and struck a meaty blow. The ball struck Ellis' head and soared over the long-on for a six. The on-field umpire initially signalled a boundary, before revising his decision to a six.
Mercifully, Ellis was not badly hurt.
The 29-year-old Raval scored a brilliant 149 off 153 balls to power Auckland to 304/6 in 50 overs. His inning was studded with 10 fours and 4 sixes, In reply, Canterbury were bundled out for 197 in 37.2 overs.
"Whenever anybody gets hit in the head, your immediate concern is for the person, and I was worried Andrew had hurt himself," Raval, who has played 9 Tests for New Zealand, was quoted as saying by ESPNcricinfo.
"But, thankfully, it soon looked like he hadn't been injured by what had seemed a nasty blow. He's a true Cantab, a very tough nut, and it was a relief for me to see him carry on and complete the game without any visible effects. My hope for him is that he won't experience any delayed concussion. It's certainly not pleasant for anyone to experience that in a game," Raval said.