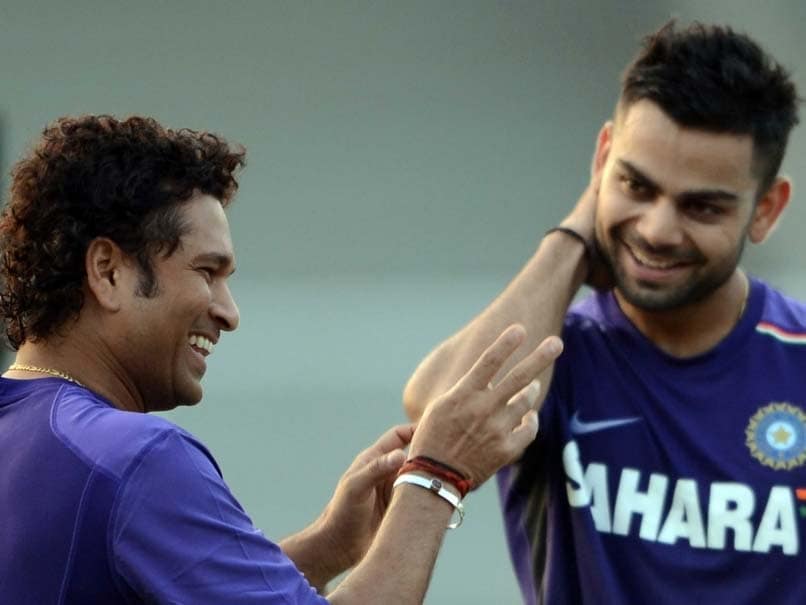 Virat Kohli is the only player capable of breaking Sachin Tendulkar's centuries record, feels Akhtar.
© AFP
Virat Kohli has received high praise from across the border time and again. It's no secret that former and current crop of Pakistan cricketers have immense respect for the India skipper and Kohli too has been magnanimous in his praise for some Pakistan cricketers. However, one Pakistan cricketer in particular has always had kind words for Kohli -- Shoaib Akhtar. The Pakistani fast bowling legend was once again all praise for Kohli and said that he can play till the age of 44 and is the only player in the world capable of breaking Sachin Tendulkar's record of 100 international centuries.
 
Speaking to Khaleej Times, Akhtar dubbed Kohli a "modern great" but asked for comparisons between him and Sachin to stop.
 
Akhtar also pointed Kohli's fitness level and said that if Misbah-ul-Haq could play until 43 then so could the Indian captain.
 
"Virat Kohli is a modern-day great. When it comes to run chases, no one has ever shown better understanding of pacing an innings. Yes he has 50 international centuries now. I think he is the only player who can break Tendulkar's record. But there is no pressure on him. He should just go out there and enjoy the game. He should just look after himself," said the former Pakistan pacer.
 
"If Misbah-ul-Haq can play until 43, I am sure Virat can play until he is 44. If he plays that long and if he continues to score the way he is doing now, I have no doubt that he is the only one who can do it. In fact, he can hit 120 centuries," he added.
 
"But comparing him to Sachin is not justified. Sachin was an all-time great. In today's era, Virat Kohli is the greatest batsman."
 
Speaking on the show 'Breakfast With Champions', Kohli had taken Shoaib Akhtar's name when asked about the toughest bowler he had faced.
 
Akhtar reciprocated the love and said that it would have been great if he had played more against Kohli. The Pakistani pacer also recalled his first memories of the current Indian skipper.
 
"It would have been great if I had played against him a bit more. Unfortunately he was too young towards the end of my career. He only faced one ball from me in Sri Lanka.
 
"I was struggling with my knee. Then I remember this young kid with a lot of tattoos in his arm who was shuffling around the crease. But he had a spark and we all discussed about it in the Pakistan dressing room."