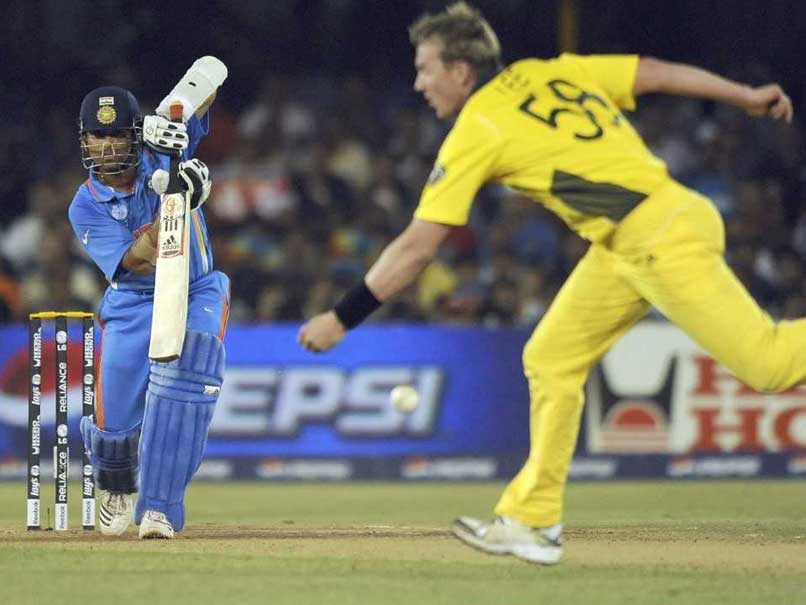 Sachin Tendulkar's reply came after Brett Lee introduced him with his biggest fan.
© AFP
Former Australia pacer Brett Lee has played a lot of cricket against India and Sachin Tendulkar. While Tendulkar has launched Lee many a times over the ropes, the fiery pacer too has dismissed the batting legend on many occasions. After Lee discovered Tendulkar's 'biggest fan' on Sunday and posted a picture on his Instagram account, the India batting icon replied the Australian by saying: " Thanks Binga! You've at last yorked me here... A big thank you to the fan for all his support."
Tendulkar's reply came after Lee introduced Tendulkar with his biggest fan.
"Hey @sachintendulkar I think I have found your biggest fan! 1 Proud supporter for sure. I promised him I would show you so here it is #ink," Lee had posted on his Instagram account.
The fan got Tendulkar's image inked on his shoulder and Lee, while taking his picture, promised the fan that he would show his picture to Tendulkar.
Replying to Tendulkar's tweet, Lee wrote: "Ha ha. Even though that I yorked you, you would probably find a way to deflect it down a third man,"
In 12 Tests against India, Lee has claimed 53 wickets, including two five-wicket hauls.
Lee has also played 32 ODIs against India, claiming 55 wickets. The Australian has four 5-wicket hauls to his name.
The former Australian speedster, who retired in 2012, played 221 ODIs and 76 Test matches for his country. He has 380 wickets in ODIs and 310 in Tests.
Tendulkar has played 39 Tests against Australia in his career, scoring 3630 runs at an average of 55.00. The batting icon has 11 centuries and 16 half-centuries to his name against the Aussies.
In ODIs too, Tendulkar dominated Australia with his power-pack batting. He has 3077 runs in 71 ODIs at an average of 44.59, including nine centuries.