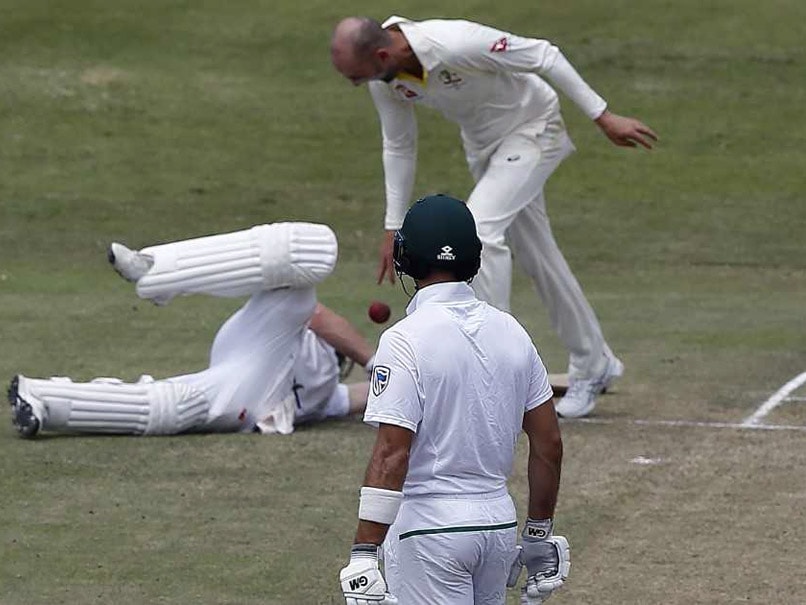 Nathan Lyon drops the ball on AB de Villiers after running him out during the 1st Test
© AFP
Australia off-spinner Nathan Lyon has been charged with a Level 1 breach of the International Cricket Council (ICC) Code of Conduct for his involvement in the run out of star South African batsman AB de Villiers, reported cricket.com.au. De Villiers was run out for a duck after being involved in a mix-up with opening batsman Aiden Markram, with David Warner playing a key fielding role in securing the crucial wicket. Lyon, who received the ball from Warner, dislodged the bails and dropped the ball towards De Villiers, who was lying on the ground after having dived to make his ground. Warner, the Australian vice-captain then led ecstatic celebrations with his teammates.
The off-spinner could also be fined up to 50 per cent of his match fees and be given up to two demerit points to his record.
Four points to Lyon's record would mean that he will be missing a Test.
A Cricket Australia spokesperson has said that Lyon has been in constant touch with De Villiers to convey that the celebration was not intentional and has apologised too.
The Australians had earlier been criticised by former South Africa captain Graeme Smith for their animated celebration of the dramatic run-out of De Villiers.
"We've got used to Davey (Warner) over the years. I think the less interest you take in him the better," Smith was quoted by cricket.com.au as saying.
"He can be a bit of a fool at times. It's best just to let him be," Smith further added.