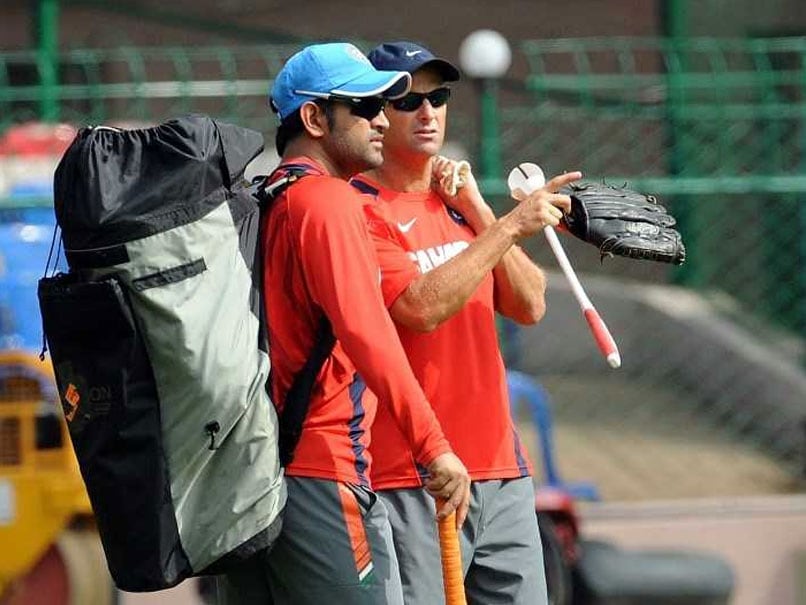 Gary Kirsten became the first professional coach to guide India to a World Cup win.
© AFP
It is almost eight years since Mahendra Singh Dhoni-led Team India lifted the coveted ICC World Cup trophy at the jam-packed Wankhede Stadium in Mumbai. Dhoni carted Sri Lanka's Nuwan Kulasekara for a huge six, winning the 2011 World Cup for India on April 2, sending the Wankhede crowd into raptures. For the then World Cup-winning coach Gary Kirsten, the feeling is still alive and the South African still loves to sit back and relive the historic moment. He still recalls the moment of being carried on the shoulders of the victorious Men in Blue amidst the cheers of "India! India! India!"
Kirsten became the first professional coach to guide India to a World Cup win. PR Man Singh was the team manager when the Kapil Dev-led India lifted their maiden World Cup title in 1983 at The Lord's.
Kirsten ended his tenure as coach after India's historic win.
NDTV.com caught up with Kirsten in an exclusive interview, where he spoke about India's 2011 triumph, Dhoni's hunger for runs and India's chances in the 2019 World Cup.
Question: You guided India to World Cup title in 2011. How does it feel when you recall that historic day?
Gary Kirsten: I have amazing memories and will cherish all the friendships built in that time as well. We became a family.
Q: How do you rate MS Dhoni's reinvention? Is there any change from outside that you can pick which has triggered this change in him?
GK: He just keeps producing and his hunger for performance is amazing. I don't think he has reinvented anything, he has just got back at his incredible consistent best.
Q: After the 2011 glory, do you think Dhoni can win India another World Cup in 2019?
GK: Lots of teams have a chance including India, so it will be an exciting tournament.
Q: Without Smith and Warner, will it be easier for India to beat Australia when they tour down under later this year?
GK: It will be a great series and I will be watching closely.
Q: How beneficial will the county experience be for Virat Kohli?
GK: Players have to do whatever they can to gain an edge. He is the ultimate professional and I'm sure it will benefit him hugely.
Q: How has been the coaching experience with RCB this IPL?
GK: Fantastic environment and people and have enjoyed every minute of it.
Q: India won the Under-19 World Cup this year and instantly we see U-19 players like Prithvi Shaw, Shubhman Gill playing in IPL. Is IPL the right platform for these players at such an early stage of their careers?
GK: I think it is a great platform for any young player to showcase skills and develop their games. They get to play and chat with the best players in the game, how can that not benefit them.
Q: You are going to launch a cricket academy in India. What will you focus more on - batsman or bowler?
GK: We will be focusing on all aspects of the game and will have programs designed around each age group and skill level as well. We want to provide as best a platform as possible to help players get to another level.
Q: Are you in talks with any other Indian or foreign (current or former) players to play a role in the academy in India?
GK: Not at the moment. I will be coming back to do quite a bit of work in Pune and look forward to helping drive the business forward. We will be running specialist camps in time and we will definitely be looking to bring in some expertise.
Q: You've coached Delhi Daredevils and now Royal Challengers Bangalore. Will you keep an eye on raw Indian talent from domestic circle?
GK: The talent in India is just incredible and I have been excited to see all the players come through. That is what the IPL is all about really. If you look at all the young players that have used the IPL as a launching pad for their careers, it is just amazing.