Story Progress
Back to home
India Test Will be Difficult For Bangladesh: Shakib Al Hasan
India will be playing a one-off Test match against Bangladesh in Hyderabad from February 9 to 13.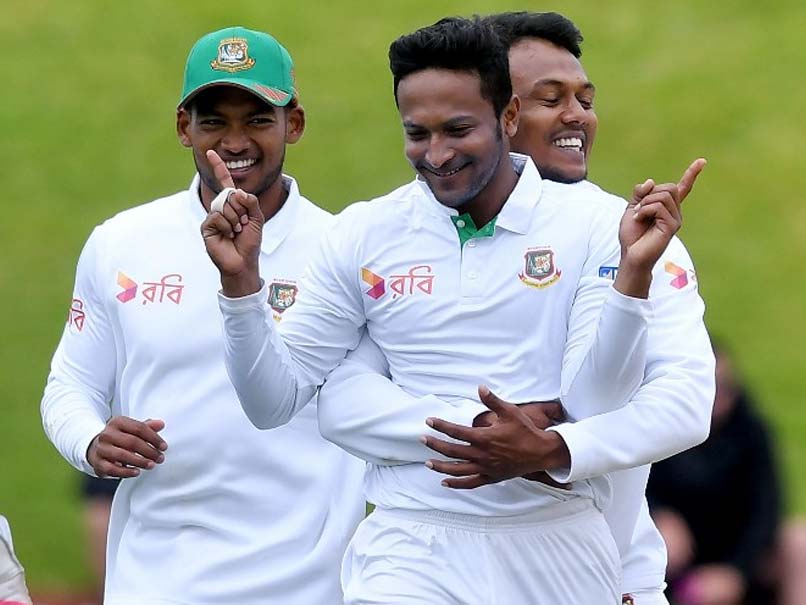 Shakib Al Hasan will be key for Bangladesh in their Test match vs India.
© AFP
Highlights
India will play Bangladesh in a one-off Test vs Bangladesh

The match will be played in Hyderabad

The game will be played from February 9 to 13
Bangladesh all-rounder Shakib Al Hasan on Sunday said that the one-off Test match against India will be a difficult task for the visiting team. India will host Bangladesh in a Test that will be played in Hyderabad from February 9 to 13. The seasoned cricketer added that they would like to put their best foot forward in the upcoming Test against world number one India. The Test match will be held at the Rajiv Gandhi International Cricket stadium in Hyderabad from February 9.
"Playing a Test in India for the first time is exciting. We know it is not easy and India is number one at the moment. It will be difficult for us but that is why we play cricket -face the challenge and do well," the all-rounder told reporters on the sidelines of a two-day warm-up game against India A.
The team needs to put up a collective effort to the best of its ability to do well against India, he said.
Observing that the Indian team is a formidable one at the moment with its spin attack, fast bowlers and batting department raising the bar, Shakib reiterated that his team needs to be at its best to make it tough for the host.
He appreciated India captain Virat Kohli and others for their performances in recent times.
He said his experience of playing in the IPL would come in handy.
He said the young players, including the bowlers, in his side have been doing a good job.
Soumya-Mushfiq carried Bangladesh before declaration.
Read more about the warmup game: https://t.co/feia35tDXw pic.twitter.com/RBvFMrqmxW

— Bangladesh Cricket (@BCBtigers) February 5, 2017
Meanwhile, India A bowler Aniket Choudhary, who claimed four wickets today at the Gymkhana grounds, said it is a good feeling.
"It's a big thing for me that I came to India A and doing well and took four wickets. It is a good feeling for me," he said.
"The wicket suited my bowling," he added.
Choudhary missed a hat-trick in the 61st over of the day.
"The ball was changed. The ball (we were bowling) became old and soft. Then, we spoke to the umpire, spoke to the skipper that we should change the ball. The umpire said okay. I missed five wickets as there was a good chance but it's okay. Next time, I will definitely take," he said.
Choudhary added, "It's very important for me to play for country. I have been doing well in Ranji trophy. I got this chance also."
Promoted
He said he was expecting a India A call last year also.
(With inputs from PTI)
Topics mentioned in this article