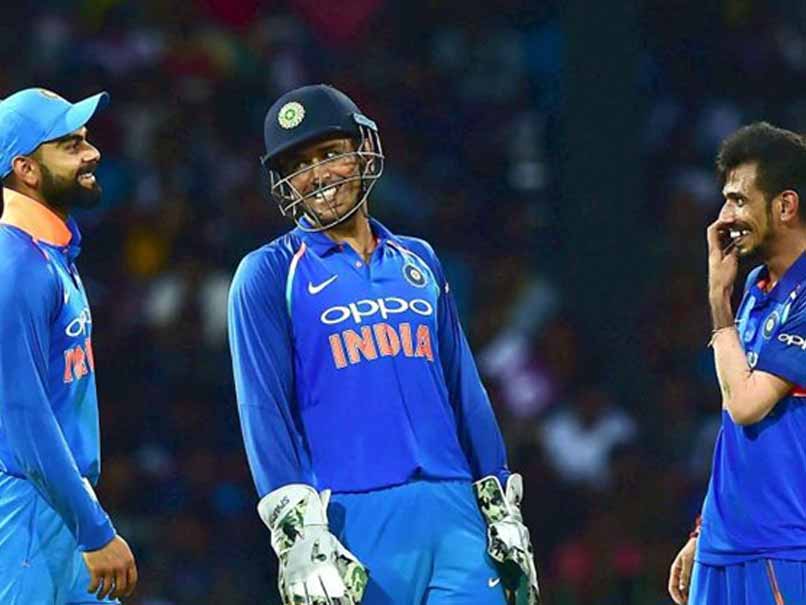 Highlights: India vs New Zealand, 2nd ODI in Pune
© PTI
Chasing a target of 231, India lost Rohit Sharma (7) early as Tim Southee struck for New Zealand. Shikhar Dhawan and Virat Kohli (29) scored at a brisk pace before the Indian captain was caught by Latham against the run of play. Dinesh Karthik joined Dhawan as India never really looked in any kind of pressure as both the players kept the scoreboard moving. Dhawan (68) departed trying to go after Adam Milne but Hardik Pandya and Karthik took the hosts at the cusp of victory. Pandya (30) lost his wicket with India needing 27 more runs to win. Karthik (64*) and Dhoni (18*) made sure that there are no more hiccups in the run chase as India reached the target with four overs to spare. Earlier, an all-round bowling effort saw India restrict New Zealand to a modest total of 230 for 9 in their 50 overs. Bhuvneshwar Kumar was the pick of the bowlers for India as he returned with figures of 3 for 45. The third ODI that will be played at Green Park, Kanpur on Sunday, October 29 now becomes a decider with both teams winning a match each in the series. (SCORECARD)
Highlights Between India vs New Zealand straight from Pune
20:56 IST: Four! Lovely shot by Dinesh Karthik to finish the game. India 232 for 4 in 46 overs. Beat New Zealand by six wickets to level the 3-match series 1-1.
20:54 IST: One coming of that Milne over.
20:50 IST: Adam Milne comes on to the attack.
20:47 IST: Four! First on the on-side and then followed it up with a back foot punch through the off-side. Dhoni is in a hurry to finish this match. Boult needs to bowl to his field and not on both sides of the wicket.
20:44 IST: India need 16 off 42 balls. That brings an end to Santner's spell. He has picked up a wicket and given away 38 runs in his 10 overs.
20:42 IST Four! Boult again drifting down Dhoni's pads and the former India captain is a too good a player to miss out on that. Just flicks of his legs for a boundary.
20:40 IST: Boult comes back on.
20:38 IST: MS Dhoni is the next batsman and gets off the mark with a single.
20:36 IST: Wicket: Pandya goes for the sweep shot but picked up the wrong ball. That was fired in by Santner and it ended up as a full toss. Pandya got a top-edge and the man at short fine-leg makes no mistake.
20:30 IST: Four! Short and wide from de Grandhomme. Allowed Karthik to open his arms and he doesn't miss out on those. Brings up his 9th ODI fifty. 
20:28 IST: Santner bowled it wide. That was there to be hit but Pandya failed to make a good connection. No runs.
20:26 IST: Santner comes back on. Is there a big shot round the corner with Pandya still at the crease? This will be an interesting contest.
20:24 IST: Four! Back to back boundaries for Pandya. This is turning out to be a big over for India. Pandya is taking the attack to Southee here.
20:23 IST: Four! Scrambled seam slower short ball from Southee and Pandya picked it up early and found the gap between fine-leg and square-leg. 
20:20 IST: Runs coming in ones and twos at the moment. India 178 for 3 in 37 overs.
20:15 IST: Southee bowls it short and Pandya went for the pull. Just falling short of the deep square leg fielder. He will get a single.
20:12 IST: India 168 for 3 in 35 overs. Need 63 off 90 balls.
20:10 IST: Boult comes back on to the attack. New Zealand looking for wickets and rightly so as that is the only way they can win this match. At the moment India are running away with the match.
20:07 IST: Close call! Pandya tries to push it off the back foot but fails to get any kind of timing on it. It was in the air for quite sometime but just falls short of Santner at covers.
20:07 IST: Another huge appeal for leg before but clearly going over the stumps. No danger for Karthik there.
20:05 IST: Karthik clips it of his hips and sets off for a couple. That was a tight second run there but makes it easily at the end.
20:04 IST: Milne to continue and the umpires are confused who should be on strike. After a little pause in play, they seemed to have figured it out. Karthik to take strike.
19:59 IST: Six! Just as we speak, Pandya hits Santner out of the park. That was in the slot and Pandya doesn't need a second invitation.
19:58 IST: Santner to continue. This will be an interesting contest between Pandya and Santner.
19:55 IST: Hardik Pandya takes a couple. That brings up the 150 for India in the 32nd over.
19:51 IST: Another quiet over from Santner comes to an end. Only two coming from it. 
19:47 IST: End of a wicket maiden. Hardik Pandya is the new man in. India need 86 runs off 120 balls.
19:44 IST: Wicket: Dhawan comes down the track, doesn't get enough of it and Taylor at covers takes an easy catch. Milne strikes for New Zealand. India lose their third wicket.
19:37 IST: Huge appeal from Southee for a leg before but clearly too high to be given out. The Kiwis are desperate for a wicket here.
19:32 IST: SIX! Dhawan hits it over long-on for a maximum. 
19:27 IST: 3 coming of that Santner over. India 126 for 2 in 25 overs.
19:26 IST: Mitchell Santner comes back on to the attack.
19:24 IST: Four! de Grandhomme bowls a juicy half volley wide outside off stump and Dinesh Karthik found the man at backward point but Guptill there makes a mess of that and it runs away for a boundary.
19:21 IST: A tight second run there. Needed a dive from Dhawan and he makes his ground.
19:18 IST: Dhawan goes for the quick single and makes it easily. Brings up his 22nd ODI fifty.
19:15 IST: de Grandhomme chipping away with his overs. Gives away only two in his fifth over.
19:12 IST: Four coming from Munro's first over. India 104 for 2 in 21 overs.
19:10 IST: Dhawan looking to work it fine on the on side, may have missed the ball altogether. The bowler and the wicket-keeper are convinced that there was an edge and the umpire raises the finger. Dhawan immediately goes for the review. Replays suggest there was no contact with the bat. So the decision has to be reversed. To add to their misery, the umpire now calls it a wide ball. Colin Munro looks visibly disappointed.
19:07 IST: Dhawan drives but will only get a single for that. 100 up for India in 20 overs.
19:04 IST: In the last five overs, India have just managed to score 12 runs.
19:01 IST: Boult again drifting into Dhawan's pads and the left-hander flicks it away. Good work at fine-leg prevents a boundary. Milne saved two there.
18:59 IST: Two coming of that de Grandhomme over. India 92 for 2 in 18 overs.
18:52 IST: Boult comes back on to the attack. Concedes four runs as players take a drinks break.
18:48 IST: India 86 for 2 after 16 overs.
18:43 IST: That was a fast yorker from Milne. Took Karthik by surprise. Just missed the stumps.
18:40 IST: Four! Great way to get off the mark. Dinesh Karthik just guides it through the third man region and with the man up in the circle, it runs away to the fence.
18:38 IST: Wicket! Colin de Grandhomme comes on to the attack and takes the big wicket of Virat Kohli. Bowled it wide of the stumps, almost enticing Kohli to hit on the up, gets a thin edge and Latham behind the stumps makes no mistake. Big wicket!
18:34 IST: Both Kohli and Dhawan are scoring at a brisk pace. 50-run partnership comes up between the two. India 72 for 1 in 13 overs.
18:29 IST: That ball came back in with the arm from Santner. Took Kohli by surprise as it skidded off the pitch. Huge appeal for leg before but the umpire is not interested. Santner looks disappointed.
18:27 IST: India 66 for 1 in 11 overs chasing 231.
18:23 IST: So runs coming in singles in that Santner over. Five from the over.
18:20 IST: Mitchell Santner comes on to the attack. This is an interesting move by Williamson.
18:18 IST: Four! Kohli trying to hit it through the off-side, gets a thick inside edge and it runs away to the boundary. Southee had no chance of cutting that of standing at mid on.
18:17 IST: Adam Milne comes on to the attack replacing Southee.
18:14 IST: Six! Boult comes round the wicket. Bowls it short and Kohli hooks it out of the park. Clearly this plan is not working for New Zealand. India 55 for 1 in 8 overs.
18:10 IST: Southee followed it up again with a short ball. Dhawan goes for the hook but misses it. Huge appeal for caught behind but the umpire is not impressed. Williamson goes for the review but there was nothing there. Dhawan survives. The short ball theory almost worked for the Kiwis.
18:09 IST: Six! Short again from Southee. This time Dhawan pulls it for a maximum.
18:07 IST: Four! Short again from Southee and easy pickings for Kohli. Pulls it in front of square for a boundary. The Kiwis have been guilty of bowling too short here.
18:04 IST: Four! Short again from Boult and Dhawan just helps it over first slip in place for a boundary.
18:03 IST: Four Leg Byes! Boult drifting down the leg-side, hits the thigh pad of Dhawan and off it goes into the fence.
18:02 IST: Beautifully bowled by Boult. Dhawan did well not to edge that one. Pitched on a length and just moves away a shade. Dhawan feeling for the ball, luckily missed the edge.
18:01 IST: Four! Too full from Southee and Kohli hits it straight past mid on. India 28 for 1 in 5 overs.
18:00 IST: That brings Virat Kohli to the crease and the Indian captain is off the mark with a couple.
17:57 IST: Wicket! Rohit played it uppishly off his legs and straight to the man at square-leg. Not the best of balls to pick up a wicket but Southee will take it any day. India lose their first wicket.
17:55 IST: Four! Punched of the back foot and Dhawan will get four for that. Beautiful shot. Southee bowls it back of a length and Dhawan responds in great fashion.
17:52 IST: Four! Boult drifting down the pads of Dhawan and the left-hander won't miss out on those opportunities. Lovely shot off his legs.
17:51 IST: After 3 overs India are 12 for 0.
17:48 IST: Four! Short from Southee and Rohit pulls it through square-leg for a boundary.
17:46 IST: Swung back into the right-hander and Rohit helps it for 3 runs. Boult is getting the ball to move a bit. So both the openers are off the mark.
17:43 IST: Four! Short outside off stump from Boult and Shikhar Dhawan flashes hard at it. Goes over the top of the slips and into the fence.
17:43 IST: Trent Boult to share the new ball with Southee.  
17:42 IST: Southee starts off with a maiden. India none for none after the first over.
17:40 IST: Southee right on the money from the very first ball. Rohit looking to leave most of the balls outside the off stump.
17:37 IST: Rohit Sharma to take strike as Tim Southee will start the proceedings for New Zealand.
17:35 IST: Welcome back to the run chase. Both the Indian openers are out there in the middle. 
16:55 IST: So no boundaries coming in the last over. New Zealand could only manage 230 for 9 in their 50 overs. India would be very happy with their efforts in the field. 
16:52 IST: Bhuvneshwar Kumar to bowl the last over for India.
16:50 IST: Huge appeal for leg before by Bumrah but the umpire rules it in favour of the batsman. Kohli goes for the review but replays suggest it is going down the leg side. Southee survives. 
16:48 IST: Wicket! Santner tries to go for the big one. Doesn't get hold of it and Kohli completes an easy catch at long off. Bumrah gets his second wicket of the match.
16:47 IST: SIx! Southee using the long handle to good effect. Targets the cow corner and clears the fence easily. Bumrah bowled a length ball and paid the penalty.
16:45 IST: Four! Another inside edge runs away to the boundary. These are crucial runs for New Zealand. Doesn't matter how they come. Santner moves on to 29 with that boundary. Bhuvneshwar won't be happy at all. This is the second time it has happened in this spell.
16:41 IST: After 47 overs, New Zealand are 203/8
16:34 IST: Four! Southee goes for the big shot and plays the chinese cut to perfection. Fine leg too square. Will get a boundary. Bhuvneshwar looks a bit disappointed with the result.
16:32 IST: One coming in the over. New Zealand 192 for 8 in 45 overs.
16:28 IST: Bumrah comes back on with New Zealand struggling at the moment.
16:26 IST: Tim Southee survives the hat-trick ball. End of a very successful over.
16:23 IST: Wicket! Another one. Adam Milne departs without troubling the scorers. Trapped right in front as Chahal picks up his second wicket of the over. Two in two for Chahal. He is on a hat-trick.
16:23 IST: Wicket! Smart piece of bowling from Chahal. Bowled it wide, inviting Grandhomme to go for the big one and all he could do was to edge it to short third-man.
16:20 IST: An expensive over from Axar comes to an end. 12 coming of that over that included a six and a four.
16:19 ISt: Six! Santner goes down in one knee and smashes Axar over mid-wicket.
16:14 IST: So both the spinners are bowling in tandem now. Chahal comes back on.
16:12 IST: Now Kohli brings back Axar Patel. 
16:11 IST: Mitchell Santner is the new batsman. New Zealand 168 for 6 in 40 overs.
16:08 IST: So India chipping away at the wickets. Every time New Zealand have build a partnership and looked to get on with the game, India have struck.
16:01 IST: Wicket! Bhuvneshwar comes back and gives India the breakthrough. Bhuvi comes round the wicket and gets the ball to come back into the left-hander. Nicholls went for the big expansive drive but it went through the gate. Clean Bowled!
16:00 IST; Missed Opportunity! Nicholls calls Grandhomme for a quick single and a direct hit from Jadhav would have seen him well short of the crease.
15:59 IST: Double change by Kohli. Brings back both his fast bowlers. Bhuvneshwar would look to get something out of this track. With two new balls from both ends, it has almost taken the reverse swing out of the game.
15:57 IST: Good comeback from Bumrah. Almost got the breakthrough for India. Grandhomme lucky to be still there. Bowled it back of a length, came back a shade and went through the bat and pad of Grandhomme. New Zealand 162 for 5 in 37 overs.
15:55 IST: Bumrah comes back on. Bowls it on Grandhomme pads and the right-hander is growing in confidence every ball. Once again whipped it off his pads and gets a boundary.
15:51 IST: Nearly got the wicket of Grandhomme there. Jadhav saw him coming down the track, pushed it wide of the stumps and Grandhomme just managed to get some bat on to that.
15:50 IST: Four! Lovely shot from Grandhomme again. He is looking more and more impressive here. Just a little flick of the wrists, played it with the spin over mid-wicket and finds the boundary. Wasn;t such a bad ball from Jadhav. Just great execution from Grandhomme.
15:48 IST: Change of bowling. Jadhav replaces Axar Patel.
15:46 IST: Six! This is very impressive batting from Grandhomme. Steps down the track to Chahal and hits it straight for a maximum. New Zealand get a move on. 
15:43 IST: Four! So flurry of boundaries in the last couple of overs. This time Nicholls comes to the party. Steps down to Chahal who bowled it short and Nicholls cuts it for a boundary.
15:43 IST: Four! That is an excellent shot. Slightly short from Axar and Grandhomme opens the face of the bat and gets it square. Beats the sweeper cover.
15:41 IST: Four! Grandhomme comes down the track and lofts Axar over mid-wicket for a boundary.
15:40 IST: Four! Slightly overpitched from Chahal and Grandhomme puts it away in style.
15:35 IST: Chahal comes up with a maiden over. New Zealand 118 for 5 in 31 overs.
15:30 IST: Colin de Grandhomme is the new man in for New Zealand.
15:28 IST: Wicket: That is a big wicket. Latham going too far across, trying to play the sweep shot but misses the ball and Axar Patel hits the timber. Axar came round the wicket and may be the angle did him there. India will take it. New Zealand lose half their side.
15:27 IST: Latham again goes for the sweep, doesn't get it of the middle of the bat and was in the air for quite sometime. At the end just fell short of the backward square-leg fielder in the circle. Chahal is creating opportunities here.
15;23 IST: Four! Axar giving a bit of room and Nicholls upto the mark. Gets it through the gap on the off-side. New Zealand 116 for 4 in 28 overs.
15:22 IST: 50 runs partnership comes up between Latham and Nicholls. A much needed one for the Kiwis.
15:21 IST: Chahal creating some problems for both the left-handers. End of another good over.
15:17 IST: 100 comes up for New Zealand at the end of the 26th over.
15:14 IST: Good over from Chahal comes to an end. He got the edge once as Latham tried to defend a ball but Dhoni failed to gather it. 
15:11 IST: Yuzvendra Chahal comes on to the attack.
15:10 IST: Axar Patel so far hasn't tried anything different. Just trying to be as economical as possible. He has given away 11 out of his 3 overs.
15:03 IST: After 22 overs, New Zealand are 80 for 4
15:02 IST: The Indian spinners have done a solid job so far. Latham and Nicholls need to stitch together a partnership here.
14:55 IST: Another excellent over from Kedar.
14:48 IST: Four! Short from Jadhav and Nicholls smashes it away for a boundary.
14:48 IST: Henry Nicholls is the new man in for the Kiwis.
14:44 IST: Wicket: Pandya bowls it short and all Taylor could do was to get a thin edge while trying to pull it away. New Zealand lose their fourth wicket.
14:41 IST: Four! Welcome boundary for the Kiwis. Taylor gets on top of that ball and finds the gap through cover and point. Nothing much Pandya could do about that. Just a very good shot.
14:37 IST: Another good over from Jadhav slips by. Only two coming of that over.
14:33 IST: So five singles coming from that Pandya over. New Zealand 51 for 3 in 14 overs.
14:29 IST: Jadhav to continue. The last time New Zealand were here, Jadhav picked up three wickets at Mohali. Whether or not he can repeat the same feat, only time will tell.
14:26 IST: Four! Width on offer and Taylor pounces on to that like a hungry tiger. Pandya needs to get his line right. 
14:24 IST: Hardik Pandya is the second change bowler for India after Bhuvi and Bumrah finished their opening spells.
14:22 IST: Since Jadhav is a round arm off-spinner, it might work against the left-handed Latham who loves sweeping. Interesting move from Kohli. Jadhav gives away a single in the first over.
14:21 IST: Kedar Jadhav comes on as the first change bowler. That's a bit of a surprise considering he didn't get a bowl in the first ODI when India needed to break the Taylor-Latham partnership. But he gets a go ahead in the second match.
14:20 IST: New Zealand 35 for 3 in 10 overs.
14:14 IST: Four! Great shot from Latham. Just hit through the line and finds the gap through the off-side. You can see the confidence there. Bhuvi trying to cramp him for room but Latham got enough there to go for the drive.
14:12 IST: After 8 overs New Zealand 27 for 3.
14:10 IST: Tom Lathan joins Ross Taylor in the middle. This is the same pair that took the match away from India at Wankhede. They added 200 runs for the fourth wicket that helped New Zealand to chase down the target.
14:07 IST: Wicket: Bhuvneshwar has gone right through Munro's defence. That was the knuckle ball and Munro couldn't do much. New Zealand have lost their top-order with not too many on the board.
14: 04 IST: Ross Taylor is the new man in. New Zealand are in a spot of bother at the moment.
14:00 IST: New Zealand 26 for 2 after 6 overs.
13:57 IST: Wicket! Another good ball from Bumrah. Pitched on a length and came back in. Williamson caught on the crease, may have hit him a bit higher in the pads but the umpire raises the finger. Williamson goes for the review. Well, that could have gone either way. Replays suggest it would have just clipped the bails but since the on-field umpire gave it out, the decision cannot be over turned. Williamson has to take the long walk back.
13:53 IST: Great ball from Bhuvi. Williamson feeling for that one, just outside the off stump. Gets beaten.
13:50 IST: Good over from Bumrah. Hardly missed the mark. After an expensive first over, Bumrah comes back and bowls a maiden.
13:45 IST: Williamson gets off the mark straight away. So eight coming of that Bhuvi over and a wicket. New Zealand 21 for 1.
13:43 IST: So that brings the New Zealand captain Kane Williamson at the crease. 
13: 42 IST: Wicket: Bhuvi gets the breakthrough. Guptill playing away from the body, gets the outside edge and that ball just about carried to Dhoni. New Zealand 20 for 1 in 2.4 overs.
13:40 IST: Six! Munro comes down the track and hits Bhuvi straight over the top of the bowlers head. Exactly what he has been sent out to do. 
13:39 IST: Bumrah ends the over with a jaffa. Pitched on a length and came back in. Guptill was beaten all ends up. Guptill played outside the line of the ball.
13:38 IST: Four! Back to back boundaries for Guptill. Same length and the result the same. Bumrah needs to bowl a bit fuller, This already looks like a great surface to bat on.
13:37 IST: Four! Back of a length from Bumrah and Guptill stands up tall and hits it off the back foot for a boundary.
13:36 IST: So two coming of the first over from Bhuvi. Jasprit Bumrah to share the new ball with Bhuvi.
13:34 IST: Short from Bhuvi and Munro pulls it down to fine0leg. Not the most convincing pull shot but enough to get him off the mark. So both the openers have opened their account. 
13:32 IST: Munro's first ball and Bhuvi almost gets him. Pitched on line and came back in to the left-hander. Munro just managed to get an inside edge. 
13:31 IST: A little push on the off side and Guptill sets off for a single. New Zealand are off and away. So is Guptill.
13:30 IST: Martin Guptill to face first ball. Bhuvneshwar Kumar will start the proceedings for India.
13:29 IST: The Indians are in a huddle at the moment. Both the New Zealand openers, Martin Guptill and Colin Munro are out there in the middle. We are all in readiness for the first ball.
13:27 IST: Having said all that, India still are a very good side. They are still the favourites to win the series. As Kohli righly mentioned at the toss that his team has won 9 out of 11 matches in the recent times.
13:24 IST: Choosing Axar over Kuldeep clearly indicates that India wanted to strengthen their batting line-up. The defeat at Wankhede could well be a wake up call for the Indians.
13:19 IST: New Zealand on the other hand would look to carry on with the momentum and seal the series here in Pune. They certainly looked like a side who can pretty well achieve that on Sunday in the first ODI.
13:17 IST: India need to pick up early wickets and restrict New Zealand to a modest total. Chasing more than run a ball in a must-win match can always be tricky. 
13:14 IST: Kohli wanted to field first if he would have won the toss. So he would be happy with Kiwis batting first.
13:12 IST: The pitch here in Pune looks to be a good batting surface. There is a bit of grass which may go on to assist the seamers early on. Sunil Gavaskar reckons there will be more bounce and carry in the second innings because of the dew. Overall, not such a bad toss to lose for Virat Kohli.
13:11 IST: India probably didn't bowl as badly as New Zealand made them look like. Ross Taylor and Tom Latham were brilliant that day and credit needs to be given when it is due.
13:05 IST: India have made one change. Axar Patel comes in for Kuldeep Yadav.
13:02 IST: New Zealand have gone in with an unchanged side.
13:01 IST: It is toss time here in Pune. New Zealand have won the toss and elected to bat.
13:00 IST: Welcome to the second ODI between India and New Zealand.
The hosts, no doubt, were off-colour at Wankhede but the Virat Kohli-led side is expected to come back hard at the Black Caps. Kohli led from the front on Sunday with his 31st ODI ton but did not get the support from his team. India head coach Ravi Shastri too would want the rest of the side to step up.