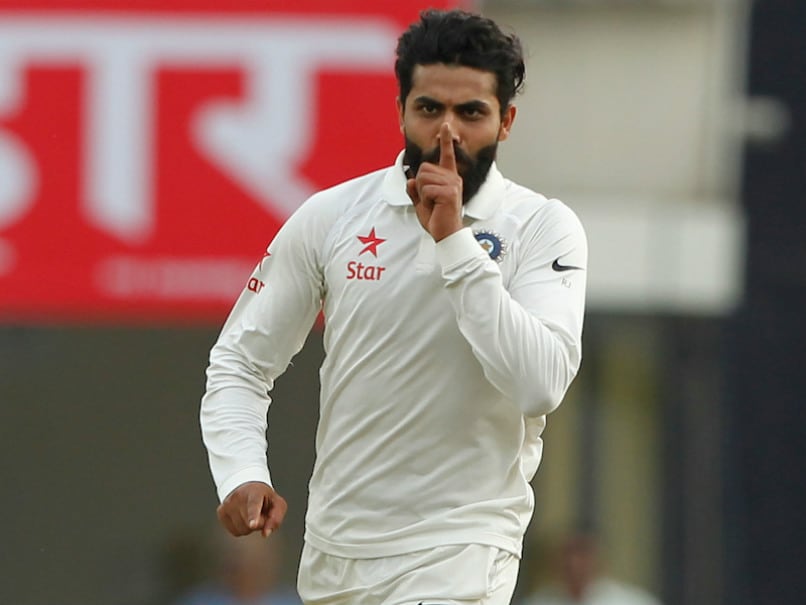 India vs Australia: Ravindra Jadeja struck twice to leave the visitors in a precarious position.
© BCCI
India took charge of the third Test against Australia following the heroics of Cheteshwar Pujara and Wriddhiman Saha with the bat, and Ravindra Jadeja's exploits late in the day. Visiting coach Darren Lehmann on Sunday spoke about the challenges that lay ahead of his team on the final day with a special focus on Jadeja. The rough created by the bowlers will be ideal for the Indian spinner when bowling to left-handers, which Australia have ample of in their batting line-up. Lehmann said that his team will need to "come up with a plan to combat Jadeja".
In reply to Australia's 451, India posted a mammoth 603 for nine declared thanks to Pujara's record 525-ball 202 and Saha's career-best 117, giving the hosts a 152-run lead.
"Going to have to come up with a plan to combat Jadeja but we've worked on that and you'll probably see it tomorrow I would think," Lehmann said after the penultimate day's proceedings.
"They've got to believe in what they are doing as a group and a couple of good balls like tonight that can happen in a game of cricket. For us it's a great challenge. The challenge for our group is to put on a couple of partnerships and really get ahead of the game."
Australia were put into bat, having to deal with a tricky last seven overs. And the dangers of facing Jadeja on such a wicket were quickly on show as the left-arm spinner produced an unplayable ball to send David Warner (14) packing in the fifth over.
Australia, wary of Jadeja, sent nightwatchman Nathan Lyon to deal with the final couple of overs, however, that didn't go as planned either as Jadeja produced yet another beauty to clean bowl Lyon and leave Australia in a precarious score of 23 for two, still needing 129 runs with eight wickets in hand to avoid a first innings defeat.
Jadeja exploited the footmarks and the wear and tear in the pitch, something that has given him a fair amount of success in the past. The Indian all-rounder ended the day with figures of 2/6 in 3.2 overs to add to his fifer in the first innings.
"It was a great ball that got Warner in the end. If they bowl 10 of those so be it. But we've got to cope with it as best as we can and come up with a plan and we've done a lot of practice in those conditions, so I'm really confident they can do the job and see how they go. It'll be a great challenge for them," Lehmann said.
"Tough to lose those two wickets tonight, they were some good balls for them. Good challenge for the group to put it into practice tomorrow and we've got to do that and to deliver on the big stage."
"Obviously we've got to save the game and worry about tomorrow first. It's a case of obviously applying ourselves much like Pujara and Saha did today," Lehmann said.
The Australian coach spoke highly of India's double centurion and was all praise for Pujara's discipline.
"He's very disciplined and played really well. That's why he is a class player. He bats for a long period of time. His conversion rate from 50 to 100 and 100 to 150 are pretty high. When he gets in, he likes to go on with it. That's a challenge for our bowling group. To find a way to get him out early."
(With PTI Inputs)