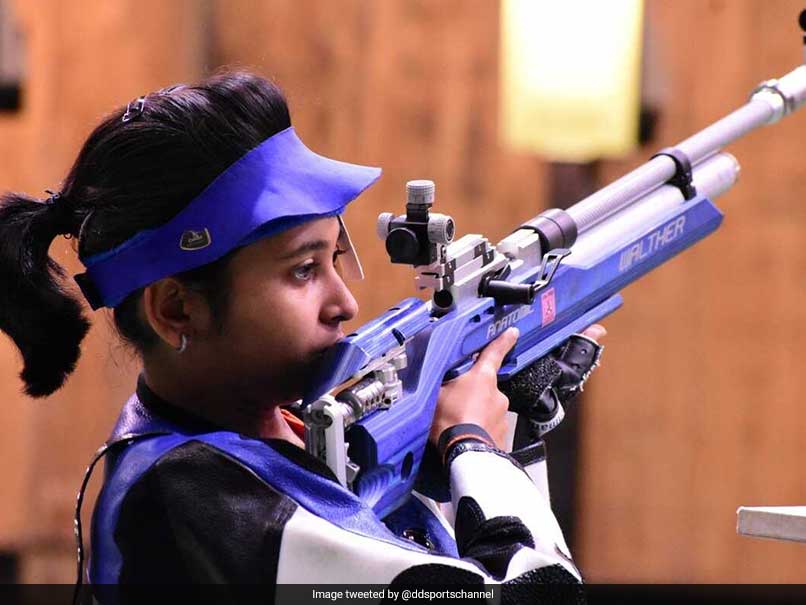 Mehuli Ghosh clinched the silver medal in women's 10m air rifle event.
© Twitter
Indian shooters continued to impress at the 2018 Commonwealth Games in Gold Coast, Australia as Mehuli Ghosh won the silver medal while Apurvi Chandela bagged the bronze in the women's 10m Air Rifle event on Monday. While Apurvi blazed her on trail in the qualification stage earlier in the day, breaking the Commonwealth Games record, Mehuli showed great form in the finals, outs-shooting her more experienced countrywoman. Singapore's Martina Lindsay Veloso of Singapore won the gold medal but not before Mehuli gave her a massive fright.
Mehuli and Veloso were involved in a shoot-off after both were tied at a Commonwealth Games record score of 247.2 in the final.
Apurvi was eliminated following two poor scores of 9.9 and 9.4. That left Mehuli and Veloso to battle it out for the gold. The Singaporean shooter of .8, going into the final two shots.
Mehuli shot a 10.3 to Veloso's 10.0 to leave her just .5 behind the Singapore shooter. In the final shot, Veloso shot a 10.4 leaving Apurvi needing a perfect score to tie with Veloso.
After taking a few deep breaths, Mehuli did the unthinkable by shooting a perfect 10.9 to take the final into a shoot-off. Mehuli sported a massive grin as Veloso was left shell-shocked by the stunning turn of events.
However, it was Veloso who held her nerves in the shoot-off as Mehuli faltered. The Indian shooter could only get a score of 9.9 and Veloso shot a 10.3 to clinch the gold.