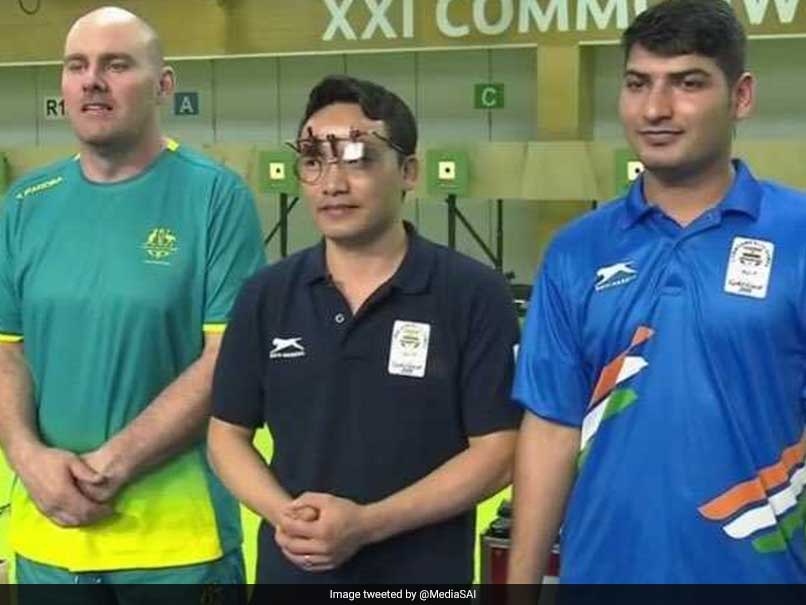 Jitu Rai won the gold with a new Commonwealth Games record while Om Mitharval claimed the bronze.
© Twitter
Indian shooters had started their 2018 Commonwealth Games campaign on Day 4 with a bang and Day 5 started much the same way as Jitu Rai won the gold while Om Mitharval bagged the bronze medal in men's 10m air pistol event on Monday. En route to the gold medal, Jitu Rai also smashed the Commonwealth Games record with a total score of 235.1 while Mitharval shot 214.3. Manu Bhaker and Heena Sidhu had won gold and silver, respectively in the women's 10m air pistol event on Sunday to give India a rollicking start. Ravi Kumar clinched the bronze in men's 10m air rifle event as India claimed three medal on Day 1 of shooting events.
In the first shooting event of the day, Mitharval and Jitu Rai came out all guns blazing, qualifying for the finals in first and fourth place, respectively.
Mitharval, especially, looked on fire equalling the qualification Games record.
However, there was a role reversal in the finals as Jitu Rai made the top position his own in the finals.
Jitu Rai and Mitharval were in medal positions for much of the event. Jitu led with 100.4 at the end of stage 1, while Mitharval was third with 98.1.
In stage 2 elimination, Jitu Rai started with 10.3 and 10.3 to lead the pecking order, even as his compatriot moved up and displaced Bell at second place with two 10.1s.
Jitu Rai continued to extend his lead over his opponents and another 10.2 had him head and shoulders above the rest. But towards the end Jitu Rai's accuracy started tapering off and an 8.4 and 9.2 saw Mitharval close the gap on his compatriot.
However, Mitharval slipped after that even as Rai managed another 10.0 and maintained the lead throughout to emerge triumphant.
Australia's Kerry Bell managed to secure the silver medal with 233.5.
(With PTI Inputs)