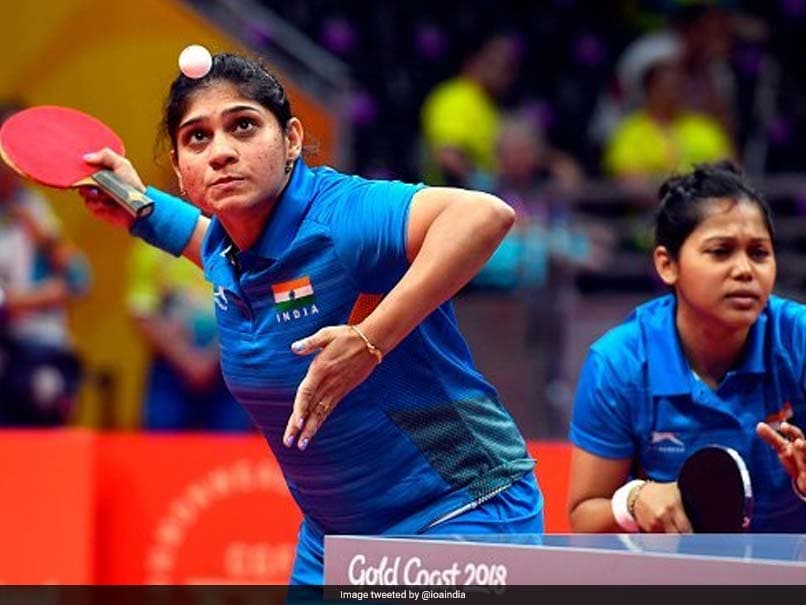 The pair of Madhurika Mouma Das beat the Malaysian pair of Ying Ho and Ai Xin Tee
© Twitter
The Indian table tennis contingent continued their fine form as they comfortably eased past their opponents in the quarter-final of both men's and women's events in the 2018 Commonwealth Games on Saturday. By virtue of their wins, they booked their place in the semi-finals of the event. While the women's team were the first to advance to the last four by beating Malaysia 3-0, the men's team followed suit as they beat the Malaysians with the same scoreline. Manika Batra started the proceedings with a comfortable 11-9, 11-7, 11-7 win over Malaysia's Ying Ho in the opening match.
Madhurika Patkar slipped up a bit when she lost the opening game of the second match to Karen Lyne. But the Indian bounced back in style in the next two games before blowing away her opponent in the fourth game to claim a 7-11, 11-9, 11-9, 11-3 victory. Madhurika then paired up with Mouma Das to beat the Malaysian pair of Ying Ho and Ai Xin Tee 11-8, 10-12, 11-8, 11-7 to seal the tie.
The Indian women's team will face England in the semi-finals on Sunday.
In the men's match, Harmeet Desai brushed aside Chee Feng Leong 11-4, 12-10, 11-6 to start off the proceedings with a win for his team. Sharath Achanta continued India's domination, comfortably beating Muhammad Ashraf Haiq. Muhamad Rizal 11-8, 11-7, 11-6.
To complete India's win, the pair of Sathiyan Gnanasekaran and Harmeet Desai defeated the duo of Javen Chooong and Chee Feng Leong 11-7, 11-6, 11-7.