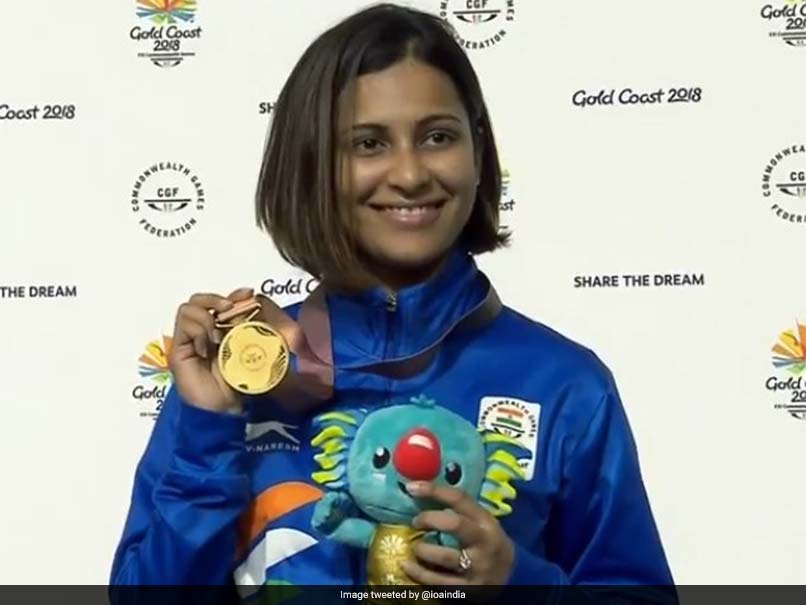 Heena Sidhu now has two medals (1 gold and 1 silver) at the 2018 Commonwealth Games.
© Twitter
Heena Sidhu claimed gold for India on the 2018 Commonwealth Games shooting range when she fought off a challenge from local shooter Elena Galiabovitch to win the women's 25-metre pistol event at Gold Coast, Australia on Tuesday. With this gold medal, India's tally went up to 11 golds at 2018 CWG. Heena proved to be better than Galiabovitch as she kept her poise to clinch the gold with a Commonwealth Games record with a total score of 38. This was Heena's second medal at the Games, after her silver in the women's 10m air pistol behind Manu Bhaker.
Heena was in joint second position after Round 2 while compatriot Annu Raj Singh was lower down the rung at joint 5th.
However, while Heena managed to stay in the leading group after Series 4, Annu Raj Singh fell to 7th.
After Series 6, Heena was in joint gold medal position while Annu Raj Singh was eliminated.
After Series 7, Heena was on top, ahead of the second-placed Australian by 2 shots.
"I am exhausted, those are my thoughts on today's performance," Heena said while speaking to PTI after her gold.
Annu Raj Singh finished sixth after being eliminated in the second stage of the same event. Her final score was a disappointing 15.
Heena, however, was in terrific form after qualifying third with a score of 579 despite admitting to struggling with her trigger finger owing to a nerve problem.
"Thankfully, my trigger which has been giving me some trouble because of a tingling sensation was alright today. I didn't feel that tingling too much," Heena said.
"The 10m air pistol final is a blur to me, I couldn't feel my fingers during that. I have been undergoing physiotherapy for this problem but for today, I told my physio not to touch me. I just let it be and to my relief it went off well," she said.
Heena meanwhile, started slowly before climbing up the standings with an awesome show in the Rapid round.
She was decidedly below par in the Precision round and was lagging at the seventh spot with 286.
Heena struggled with her opening couple of shots in the Precision round with disappointing efforts of 95 and 93 before recovering somewhat with a 98 in her third and last attempt.
Heena started the Rapid round poorly as well as she could only manage a 95 in her opening attempt. But she saved her best for her last two shots, firing consecutive scores of 99 to zoom to the third spot.