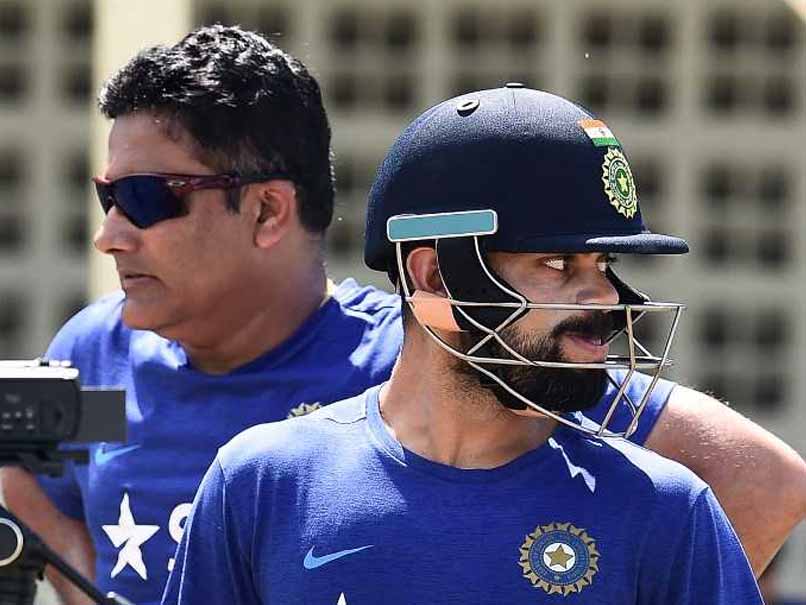 Virat Kohli said that he respected Anil Kumble's decision to step down as coach of India.
© AFP
India skipper Virat Kohli chose to focus at the task at hand -- that being the One-Day International and T20I series against the West Indies -- rather than go into details about his falling out with former coach Anil Kumble. "Anil Bhai expressed his views. He's taken a decision to step out. We all respect that decision," the Indian skipper told ANI. The issue has been festering for a quite a while now, with the origins being traced back as far as the Test series with Australia. The fallout between coach and captain really exploded once the ICC Champions Trophy ended and Kumble decided not to continue as Team India coach. His resignation letter was categorical and directly blamed the Indian captain for the way things had panned out.
"It's something that happened right after the tournament," Kohli said about the incident.
"We have created a culture over the past 3-4 years that whatever happens in changing room, we have tried to maintain the sanctity of change room throughout. For us that's paramount," he further added.
"It's his opinion which I respect. I have respect for him as a cricketer," said Kohli.
Kumble had resigned on Tuesday, just after India lost the ICC Champion Trophy final to Pakistan, stating that the relationship between him and the captain was 'untenable'.
"Though the BCCI attempted to resolved the misunderstandings between the Captain and me, it was apparent that the partnership was untenable, and I therefore believe it is best for me to move on," Kumble wrote.
"Professionalism, discipline, commitment, honesty, complementary skills and diverse views are the key traits I bring to the table. These need to be valued for the partnership to be effective. I see the Coach's role akin to 'holding a mirror' to drive self-improvement in the team's interest.
"In light of these 'reservations'. I believe it is best I hand over this responsibility to whomever the CAC and BCCI deem fit," the former leg-spinner had added.