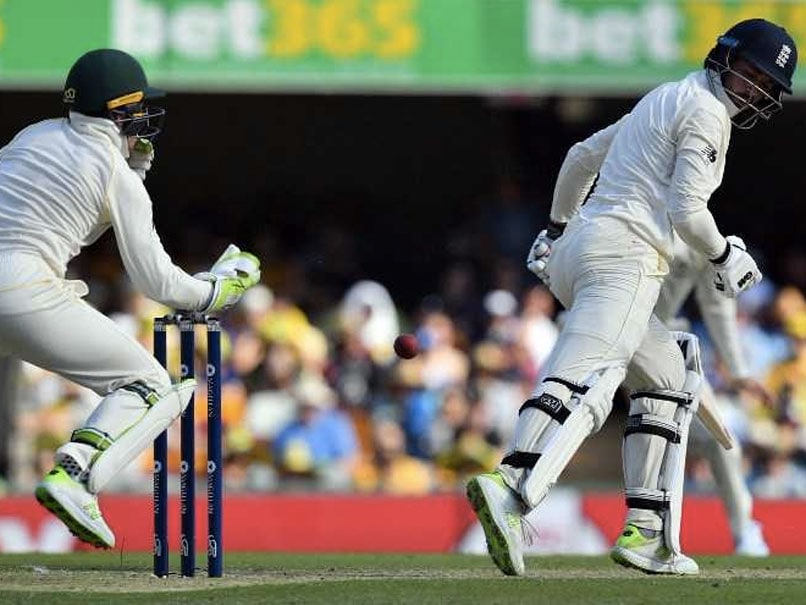 Tim Paine puts down James Vince on Day 1 of the first Ashes Test.
© AFP
Tim Paine's inclusion in the Australia squad for the first two Ashes Tests caused a massive uproar with the Australian media and former cricketers slamming some of the selections. Paine, who was once on the brink of retirement over a serious finger fracture, was preferred to Matthew Wade and Peter Nevill for his first Test match since October 2010. As luck would have it, the spotlight immediately fell on the 32-year-old when he dropped England batsman James Vince on Day 1 of the 1st Ashes Test at The Gabba in Brisbane.
With England 121 for one and Vince batting on 68, Paine put down a regulation catch off the bowling of spinner Nathan Lyon. Luckily for Paine, Lyon took matters into his own hands and produced a brilliant run out to dismiss Vince on 83.
Paine puts down the chance with Vince on 68. Lyon the bowler... https://t.co/P6sH6ROa7L #Ashes pic.twitter.com/bBPuFUDrDJ

— cricket.com.au (@CricketAus) November 23, 2017
Paine's mistake didn't cause Australia too damage but it was enough for fans on Twitter to start trolling the wicketkeeper and questioning Australia's selection.
Maybe Nathan Lyon was right about ending careers but I don't think he meant Tim Paine's #whoops #Ashes

— Kevin Adams (@AshesVictory) November 23, 2017
I feel sick for Tim Paine right now.

— Neroli Meadows (@Neroli_M_FOX) November 23, 2017
Tim Paine best keeper in Australia.... Kamran Akmal wouldn't have dropped that when he was on the take. #BringBackNev #AUSvENG

— Al van Aanholt (@alexvanaanholt) November 23, 2017
Tim Paine not having a good day with the gloves, at this rate Peter handscombe might have to replace.#Ashes

— SS Quinn jin 7 (@7bre7ndo7) November 23, 2017
If Tim Paine drops another catch ill spew up!

— Socks Up Frenchyson (@oscardevereaux) November 23, 2017
When you watch Tim Paine keep, you appreciate Saha even more.

— avijit ghosh (@cinemawaleghosh) November 23, 2017
Poor old Tim Paine was always going to drop a sitter. Should have put money on it. #TheAshes #Ashes

— Richard Branson (@DickBranson) November 23, 2017
Paine was handed a shock recall after a seven-year Test absence and comes into the 13-man squad along with batsmen Cameron Bancroft and Shaun Marsh.
The selections were described as 'bombshells' in Australian press, while former Test bowler Stuart MacGill called the selectors 'morons'.
"Ashes selections.... made by morons mascarading (sic) as mentors. Times (sic) up gents," MacGill had tweeted.
Shane Warne too had questioned the inclusion of Paine in the Australia squad, saying that Australia were in a state of confusion heading into the series.
"At the moment, where the biggest shift has come over the last few years is they don't fear Australia anymore," Warne had told reporters.
"England no longer fear Australia and haven't for a long time and hence that's why they can beat Australia.
"England, I think at the moment, are just going along nicely. They're just doing their business.
"Australia look confused. They're picking wicketkeepers that aren't even keeping for their state.
"To me, I think England are in a better situation going into that first Test match than what Australia are," Warne said.