Story Progress
Back to home
The Ashes: Australia Rout England By An Innings And 123 Runs To Win 4-0
Australia ruthlessly extinguished England's resistance to claim an innings victory in the fifth Ashes Test and complete a 4-0 series rout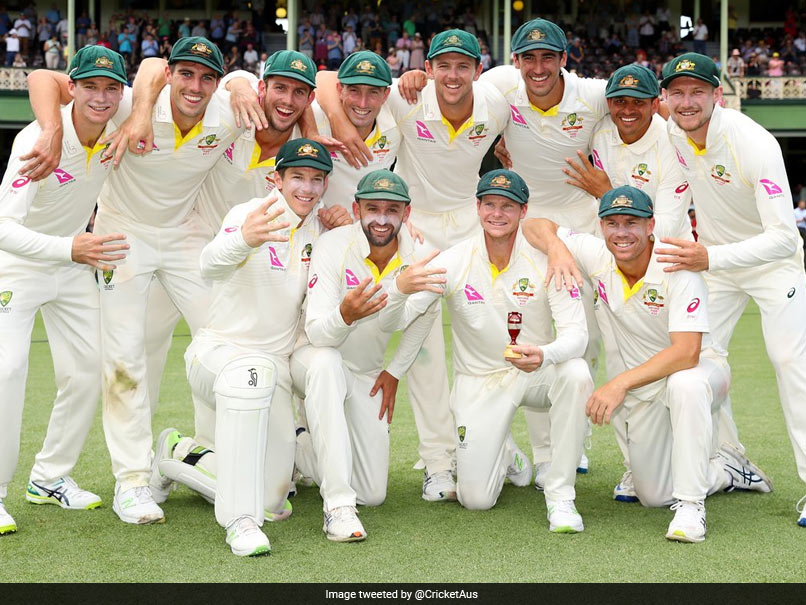 Australia beat England by an innings and 123 runs in Sydney
© AFP
Highlights
Australia won the Sydney Test by an innings and 123 runs

Australia 649/7 decl, England 346 and 180-all out

Steven Smith received Player of the Series award
Australia ruthlessly extinguished England's resistance to claim an innings victory in the fifth Ashes Testand complete a 4-0 series rout on the final day in Sydney on Monday. The beleaguered tourists, with skipper Joe Root weakened by a stomach bug and unable to continue batting, dissolved after lunch, losing their last four wickets for their fourth comprehensive defeat of the series. "It has been a great couple of months. The cricket that we have played in the last couple of months has been outstanding," Australia skipper Steve Smith said.
"We have just been able to get on top and win those key moments and not let them back in the game which is crucial." Pat Cummins led the Australian offensive in Sydney with four wickets for 39 to finish man-of-the-match and the leading wicket taker in the series with 23.
"To get through the five Tests and end the series here at home. I couldn't asked for much more," said an ecstatic Cummins.
England finished at 180 for nine off 88.1 overs as Australia won by an innings and 123 runs.
It followed comprehensive losses on the troubled five-Test tour in Brisbane, Adelaide and Perth. The fourth Test was drawn in Melbourne. Stricken Root did not come out to bat after lunch as he continued to experience discomfort after his overnight stomach bug. "He is asleep. He has a gastro bug and he has not been too well through the night and the heat yesterday didn't help. He is asleep in the dressing-room trying to recover," said vice-captain Jimmy Anderson, deputising for Root at the post-match presentations.
"To be honest we have been outplayed in the key moments of each game," he added.
"We have been in the games to an extent but just not been able to capitalise on any opportunities. Australia have played great in this series."
-Chances disappear -
Cummins struck twice in three balls after lunch, trapping Jonny Bairstow leg before wicket for 38 and having Stuart Broad caught behind off a brutish bouncer for four.
Mason Crane got another Cummins bouncer which he gloved to wicketkeeper Tim Paine for two and Anderson was caught behind off Josh Hazlewood for two to end the innings.
Root went to hospital overnight with England Cricket initially saying he had "severe dehydration" after fielding and batting in intense heat on Sunday.
But team officials corrected earlier statements and said Root was instead weakened by the effects of a gastroenteritis bug.
He came out to bat on the dismissal of Moeen Ali for 13 an hour into the final day's play and reached his fifth half-century of the series, but was unable to convert any of them to a century.
England's remote chances of saving the Test disappeared when Root failed to appear at the crease after lunch.
Spinner Nathan Lyon claimed Moeen's wicket for the seventh time in the series when he trapped him leg before in the morning session, which Moeen did not review.
Lyon took three wickets for 54 off 35 overs.
The Australians took a grip on the final Test with a massive 303-run innings lead and then reduced the battle-weary tourists to 93 for four at the close on the fourth day.
All five Tests went into the fifth day.
Topics mentioned in this article