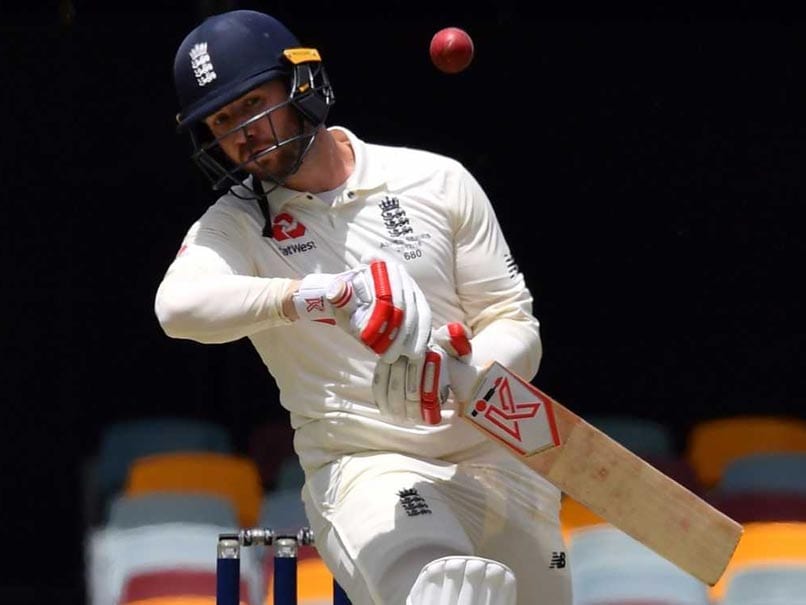 Mark Stoneman of England gets away from the line of the ball
© AFP
England had a solid start on Day 1 of the third Ashes Test against Australia but it could have been better had opener Mark Stoneman wasn't controversially given out by the third umpire. In the 38th over of England's first innings, Stoneman fended at a sharply rising delivery from Mitchell Starc and wicketkeeper Tim Paine pulled off a brilliant one-handed take, but on-field umpire Marais Erasmus turned down the Australian appeal. Australia called for a review and third-umpire Aleem Dar took a little time but despite of inconclusive evidence, he overturned the original decision. The replays showed that Stoneman's hand came off the bat while the ball was crossing him. The Snickometer displayed a spike as the ball passed the glove (which was off the bat).
The decision clearly upset the England camp as the batsman was given out on 56. Captain Joe Root and fielding coach Paul Collingwood came out of the dressing rooms to voice their concern as Stoneman trudged off.
The decision has yet again opened a debate on the reliability of the Decision Review System (DRS). Replays much later seemed far more conclusive, but the third umpire would not have seen those replays as he gave Stoneman out.
Plenty of debate after that review! Thoughts? #Ashes @Gillette #CloseMatters pic.twitter.com/NozC4L6O8T

— cricket.com.au (@CricketAus) December 14, 2017
Earlier in the session, Root was caught down the leg side from the bowling of Cummins for 20. After Root decided not to send the home side in to bat again -- as he had done in Adelaide in the second Test which England lost by 120 runs -- Alastair Cook's form woes continued. The former skipper was trapped leg before wicket by Starc for just seven, on his landmark 150th Test appearance.
Cook did not review the decision, and the scorer of more than 11,000 Test runs has just 69 in the series at 13.80.