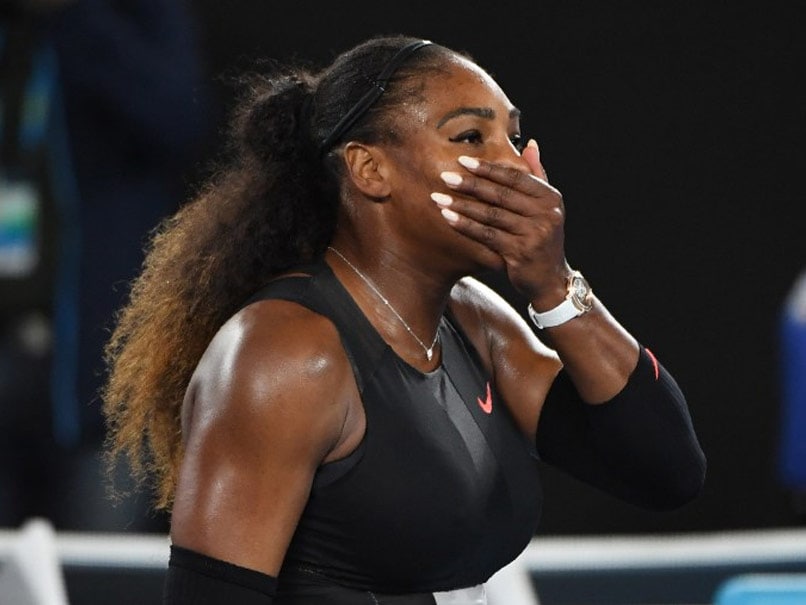 Serena Williams defeated Venus Williams to win the 23rd Grand Slam title.
© AFP
Serena Williams defeated elder sister Venus Williams in straight sets 6-4, 6-4 to win her seventh Australian Open title and created history by winning her 23rd Grand Slam overall. Serena's scintillating performance in Melbourne took her past Steffi Graf's Open-era record of 22 major titles, with only Margaret Court's all-time mark of 24 still to beat. 
Get highlights of the Australian Open women's singles final here.
15:45 IST: Serena Williams celebrates the victory in style. That's it from us. Hope you enjoyed our coverage. Adios!!
15:31 IST: And that's it !! No.23 for Serena Williams!!! She beats Venus 6-4, 6-4 to take the 7th Australian Open title.
15:30 IST: Match point for Serena now. 23rd major crown for Serena on the cards 
15:28 IST: The scores are 30-30 and the tension is creeping up
15:27 IST: Take a bow Venus Williams!! Such a long rally between the sisters and Serena gave it away. She leads 30-15
15:25 IST: Venus holds and puts the pressure back on Serena to serve out the match, with Grand Slam No. 23 on the line.
15:22 IST: Serena smells victory now!! 15-15 now
15:21 IST: Serena sees the finishing line now. Wins the game and leads 5-3 in the second set
15:20 IST: Ace no. 10 for Serena. Leads 40-0 and is 4-3 ahead 
15:18 IST: Serena breaks it again to take 4-3 lead in the second set. She will take it in the straight sets, it seems!!!
15:16 IST: The competition is getting tougher. It's 40-40 again in the second set. 
15:15 IST: Serena has 9 aces and Venus has 6 in the match so far
15:13 IST: Serena holds the serve to level at 3-3 in the second set. Will this set go to the tie-break?
15:12 IST: Great service game from Venus. She has won 9 of the last 10 points on her serve. 
15:10 IST: Superb drop point by Venus. She is giving a tough fight to the World No.2
15:09 IST: Venus not letting it go!! Leads 3-2 in the second set
15:06 IST: That's power tennis at its best!!
15:03 IST: Serena holds the serve to level the scores. The unforced errors are creeping into Venus' game. It's 2-2 now
15:00 IST: From 0-40, Venus takes 5 consecutive points to take the game. She now leads by 2-1 in the second set  
14:58 IST: Serena hits two aces in that last game to serve out the opening set. She's one set away from her 23rd Grand Slam title.
14:56 IST: Can Serena close it out? She hasn't dropped a set this tournament. She takes the second game and level scores at 1-1
14:55 IST: Venus holds and takes the first game in the second set.
14:50 IST: Serena takes the opening set in the all-important final, wins 6-4 
14:48 IST: Serena serving for the opening set now!!
14:46 IST: Venus has landed few very important first serves. Venus holds the serve but Serena leads 5 games to 4
14:44 IST: Serena holds her serve and takes 5-3 lead in the opening set
14:42 IST: Serena has 5 aces and 4 double-faults already in the match!!!
14:40 IST: Sisters....everything remains the same. CRAZY!​
14:39 IST: Serena secures another break with the powerful shot and takes 4-3 lead in the first set
14:36 IST: Now Serena holds her serve to level the scores at 3-3 in the first set
14:33 IST: Venus has been agile and active. She is the oldest women's singles finalist in a grand slam ever. Who was expecting that? 
14:32 IST: Two game points and Venus holds her serve for the first time in the match. Takes 3-2 lead in the first set
14:30 IST: Now, that doesn't happen often. Now, Venus breaks the serve again to level the score at 2-2 in the first set
14:27 IST: Two double faults and she responds it with an ace. Deuce again!!
14:26 IST: Double fault by Serena Williams takes the score to deuce!!
14:25 IST: This is impressive from Venus!! Superb forehand by her and Serena misjudges it. It's 30-30 in the fourth game.
14:23 IST: Clinical finish by Serena as she breaks Venus' service again to take 2-1 lead in the first set 
14:20 IST: It's been a high quality start in the women's singles final here at the Rod Laver arena. It's deuce again in the third game
14:19 IST: Ohh that's unreal!! Serena Williams slips in the court and breaks her racquet
14:17 IST: Venus clinches it following an unforced error by Serena
14:15 IST: Venus Williams breaks the service back immediately to restore parity at 1-1 in the first set
14:13 IST: Venus is giving Serena a tough competition in the second game and its deuce here 40-40
14:11 IST: Serena seals the first game of the match with a powerful forehand
14:10 IST: Serena Williams starts it with a bang!! She breaks the first game and take 1-0 lead in the first set
14:07 IST: Serena Williams takes the first point and it's 15-0
14:04 IST: The players (and sisters) are out on the court! Serena wins the toss and opts for the side. Venus will serve.
14:02 IST: If Serena Williams wins here, she will regain the No.1 ranking 
13:57 IST: The players are all set for the big clash. 9 years ago Venus won the last Grand Slam title. 
13:55 IST: The Rod Laver Arena is all in readiness to hold the big final match between Serena Williams and Venus Williams 
13:49 IST:  The Williams sisters last met in the final of a Grand Slam event in 2009, when Serena beat Venus at Wimbledon. 
Serena advanced to the final after beating Mirjana Lucic-Baroni in straight sets in the semifinal, while Venus beat fellow American CoCo Vandeweghe in three sets, coming back from a set down to reach her first major final since Wimbledon 2009
13:47 IST: Head-to-head with Venus Williams, Serena leads 16-11 in 27 matches 
13:46 IST: At 36, Venus Williams can be the oldest to win the women's singles title
13:45 IST: Serena Williams, in last 8 meetings against Venus Williams, has won 7 matches. Will she continue the winning streak?
13:42 IST:  It will not get bigger than this!! Serena looks to win her seventh title in Melbourne and 23rd major overall and No. 13 Venus aims to win the Australian Open for the first time in her career.
13:40 IST: Welcome to the live blog of women's singles finals between Serena Williams and Venus Williams
Venus, who has won seven Grand Slam finals and lost another seven, has become the Australian Open's oldest finalist in the Open era as she attempts to crash her sibling's party.
Serena and Venus have played 27 times against each other in their long careers, including contesting eight Grand Slam finals. Serena holds a 6-2 edge in the major deciders, with a 16-11 win-loss record overall.
While Serena blew away Mirjana Lucic-Baroni of Croatia 6-2, 6-1 in the semifinal, Venus had to comeback from being a set down to defeat compatriot CoCo Vandeweghe 6-7(3), 6-2, 6-3.