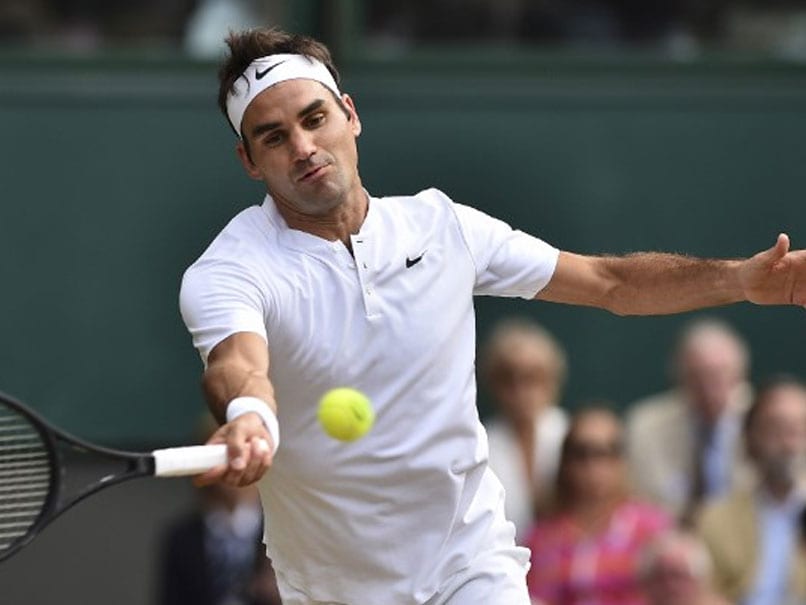 Roger Federer is seeking his record eighth Wimbledon title.
© AFP
The coronation scheduled for Sunday might not go on as planned. Updates will be pending. Complications could occur. Please stay tuned. Two recent turns of evidence suggest that Roger Federer, seeking his record eighth Wimbledon title and his record 19th Grand Slam title to complement his record this and record that and record the other thing, might expect a slog in the Wimbledon men's final against Marin Cilic. Just because Federer finds himself in a final without Novak Djokovic (who beat him twice here), Rafael Nadal (who beat him once) or Andy Murray doesn't mean he caught a break.
In both the 2014 U.S. Open semifinals and the 2016 Wimbledon quarterfinals, the last two times he played Cilic, things got thorny.
Case No. 1: Cilic d. Federer, 6-3, 6-4, 6-4.
"He blew me off the court," Federer said later.
Case No. 2: Federer d. Cilic, 6-7 (4-7), 4-6, 6-3, 7-6 (11-9), 6-3 (despite three match points against him).
"Definitely felt like I got lucky to some extent today," Federer said then.
They say Croatia went nuts 16 years ago when Goran Ivanisevic outlasted Patrick Rafter on a Monday after a rain-drenched Wimbledon with a dramatic score of 6-3, 3-6, 6-3, 2-6, 9-7. Might it celebrate again even though Federer, of course, seems to have every nationality?
"It would absolutely be a dream come true to win Wimbledon here," said Cilic, the 2014 U.S. Open champion, a 28-year-old and the world's No. 6 player. He also said, "I believe this is his home court," an acknowledgment that Federer, while Swiss, is also British as well as American, Australian and French, among others.
Federer first won here long, long ago, in 2003, at age 21. It was so long ago that he had a ponytail, a matter that seems to make him cringe these days, at 35. After a six-month hiatus in late 2016 and a 10-week hiatus in the spring of 2017, he has zoomed through this Wimbledon in 16 undiluted sets (accounting for the fact that one of his wins came in a second-set retirement). He has combed through Grigor Dimitrov, the No. 11 player in the world; Milos Raonic, the No. 7 player; and Tomas Berdych, the No. 15 player who spent a big chunk of his life camped out in the top 10.
Now, still at 6 feet 1, he will play the 6-6 Cilic as Federer says: "Look, everybody's growing. Everybody's getting taller. I wonder how the game is going to be like in 50 years. It's going to be like we have to raise the net, push the lines in a little bit."
Cilic has gotten through No. 19-ranked Roberto Bautista Agut; No. 26 Gilles Muller, who felled Nadal; and No. 28-ranked Sam Querrey, who felled Murray. 
"Obviously I'm going to look back as well," Cilic said. "Twelve months ago I was one point away from winning a match over here against him. Definitely I believe . . . in my own abilities to get through and to win it. But I still know that it's a big mountain to climb. Roger is playing maybe one of the best tennis of his career at the moment, having a great season. So I know it's going to be a huge challenge. But I believe I'm ready."
With finals, one never knows, but factor in what Cilic reminded everyone on Friday: "I have won a Grand Slam already." And with finals can come the nerves, but Federer 
masters even the description of that: "Sometimes it slows down your legs, your pulse starts racing, your head starts, not spinning, in the sense that you have a million ideas, you have to take the right one. That can stress you out a tad. I always say I'm happy I feel that way because it means I care. It's not like going through the motions, like careless. That would be a horrible feeling, to be honest."
Caring so much got him through four seasons without a Grand Slam title - normal for most of the 7 billion Earthlings but not for him - and to this gleaming year with a chance to claim two of the first three of the season, counting the Australian Open last January.
Even Garbine Muguruza, the women's champion, admitted she would like to dance with Federer at the Wimbledon ball because, she said, "I want to see if he's that elegant also dancing."
A whole closing Wimbledon Sunday seems primed to celebrate perhaps its most treasured player. But things might get hard.