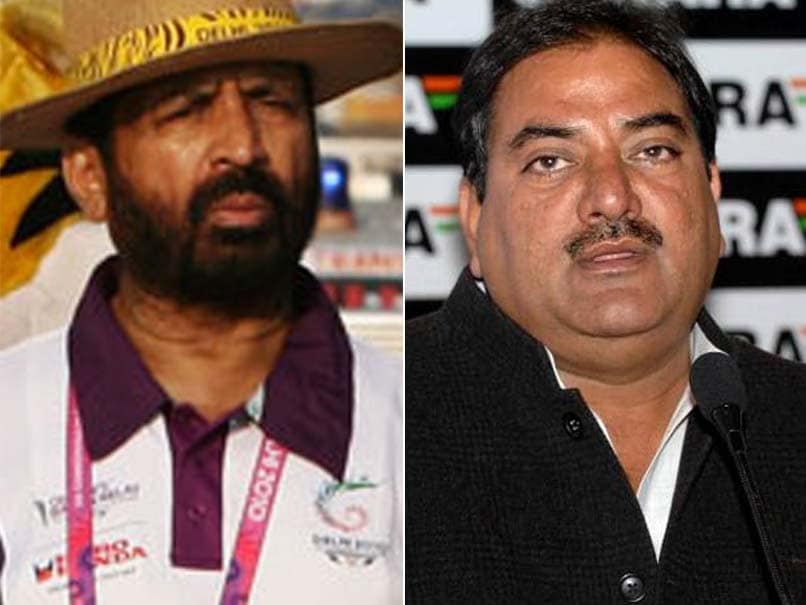 Suresh Kalmadi and Abhay Chautala's appointment as IOA life presidents has come under scanner.
© NDTV
The Union Sports Ministry has suspended the deemed recognition granted to the Indian Olympic Association (IOA) until it reverses its decision to appoint Suresh Kalmadi and Abhay Singh Chautala as Life Presidents. Earlier, Kalmadi had declined the post following public outrage, while Chautala said that he would 'sacrifice' his post if the International Olympics Committee (IOC) opposed his appointment. Kalmadi and Chautala, both politicians charged with corruption, were appointed to the honorary posts on Tuesday evening, leading to major controversy.
Here are the top 10 developments in the ongoing saga:
The government has suspended the deemed recognition granted to the Indian Olympic Association (IOA) over the appointments of Suresh Kalmadi and Abhay Singh Chautala as Life Presidents, the Union Sports Ministry stated in a press release on Friday.
International Hockey Federation (FIH) chief Narinder Batra stepped down from his position as Associate Vice President of IOA on Friday in protest against the appointments of the scam-tainted duo.
The Sports Ministry had said on Thursday that the IOA had time till Friday to respond to its Show Cause notice. Sports Minister Vijay Goel had reiterated his stand on the same day, saying Chautala should 'either resign or be removed'.
The IOA had already said that it wouldn't be responding to the ministry's show cause notice on Friday as the Olympic body's president is currently out of the country. The organisation will consult the International Olympic Committee (IOC) first before replying to the notice.
There has been outrage over their appointment, but the IOA has said it is "constitutionally a legitimate decision," also emphasising that these are "honorary posts" and no executive authority will be given to the two.
As pressure has built up, Suresh Kalmadi's lawyer Hitesh Jain had said on Wednesday that the former Congress MP did not want to accept any post "till his name is cleared" of corruption charges.
Suresh Kalmadi and Abhay Chautala were named life presidents at an annual general meeting of the IOA in Chennai on Tuesday evening. Both have served as IOA president at different times.
Suresh Kalmadi, 72, a former Congress Member of Parliament, served as IOA president from 1996 to 2011. He was accused of corruption in the grant of contracts for the 2010 Delhi Commonwealth Games and was arrested in 2011. He spent 10 months in prison and is out on bail.
Mr Chautala, who is a lawmaker from the Indian National Lok Dal or INLD in the Haryana Assembly, has been charged in a disproportionate assets case and is being investigated by the CBI. In November this year, he was elected to head the Haryana Olympic Association.
Abhay Chautala said after his appointment by the IOA that he was rewarded for the work he has done for sports in his state." A majority of 120 IOA members voted for him, he said.