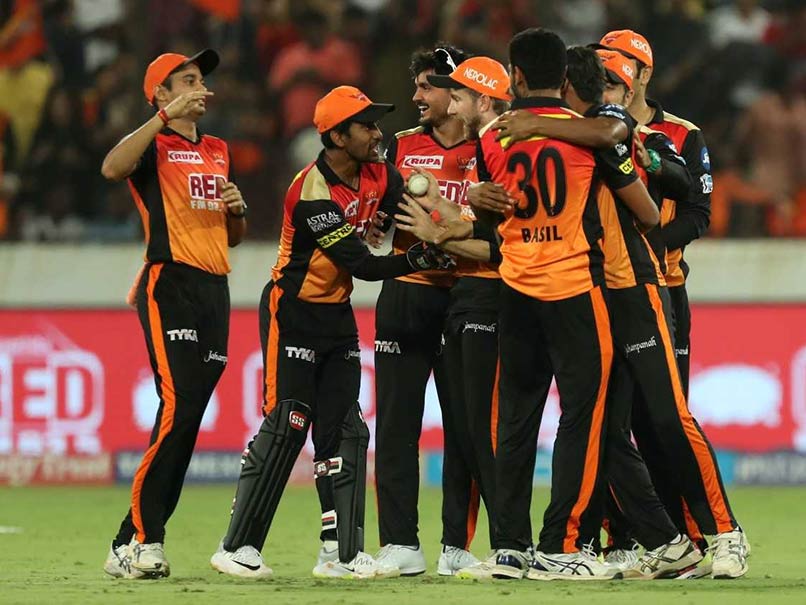 RR vs SRH Highlights: SRH edge Rajasthan by 11 runs at the Sawai Mansingh Stadium, Jaipur
© BCCI
SunRisers Hyderabad (SRH) produced a bowling masterclass defending their 151 runs after beating Rajasthan Royals (RR) by 11 runs in the Indian Premier League (IPL) clash on Sunday. Siddarth Kaul (2/23), Sandeep Sharma (1/15) and Yusuf Pathan (1/14) bowled well for Hyderabad and helped their team edge Rajasthan in a last-over tie. Rajasthan skipper Ajinkya Rahane remained unbeaten on 65 runs but couldn't take his team towards victory. Sanju Samson (40) supported his skipper but a lack of partnerships after his dismissal didn't help Rajasthan's cause. (SCORECARD)
Earlier, a stellar bowling display in the final overs by Rajasthan helped them restrict SunRisers Hyderabad (SRH) to 151/7 in their IPL clash on Sunday. Krishnappa Gowtham gave Rajasthan a solid start after dismissing Shikhar Dhawan for six runs in the third over. After his dismissal, SRH skipper Kane Williamson (63) continued his fine form with a solid fifty. He was ably supported by Alex Hales (45) to help his team post a decent total. However, after both these batsmen departed in the 14th and 15th over, Rajasthan took control of the proceedings with some fine bowling. Jofra Archer (3/26) and Krishnappa Gowtham (2/18) were the star bowlers for the home team.
(Play Fantasy Cricket & Win Lakhs every day!)
IPL 2018 Highlights of Rajasthan Royals vs SunRisers Hyderabad match, straight from Sawai Mansingh Stadium, Jaipur
19:30 IST: Thank you for staying with us for the live match updates.
19:24 IST: SunRisers Hyderabad 151/7 (Kane Williamson 63, Alex Hales 45; Jofra Archer 3/26) beat Rajasthan Royals (140/6) by 11 runs
19:24 IST: 15 needed off 3 balls for Rajasthan.
19:22 IST: FOUR! First ball goes for a boundary. 16 needed off 4 balls.
19:20 IST: 21 runs needed by Rajasthan off 6 balls
19:20 IST: Shakib saves a boundary. Stops the ball with his ball. 21 runs in 7 balls needed by Rajasthan.
19:18 IST: WICKET! Rajasthan Royals lose their sixth wicket as Mahipal Lomror departs for 11 vs Hyderabad | RR 128/5 in 18.3overs
19:15 IST: Lomror launches it and superb save at the boundary by Manish Pandey. Excellent save. Great effort by him. RR need 26 runs off 11 balls
19:12 IST: 9 runs off the 18th over. RR 125/4 in 18 overs
19:11 IST: Backs it up for a single. 29 needed off 16 balls
19:10 IST: SIX! Over square leg for a six. Rashid Khan under pressure. RR needed this. Superb shot by Rahane. He needs another one.
19:09 IST: Just seven runs off the seventeenth over. RR 116/4 in 17 overs
19:06 IST: Just a single for Lomror. 39 runs needed off 21 balls for RR to win against SRH.
19:05 IST: 50 up for Rahane. 42 balls taken. A well-calculated innings by the RR captain.
19:03 IST: Rajasthan Royals need 43 runs more off 24 balls. RR 109/4 in 16 overs
19:01 IST: Good running by these two. Two runs taken off Rashid's delivery.
19:00 IST: 50 runs needed off 30 balls to win for RR. 
18:56 IST: Sandeep Singh bowls a good over for SRH. 1/15 for him in his four overs. RR 102/4 in 15 overs 
18:53 IST: WICKET! Rajasthan Royals lose their fourth wicket as Jos Buttler departs for 10 vs Hyderabad | RR 96/4 in 14 overs
18:49 IST: RR need 58 runs more to win from 39 balls. 
18:43 IST: Good over for Shakib Al Hasan. Only five runs off his over. RR  82/3 in 12 overs
18:42 IST: Jos Buttler and Rahane need to build a partnership for Rajasthan.
18:40 IST: WICKET!  Rajasthan Royals lose their third wicket as Ben Stokes departs for 40 vs Hyderabad. Stokes deceived by the spin and is castled by Pathan | RR 73/3 in 10.2 overs.
18:40 IST: Yusuf Pathan is the new bowler for SRH.
18:36 IST: WICKET! Rajasthan Royals lose their second wicket as Sanju Samson departs for 40 vs Hyderabad | RR 72/2 in 9.4 overs
18:29 IST: Rajasthan Royals 96/1 after 9 overs. RR need 83 runs off 66 balls.
18:26 IST: FOUR! Rahane is taking on the bowler now. 50-run partnership between these two up. Shakib bowled a poor delivery here. RR 67/1 
18:25 IST: Sanju Samson and Rahane are rebuilding for Rajasthan after Tripathi's loss.
18:21 IST: 50 up for Rajasthan. RR 50/1 in 7 overs
18:20 IST: Good placement by Samson for two runs. Times it well.
18:17 IST: Eight runs off the over. A good one for Rajasthan. RR 43/1 in 6 overs
18:14 IST: FOUR! Timing and placement by Sanju Samson. Knuckle ball and Samson finds his spot in the leg side boundary for a four. RR 40/1 
18:13 IST: Siddarth Kaul is the new man in for SRH.
18:12 IST: Good over by Sharma. Just four runs from it. RR 35/1 in 5 overs
18:10 IST: Sanju Samson is entertaining the crowd with his sublime shots.
18:08 IST: 4,6,0,4,2,1. Seventeen runs after four overs. RR 31/1 in 4 overs
18:07 IST: 16 runs already and one ball to go.
18:06 IST: FOUR! Samson is hammering Thampi here. He is making the most of his pace and timing the ball really well. He looks so much in control. Turning out to be a good over for him.
18:05 IST: SIX! Samson pulls it on the on side for a maximum. Back-to-back boundaries for him. Bowler under pressure now. Smart thinking by the bowler in his third ball. Slower delivery and Samson defends it.
18:04 IST: FOUR! What a shot by Sanju Samson. Wasn't a bad ball and the ball is driven perfectly off the back foot on the off side boundary. RR 18/1 in 3.1 overs
17:59 IST: WICKET! Rajasthan Royals lose their first wicket as Rahul Tripathi departs for 4 vs Hyderabad | RR 13/1 in 2.2 overs
17:56 IST: FOUR! Perfect timing by Rahane. He gets his second boundary in successive overs. RR 13/0 in 2 overs
17:53 IST: First runs for Rahul Tripathi. Guides Shakib's delivery towards the off side region for a double. 
17:53 IST: Good comeback by Sharma. Just four runs off the first over. RR 4/0 in 1 over 
17:52 IST: FOUR! First runs for the Royals reply. Well-placed by Rahane. He times it well and misses the man at mid-wicket. RR 4/0
17:51 IST: Rahane plays it safe in the first two balls. No runs off it.
17:50 IST: Ajinkya Rahane and Rahul Tripathi are the two openers for Rajasthan. Sandeep Sharma begins the proceedings for SRH.
INNINGS BREAK
17:33 IST: SunRisers Hyderabad post 151/7 in 20 overs.
17:32 IST: SunRisers Hyderabad lose their seventh wicket as Rashid Khan departs for 1 vs Rajasthan | SRH 150/7 in 19.5 overs
17:30 IST: FOUR! All timing for Saha. Much-needed boundary. SRH 147/6 
17:29 IST: OUT! SunRisers Hyderabad lose their sixth wicket as Manish Pandey departs for 16 vs Rajasthan | SRH 143/6 in 18.5 overs
17:27 IST: Rajasthan have been exceptionally well after Hales and Williamson's dismissals. SRH 143/5 in 18.4 overs
17:22 IST: WICKET! Yusuf Pathan departs Archer bowls a good over. Archer gets his second of the day. SRH 137/5 in 18 overs
17:19 IST: OUT! Archer gets his yorker alright. Shakib departs for 6 runs. SRH 133/4 in 17.1 overs
17:18 IST: FOUR! Just missed his length and Pandey punishes Stokes for a four.  SRH 133/3 in 16.5 overs
17:13 IST: Both these batsmen, Manish Pandey and Shakib need to put up a good show in the final overs. 
17:11 IST: Gowtham has been superb for Rajasthan. Finishes his four overs with 2/18. SRH 126/3 in 16 overs
17:07 IST: OUT! The original decision was out and it stays. Kane Williamson awaits his fate. Replays show there is a nick. SRH skipper has to depart. Big wicket of Kane Williamson. He departs after a brilliant inning of 63 runs. SRH 116/3 in 14.5 overs 
17:00 IST: OUT! Hales departs. He tries to move about and Hales perishes after a good inning. Gowtham gets his second of the day. Simple catch for Sanju Samson. SRH 109/2 in 13.3 overs
16:56 IST: SIX! What an innings so far by him. A controlled shot inside out towards the mid off region. SRH 107/1
16:55 IST: Fifty up for Kane Williamson. He's having a great season.
16:53 IST: FOUR! Williamson appears unstoppable. A superb shot. 20 runs already. 4,6,4,2,4,1. That was Williamson's treatment for Unadkat. SRH 99/1 in 12 overs
16:51 IST: SIX! The first for the SRH captain. He doesn't try to overhit the ball and times it well. Back-to-back boundaries for him now. Unadkat is getting hammered. SRH 94/1 in 11.4 overs
16:50 IST: FOUR! Even with a short fine leg, Williamson scoops it over the fielder. Impeccable timing. Williamson is slowly and steadily building his innings. 
16:49 IST: FOUR! Hales hits a boundary to deep square leg. SRH 78/1
16:47 IST: This partnership is flourishing. 55 off 49 balls. They need to however attack the RR bowlers more. SRH 73/1 in 10.3 overs
16:42 IST: FOUR! Hales picked that in the gap. Good balance. Vicious hook shot. SRH 67/1 in 9.1 overs
16:41 IST: Ben Stokes returns for RR. 
16:39 IST: FOUR! Superb shot by Hales. These two are rebuilding after Dhawan's departure. SRH 63/1 in 9 overs
16:36 IST: DROPPED! Hales dropped on 15. A good spirit on display by Ben Stokes. SRH 55/1 in 8.1 overs 
16:32 IST: Fifty up for the visitors. Straight up the ground for Hales. Not a bad shot at all. Umpires checking if Archer saved a four or not. Good fielding. Saved a couple of runs for his team. SRH 52/1 in 7.3 overs
16:30 IST: The SUnRisers batsmen are struggling to find runs. After Dhawan's dismissal, both Hales and Williamson are taking singles and rotating the strike. They are just scoring at over 6 runs per over. SRH 48/1 in 7 overs
16:28 IST: Debutant Ish Sodhi is handed the ball.
16:27 IST: Good change of pace by Unadkat. This is the third time Unadkat gets hit on the leg side but the batsman fails to get the power behind it. SRH 39/1 in 6 overs
16:23 IST: A good pull shot by Kane Williamson but finds the fielder.
16:22 IST: Jaydev Unadkat into the action for RR now.
16:20 IST: Good over to start with for Archer. Seven runs off it. SRH 33/1 in 5 overs 
16:19 IST: DROPPED! Williamson dropped on 10 by Ajinkya Rahane. First slip drops it. SRH 32/1
16:18 IST: FOUR! What a shot by the SRH skipper. Straight on the ground.
16:18 IST: Jofra Archer is the new bowler for RR
16:16 IST: Kulkarni makes up after getting hit for a four in the first ball. Bowls a good over thereafter. SRH 26/1 in 4 overs 
16:14 IST: FOUR! That's a beauty of a shot. SRK skipper Williamson places it perfectly. Kulkarni is expensive so far with the ball. SRH 24/1
16:12 IST: Gowtham bowled a good over. Three runs and a wicket for the spinner. SRH 20/1 in 3 overs
16:08 IST: OUT! Gowtham strikes. Clean bowled. Shortens his length and gets the big wicket of Dhawan. He departs for 6. SRH 17/1 in 2.1 overs
16:08 IST: FOUR! Now Dhawan gets into the act. Frees his arms and gets his boundary. A good over for SunRisers. SRH 17/0 in 2 overs
16:05 IST: FOUR! Another short ball and Hales hammers it to the leg side this time around. SRH 12/0
16:05 IST: FOUR! Slightly short and Hales guides it over the off side region for a boundary. SRH 7/0
16:03 IST: Dhawal Kulkarni is the new bowler.
16:02 IST: A good first over for the hosts. SRH 3/0 in 1 over 
16:01 IST: Dhawan also gets off the mark with a single on the leg side.
16:01 IST: Hales off the mark with a single.
16:00 IST: Shikhar Dhawan and Alex Hales are the two openers for SRH. Krishnappa Gowtham bowls the first over for Rajasthan
15:40 IST: Rajasthan Royals (Playing XI): Ajinkya Rahane(c), Rahul Tripathi, Sanju Samson, Ben Stokes, Jos Buttler(w), Krishnappa Gowtham, Jofra Archer, Mahipal Lomror, Jaydev Unadkat, Dhawal Kulkarni, Ish Sodhi
15:37 IST: SunRisers Hyderabad (Playing XI): Shikhar Dhawan, Alex Hales, Kane Williamson(c), Manish Pandey, Shakib Al Hasan, Yusuf Pathan, Wriddhiman Saha(w), Rashid Khan, Basil Thampi, Siddarth Kaul, Sandeep Sharma
15:30 IST: TOSS! SunRIsers Hyderabad captain Kane Williamson wins toss, elects to bat first vs Rajasthan Royals.
15:25 IST: Its 41 degrees Celcius out there. A couple of bald patches on the pitch. A nice grass. 160+ is a par score here batting first. Good pitch. Good opportunity for pacers.
15:20 IST: We are a few minutes away from the toss.
15:07 IST: Hello and welcome to the live match updates of the 28th match between SunRisers Hyderabad and Rajasthan Royals
Hyderabad mostly rely on their bowlers and they have eclipsed the below-par batting of their side. Bhuvneshwar Kumar, who is out of the team due to injury, has scalped six wickets from four games, with an economy under seven.
Spinners Shakib Al Hasan and Rashid Khan have bagged eight and nine wickets respectively from seven games. Pacer Siddarth Kaul has been the most impressive with nine wickets from seven games.
Basil Thampi, on the other hand, has featured in just a couple of games for Hyderabad and came out with flying colours against Mumbai and Punjab, respectively.
Earlier, when RR and SRH met, Yusuf Pathan had shown glimpses of his old attacking batting, with a 27-ball 45, but failed to repeat the show against Mumbai and Punjab.
As for Rajasthan, they will be taking the field after a week's break and will eye their fourth win of the tournament.
With three wins and as many defeats, Rajasthan are placed fifth with six points.
Till now, Rajasthan have had an erratic campaign. They lost their tournament opener to SRH by 9 wickets but gained momentum and registered two back-to-back wins against Delhi Daredevils and Royal Challengers Bangalore.
However, Kolkata Knight Riders and Chennai Super Kings outclassed them by seven wickets and 64 runs, respectively, in the next two games.
Rahane has looked good but has not been converting good starts into big scores. All-rounder Ben Stokes and Rahul Tripathi have been inconsistent.
Sanju Samson has been the standout with 239 runs from six games, averaging 47.80.
Rajasthan's bowlers -- K Gowtham and Ben Laughlin -- have performed well while leggie Shreyas Gopal has also been economical. But the trio have failed to click as a unit.
Squads:
Rajasthan Royals: Ajinkya Rahane (c), Ben Stokes, Stuart Binny, Sanju Samson, Jos Buttler, Rahul Tripathi, D Arcy Short, Krishnappa Gowtham, Jofra Archer, Dhawal Kulkarni, Jaydev Unadkat, Ankit Sharma, Anureet Singh, Shreyas Gopal, Prashant Chopra, Sudhesan Midhun, Ben Laughlin, Mahipal Lomror, Aryaman Birla, Jatin Saxena, Dushmantha Chameera, Heinrich Klaasen, Ish Sodhi
SunRisers Hyderabad: Kane Williamson (c), Shikhar Dhawan, Shakib Al Hasan, Manish Pandey, Carlos Brathwaite, Yusuf Pathan, Wriddhiman Saha, Rashid Khan, Ricky Bhui, Bhuvneshwar Kumar,, Deepak Hooda, Siddarth Kaul, T Natarajan, Mohammad Nabi, Basil Thampi, K Khaleel Ahmed, Sandeep Sharma, Sachin Baby, Chris Jordan, Tanmay Agarwal, Shreevats Goswami, Bipul Sharma, Mehdi Hasan, Alex Hales