Story Progress
Back to home
IPL Highlights, SRH vs RR: Dhawan, Williamson Guide SRH To 9-Wicket Win Over RR
IPL 2018, Highlights, Sunrisers Hyderabad vs Rajasthan Royals: Sunrisers Hyderabad beat Rajasthan Royals by 9 wickets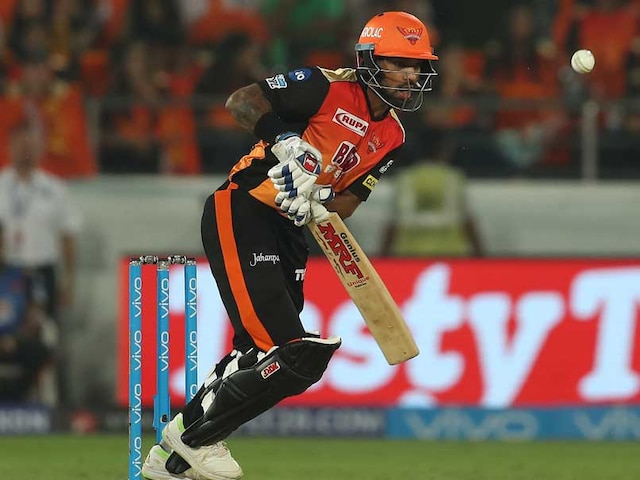 SRH vs RR Highlights: Sunrisers Hyderabad beat Rajasthan Royals by 9 wickets
© BCCI
Shikhar Dhawan starred with his unbeaten 77 to guide Sunrisers Hyderabad (SRH) to a 9-wicket win over Rajasthan Royals (R) in the Indian Premier League (IPL) match on Monday at the Rajiv Gandhi International Stadium, Hyderabad. Dhawan was ably supported by skipper Kane Williamson who also remained not out on 36. Chasing a low target of 126 set by Rajasthan, Dhawan made his intentions clear right from the outset. After opener Wriddhiman Saha was dismissed by Jaydev Unadkat in the second over, Dhawan kept the run rate going. Rajasthan skipper Ajinkya Rahane used seven different bowlers to no avail as Dhawan and Williamson chased the target all by themselves in 15.5 overs with 25 balls to spare
Earlier, a stellar bowling display by Sunrisers Hyderabad (SRH) restricted Rajasthan Royals (RR) to 125/9 in their 20 overs. Siddarth Kaul was the pick of the bowlers as he finished with figures of 2/17 in his four overs. Shakib Al Hasan also took two wickets (2/23) while Rashid Khan (1/23), Billy Stanlake (1/29) and Bhuvneshwar Kumar (1/30) shared a wicket each. Sanju Samson batted like a lone ranger for the Rajasthan Royals as he top scored for the visitors with a gritty 49 runs before getting dismissed in the 14th over. Skipper Ajinkya Rahane (13) tried his best but fell prey to a brilliant catch by Rashid. Shreyas Gopal (18) and Rahul Tripathi (17) chipped in with a few knocks in the middle helping their team reach 125. (SCORECARD)
IPL 2018 Highlights of Sunrisers Hyderabad vs Rajasthan Royals, straight from Rajiv Gandhi International Stadium, Hyderabad
23:07 IST: Thank you for staying with us with the live updates. We will return tomorrow with the live blog updates of the fifth IPL match between Chennai Super Kings and Kolkata Knight Riders.
23:05 IST: Sunrisers Hyderabad 127/1 in 15.5 overs (Shikhar Dhawan 77*, Kane Williamson 36*; Jaydev Unadkat 1/28) beat Rajasthan Royals (125/9) by 9 wickets
23:01 IST: And its over. Sunrisers Hyderabad thrash Rajasthan Royals by 9 wickets to win their opening IPL 2018 match.
23:00 IST: SRH need 6 runs in 6 balls. They are almost there. Classy batting display by Dhawan and Williamson.
22:53 IST: FOUR! Outside edge and it goes for a boundary. Dhawan is now on 70. SRH 114/1 in 13 overs
22:50 IST: 100-run partnership up between these two. Superb batting by both of them. SRH 108/1
22:48 IST: This partnership has been fabulous. The communication between these two has been on point. A good understanding between them. SRH need 29 more runs in 51 balls
22:46 IST: FOUR! Williamson hits it straight back over the leg spinner. He is playing a captain's knock. SRH cruising to victory here. SRH 91/1 in 10.4 overs, need 35 runs in 56 balls
22:38 IST: FOUR! Dhawan is on a roll. He is playing quality shots. Drives it towards long off. SRH 87/1 in 9.3 overs
22:37 IST: 50 up for Shikhar Dhawan in only 33 balls. He hits his 29th IPL fifty. SRH 83/1
22:28 IST: Back-to-back boundaries for Dhawan. He is in a rush to reach the target. SRH 72/1
22:21 IST: FOUR! Races behind point. Sweet shot by Williamson. Both Dhawan and Williamson are in the offensive mood. SRH 57/1 in 6 overs
22:20 IST: FOUR! Ball wins the race. Another boundary for Dhawan.
22:18 IST: FREE HIT! First of the match. Ben Laughlin unlucky to have been at the receiving end of that decision. No run whatsoever.
22:15 IST: FOUR! Back-to-back boundaries for SRH. Dhawan is upping the ante. He seems to be in a hurry to reach the target. SRH 45/1
22:14 IST: FOUR! Krishnappa Gowtham gets welcomed with a four. Dhawan is getting himself rolling.
22:12 IST: SIX! What a shot. Just a little movement on the offside and Kane hammers it for a maximum. SRH 36/1 in 4 overs
22:11 IST: FOUR! Plays the ball late. Good shot by the SRH skipper Kane Williamson.
22:10 IST: Unadkat bowls his second over.
22:08 IST: SIX! First six of the match. Short and wide from Kulkarni, Dhawan rides it up and over for a maximum. 13 runs off the over. SRH 24/1 in 3 overs
22:04 IST: FOUR! Dhawan hammers the ball towards the boundary. Thrashes it to the mid off region for a four. SRH 17/1
22:01 IST: WICKET! Sunrisers Hyderabad lose their first wicket as Wriddhiman Saha departs vs Rajasthan Royals. Poor shot by Saha. Good first over for Unadkat. Saha tried to take on the bowler and gets foxed by the delivery. SRH 6/1 in 1.3 overs
22:00 IST: WIDE! That was some unreal bounce from the pitch. 
21:58 IST: FOUR! Saha special. Jaydev Unadkat gets his welcome with a four. A good shot over mid on boundary. SRH 5/0
21:58 IST: DROPPED! Dhawan survives as his catch is dropped by skipper Ajinkya Rahane at the slips. A good first over by Rajasthan. SRH 1/0 in 1 over
21:55 IST: Saha off the mark with a single. Rajasthan need early wickets if they want to stay in this game. SRH have a formidable batting line up.
21:53 IST: SRH openers Shikhar Dhawan, Wriddhiman Saha are out in the middle. Dhawal Kulkarni begins the proceeding with the ball for Rajasthan.
INNINGS BREAK
21:40 IST: Rajasthan Royals 125/9 in 20 overs (Sanju Samson 49, Shreyas Gopal 18; Siddarth Kaul 2/17) vs Sunrisers Hyderabad
21:36 IST: SRH bowlers restrict RR to 125/9
Rajasthan Royals never got going apart from that 46 run partnership between Samson and Rahane. Like Dhoni spoke after the first match, they will be thinking if not winning, at least the quantum of loss shouldn't be much to affect net run rate adversely. #SRHvRR

— Mohammad Kaif (@MohammadKaif) April 9, 2018
21:33 IST: OUT! Rajasthan Royals lose their 9th wicket as Jaydev Unadkat departs vs Sunrisers Hyderabad | RR 122/9 in 19.2 overs
21:32 IST: OUT! Rajasthan Royals lose their 8th wicket as Shreyas Gopal departs vs Sunrisers Hyderabad | RR 122/8 in 19 overs
21:30 IST: Bhuvi has been economical just like the other SRH bowlers. The hosts have been terrific with the ball. They have done extremely well in restricting the batting side to a low total. 
21:25 IST: OUT! Rajasthan Royals lose their seventh wicket as Jos Buttler departs for 6 vs Sunrisers Hyderabad. Rashid Khan clean bowls the English batsman. Gets his first wicket of the night. RR 115/7 in 17.2 overs
21:25 IST: Rashid bowls his last over.  
21:20 IST: FOUR! Shreyas Gopal scores a good-looking shot. Ball races from the bat towards the mid off boundary. RR 112/6
21:19 IST: Rajasthan Royals 106/6 in 16 overs
21:17 IST: Just when Rajasthan look like they're settling in, they lose a wicket. Credit to the SRH bowlers.
21:10 IST: OUT! Rajasthan Royals lose their sixth wicket as Krishnappa Gowtham departs for a duck vs Sunrisers Hyderabad. RR 96/6 in 14.4 overs
21:08 IST: Jos Buttler and Krishnappa Gowtham are the two new batsmen on the crease for Rajasthan.
21:04 IST: OUT! Sanju Samson departs after a valiant 49. Misses out on his fifty. RR lose their fifth wicket.
21:03 IST: OUT! Rajasthan Royals lose their fourth wicket as Rahul Tripathi departs for 17 runs vs Sunrisers Hyderabad. RR 92/4 in 13.2 overs
21:00 IST: DROPPED! Falls short by a metre. Stanlake tries his best but drops it. Tripathi gets a lifeline. RR 92/3
21:00 IST: Sanju Samson appears to be the lone ranger for Rajasthan. He has scored the bulk of runs for the batting side. RR 90/3
20:56 IST: Review taken for LBW. Original decision is not out. Review lost by SRH. Tripathi survives. RR 88/3 in 12.1 overs
20:55 IST: Siddarth Kaul returns for Sunrisers.
20:54 IST: FOUR! Lovely stroke play by Rahul Tripathi. 1st boundary after 27 balls. Back-to-back now. Tripathi is turning it on for the Rajasthan side. They need these runs. Good over for Rajasthan. RR 87/3 in 12 overs
20:53 IST: Rashid Khan bowls his second over. Samson has now reached to 46 runs. A partnership is needed here.
20:52 IST: Billy Stanlake completes his four overs. Finishes with figures of 1/29.  Took the prized wicket of Ben Stokes.
20:46 IST: Sanju Samson has to bat now. One more wicket Rajasthan lose, they will be in deep trouble.
20:44 IST: Shakib is back into the bowling attack.
20:42 IST: OUT! Rajasthan Royals lose their third wicket as Ben Stokes departs for 5 runs vs Sunrisers Hyderabad. Kane Williamson takes a superb catch. First run-out and now a brilliant catch, he is having a great day as a skipper on the field. RR 63/3 in 9 overs
20:38 IST: Stanlake back into the attack for the Sunrisers. Slip in place for him.
20:37 IST: Superb over the Afghan cricketer. Only one run from the over. RR 57/2 in 8 overs
20:34 IST: Afghan teen Rashid Khan comes in for SRH. Ben Stokes is the new batsman for RR.
20:32 IST: OUT! Rajasthan Royals lose their second wicket as Ajinkya Rahane departs for 13 vs Sunrisers Hyderabad. A good catch by Rashid Khan. RR 52/2 in 6.5 overs
20:26 IST: Siddarth Kaul comes into the attack for SRH.
20:23 IST: FOUR! One bounce over the rope. Samson is all charged up now. 
20:21 IST: FOUR! Leading edge. Good delivery but he was unlucky there. RR 41/1 in 5 overs
20:20 IST: Samson strong on the onside. Couple of runs for him.
20:19 IST: FOUR! Width and bounce. Hammered towards the on side boundary by Rahane.
20:16 IST: FOUR! Into the gap and away for a four. First one for Rahane.
20:15 IST: Shakib Al Hasan bowls the fourth over for SRH.
20:13 IST: Good over for the batting side. 10 off the over. RR 21/1 in 3 overs
20:12 IST: FOUR! Good shot. Races towards the mid on region for a four. Samson looks in good nick.
20:11 IST: FOUR! Superb shot by Samson. Punched it towards the off side.
20:10 IST: Nicely played and well timed by Samson. Two runs for him. RR 11/1 in 2 overs
20:10 IST: Panic batting by Samson. tries to slice it over the keeper, misses it completely.
20:08 IST: Billy Stanlake bowls the 2nd over for Sunrisers. Sanju Samson comes in at number 3 for Rajasthan.
20:06 IST: OUT! Rajasthan Royals lose their first wicket as D Arcy Short departs for 4 vs Sunrisers Hyderabad. No need for a run there but Short thought otherwise. Kane Williamson with a direct throw and ran himself out. RR 6/1 in 1 over
20:04 IST: FOUR! Short opens his account with a boundary. A good shot towards the leg side boundary. 
20:00 IST: Rajasthan Royals openers Ajinkya Rahane and D'Arcy Short are out in the middle. Bhuvneshwar Kumar begin proceedings with the ball for Sunrisers Hyderabad
19:42 IST: Teams
Sunrisers Hyderabad (Playing XI): Shikhar Dhawan, Kane Williamson(c), Manish Pandey, Deepak Hooda, Yusuf Pathan, Shakib Al Hasan, Wriddhiman Saha(w), Rashid Khan, Bhuvneshwar Kumar, Billy Stanlake, Siddarth Kaul
Rajasthan Royals (Playing XI): Ajinkya Rahane(c), D Arcy Short, Sanju Samson, Ben Stokes, Rahul Tripathi, Jos Buttler(w), Krishnappa Gowtham, Shreyas Gopal, Dhawal Kulkarni, Jaydev Unadkat, Ben Laughlin
19:30: IPL 2018: Sunrisers Hyderabad captain Kane Williamson wins toss, elects to bowl vs Rajasthan Royals
19:21 IST: Spinners will play a crucial part in this pitch says former cricketer Sanjay Manjrekar. Team batting first has won 6 out of 8 matches played here. 
19:21 IST: We are moments away from the toss now.
19:08 IST: Hello and welcome to the live match updates of the fourth match between Sunrisers Hyderabad and Rajasthan Royals of the Indian Premier League (IPL).
While Sunrisers were able to retain a majority of their players at the auction, Royals spent big bucks on Ben Stokes (Rs 12.5 crore) and Jaydev Unadkat (Rs 11.5 crore) who were their costliest buys this season. The pair would have to shoulder a lot of responsibility especially after the Jaipur-based franchise spent a lot on the pair. Hyderabad will be expecting fireworks from India and England openers Shikhar Dhawan and Alex Hales, drafted in as a replacement to Warner, to deliver the goods at the top.
Promoted
Teams
Sunrisers Hyderabad: Kane Williamson (C), Shikhar Dhawan, Manish Pandey, Bhuvneshwar Kumar, Wriddhiman Saha, Siddharth Kaul, Deepak Hooda, Khaleel Ahmed, Sandeep Sharma, Yusuf Pathan, Shreevats Goswami, Ricky Bhui, Basil Thampi, T Natarajan, Sachin Baby, Bipul Sharma, Mehdi Hasan, Tanmay Agarwal, Alex Hales, Carlos Brathwaite, Rashid Khan, Shakib Al Hasan, Mohammad Nabi, 
Chris Jordan and Billy Stanlake.
Rajasthan Royals: Ajinkya Rahane (C ), Ankit Sharma, Sanju Samson, Ben Stokes, Dhawal Kulkarni, Jofra Archer, D'Arcy Short, Dushmantha Chameera, Stuart Binny, Shreyas Gopal, S Midhun, Jaydev Unadkat, Ben Laughlin, Prashant Chopra, Krishnappa Gowtham, Mahipal Lomror, Jatin Saxena, Anureet Singh, Aryaman Birla, Jos Buttler, Heinrich Klaasen, Zahir Khan and Rahul Tripathi.
Topics mentioned in this article