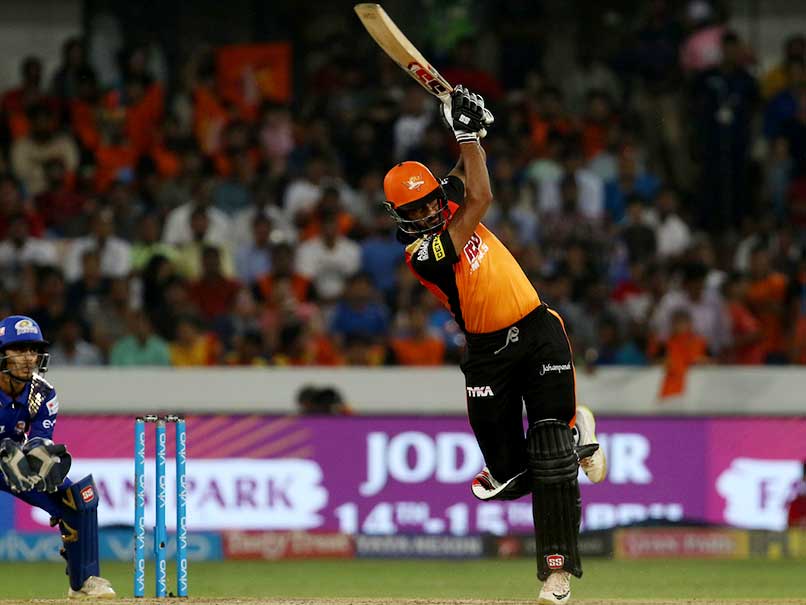 Sunrisers Hyderabad vs Mumbai Indians highlights: The match is being played at Hyderabad.
© BCCI
Sunrisers Hyderabad held their nerves to edge out Mumbai Indians by one wicket off the last ball of the match in a thrilling IPL encounter at Rajiv Gandhi International Stadium on Thursday. Hyderabad's No 11 Billy Stanlake lofted Ben Cutting's last delivery of the 20th over to eke out their second win of the tournament as Rohit Sharma-led Mumbai Indians slipped to their second defeat in successive matches. Chasing a modest target of 148, Hyderabad were cruising along at 73 for 1 before an inexplicable batting collapse left them staring at defeat. It was young Deepak Hooda's composed 32 off 25 balls that proved to be precious in the final context of the match. Hooda hit Cutting's first delivery off the final over for a six to ease off the pressure with Stanlake holding fort at the other end. (SRH vs MI Scorecard)
Earlier, Sunrisers Hyderabad's bowlers once again put up a stellar show as they restricted a star-studded Mumbai Indians to 147 for 8. The formidable MI batting line-up could not perform to their best as they were dismissed before settling in. Evin Lewis (29), Suryakumar Yadav (28) and Kieron Pollard (28) were the only ones, who provided a little resistance to the Hyderabad bowling department. The lower middle-order caved in badly as Sunrisers looked as potent an attack even without their premier India bowler Bhuvneshwar Kumar. Such was the dominance of the Hyderabad bowlers that the back 10 of the MI innings fetched them only 69 runs with only 36 coming off last five overs.
Sandeep Sharma (2/25 in 4 overs) proved to be a like-for like replacement with his incisive swing bowling while Siddarth Kaul (2/29 in 4 overs) was once again impressive. A lot of credit will got to Rashid Khan, who stifled the scoring during the middle overs with brilliant figures of 1 for 13 in 4 overs. Rashid bowled flat and fast with a mix of googlies and flippers. He bowled as many as 18 dot balls.
Skipper Rohit Sharma (11) was out trying to whip a delivery from Billy Stanlake (2/42) that grew big on him and the catch was taken at square leg by Shakib Al Hasan. Ishan Kishan's (9) maverick approach didn't pay dividends as he failed to make most of a dropped catch by Sandeep Sharma as Siddharth Kaul had him caught at third man.
The normally dangerous Evin Lewis (29, 17 balls) started off well but tried to hit Kaul across the line only to find the off-stump knocked back. The normally dependable Krunal Pandya closed his face to a Shakib Al Hasan (1/34 in 4 overs) delivery to offer a simple catch. Stanlake hurried Pollard into ballooning one to Shikhar Dhawan at sweeper cover. Sandeep then dismissed Suryakumar and Pradeep Sangwan off successive balls to ensure that MI don't cross the 150-run mark.
IPL 2018 Highlights of Sunrisers Hyderabad vs Mumbai Indians match, straight from Rajiv Gandhi International Stadium
23:50 IST: Thank you for joining us for the live blog.
23:45 IST: Billy Stanlake hits the winning runs! Sunrisers Hyderabad win by 1 wicket.
A glorious slog over mid-wicket and @SunRisers beat #MI by 1 wicket#SRHvMI #VIVOIPL pic.twitter.com/NFHcQdr29Z

— IndianPremierLeague (@IPL) April 12, 2018
23:44 IST: Sunrisers Hyderabad need 1 in 1 !! Are we going to get our first super-over?
23:41 IST: Sunrisers Hyderabad need 2 in 2 !!
23:38 IST: Ben Cutting follows it up with a wide ball. Hyderabad need 4 in 5!
23:37 IST: SIX! Low full toss from Cutting wide of off and Deepak Hooda slams it for a flat maximum over covers. Hyderabad need 5 in 5 !
23:35 IST: Sunrisers Hyderabad need 11 in 6 balls!!
23:33 IST: OUT! Mustafizur strikes again! Sandeep Sharma departs for a duck as Hyderabad slump in run-chase.
Last 9 balls.. Mumbai Indian bowlers
W W 0 1 0 0 W 0 W#SRHvMI#IPL2018#IPL

— Mohandas Menon (@mohanstatsman) April 12, 2018
23:32 IST: OUT! Mustafizur bowls full and straight, Siddharth Kaul, trying to work the ball around, edges it back to the bowler. Mumbai are right back in the game as the match is far from over! The Mumbai Indians camp is pumped up.
23:28 IST: WHAT A TURN AROUND! Jasprit Bumrah takes two-in-two as Mumbai Indians bounce back right in the game. First, he dismisses Yusuf Pathan for 14 and then he sends Rashid Khan back for a duck. Bumrah has turned the tides his teams' favour. This match is definitely going down to the wire.
23:19 IST: FOUR! Short delivery from Cutting and Yusuf Pathan rolls his wrist on top the ball, guiding it past the man at short fine-leg for a much-needed boundary. Pressure back on Mumbai Indian as the hosts need 15 more runs in 18 balls.
23:15 IST: Mayank Markande is now the purple cap holder!
Look who's become the Purple Cap holder.

Take a bow, Mayank Markande#SRHvMI #VIVOIPL pic.twitter.com/O1Jbq2LKIa

— IndianPremierLeague (@IPL) April 12, 2018
23:11 IST: Mustafizur concedes just three runs in the 16th over. Magnificently controlled bowling from the Banglesh cricketer. Sunrisers Hyderabad need 24 more runs in as many balls.
23:06 IST: Bumrah bowls full and around off and Pathan slams the ball straight down the ground. However, Cutting at the boundary, times his jump and sends the ball back in. He saves a certain maximum. What en effort from Cutting. Both Rohit and Bumrah are impressed.
23:01 IST: Sunrisers Hyderabad need 34 more runs in 36 balls.
23:00 IST: FOUR! Short and on the leg-side, Yusuf Pathan, the new man in, dispatches Cutting for a one-bounce boundary on the leg-side.
22:55 IST: OUT! Markande is running through the Hyderabad batting line-up. The young bowler bowls a googly and Shakib, who fails to read the ball, drags the ball onto the stumps. Markande now has four wickets to his name. Brilliant from the young Indian bowler.
22:45 IST: Sunrisers Hyderabad 87/3 after 10 overs, they need 61 more runs to win.
22:37 IST: OUT! Mayank Markande gets the big fish. Dhawan, down on one knee, sweepes and manages to top-edge the ball to Bumrah in the deep. Hyderabad are losing their plot after a brilliant start. Credit to Mumbai Indians' bowlers to peg back Hyderabad with three quick wickets. Hyderabad, on the other hand, will aim to recover from the top order batting collapse and get back in the game.
22:35 IST: OUT! Mustafizur gets the big wicket of Williamson. Back of a length delivery from the bowler, Williamson tried to run the ball down to the third man, misses and MI appeal for caught behind. The umpire turns down the appeal and they go for the DRS yet again. Replay shows that the ball took a slight edge before the keeper completed the catch. Mumbai Indians get their second DRS right. What a call from Rohit Sharma.
22:30 IST: FOUR! Short delivery from Mustafizur Rahman, the new bowler, Dhawan stands tall and pulls the ball over mid-wicket for a boundary. Saha's dismissal hasn't affected Dhawan ans he is still sending the bowlers on a leather hunt. Powerful shot from Dhawan.
22:29 IST: Kane Williamson is the new batsman in.
22:28 IST: OUT! Markande provides the much-needed breakthrough. An appeal for LBW from Markande for Saha is turned down the on-field umpire. However, the bowler believes that it is out and the Mumbai camp goes upstairs. Ball tracker shows three reds and Saha has to take the long walk back. Initial impressions showed the ball was going down over the stumps and missing the leg stump as well. However, ball tracker tells a different story. Nigel Llong is in disbelief as he overturns the decision, the Mumbai Indians camp rejoice.
22:24 IST: FOUR! Mayank Markande, the new bowler in, is welcomed with a boundary. Markande bowls short and wide and Dhawan slaps the ball through the off-side for a boundary. The fielder did well to cut the ball-off but the ball rolled away to the boundary.
22:20 IST: Surnrisers Hyderabad 56/0 in 6 overs. Dhawan smacks Bumrah for two boundaries in the same over to bring up the 50-run partnership with Saha. Both the openers are looking in fine form as they are helping their team cruise in the 148-run chase. Mumbai Indians bowlers weren't effective in the powerplay and it will be interesting to see how Rohit Sharma uses his bowlers further in the innings to curb the flow of runs.
22:13 IST: Sunrisers Hyderabad 38/0 after the first four overs.  Dhawan and Wridhhiman are scoring runs freely as they are taking on the Mumbai bowlers. The visitors, till now, haven't been able to get their grip on the game as it seems Hyderabad is running away with the game.
22:05 IST: FOUR! Sangwan bowls the same delivery as Bumrah and the result in the same. Sangwan bowls a length ball on the middle and leg, Dhawan flicks the ball over and wide of mid-on as it rolls away to the ropes for a boundary. Impeccable shot from Dhawan.
22:03 IST: FOUR! Jasprit Bumrah, the new bowler, bowls full and on the pads and Dhawan guides the ball in front of the square for a boundary. That was poor bowling from Bumrah to Dhawan. The fielder chased the ball all the way to the boundary only to collect the ball and throw it back in the field of play.
22:00 IST: Sunrisers Hyderabad 7/0 after the first over.
21:58 IST: FOUR! Dhawan gets off the mark in style. Sangwan goes full and wide and Dhawan, says thank you, drives the ball through the covers beautifully to set the tone of the match. This is bread and butter for the Indian opener. Wonderful start from Hyderabad.
21:56 IST: Wriddhiman Saha and Shikhar Dhawan are opening the batting for Sunrisers Hyderabad. Pradeep Sangwan is opening the bowling for Mumbai Indians.
21:55 IST: Welcome back to the chase!
21:42 IST: Mumbai Indians post 147/8 in 20 overs vs Sunrisers Hyderabad.
Innings Break.@SunRisers restrict #MI to 147/8 in 20 overs

Follow the game here - https://t.co/NxV12OAWMB #SRHvMI pic.twitter.com/jvwtlssoR8

— IndianPremierLeague (@IPL) April 12, 2018
21:41 IST: FOUR! Mumbai end their innings with a boundary. Kaul goes full and outside and Markande shuffles across the scoops the ball past the man at short fine-leg for a much-needed boundary. Cheeky but impressive from the Mumbai tail-ender.
21:35 IST: OUT! Sandeep Sharma bowls in and on off stump, Pradeep Sangwan, the new man in, goes for the slog hit but misses it. The knuckle ball raps Sangwan on the pads as Sandeep appeals loudly. However, the umpire turns down the appeal. Sandeep convinces his captain that the batsman in plumb and they go upstairs. Ball tracker shows that the ball crashes into the middle stumps. The umpire has to overturn the decision. Mumbai lose another as Sandeep Sharma in on a hat-trick.
21:32 IST: OUT! This time Sandeep Sharma gets a wicket to his name. Knuckle ball from Sandeep and Suryakumar Yadav fails to read it as he tries the slam the length ball for a boundary. Suryakumar Yadav miscues the shot and Hooda runs forward from long-on to complete the catch comfortably.
21:25 IST: OUT! Rashid Khan, who conceded a boundary early in the over, bowls a googly as Ben Cutting fails to read and the stumps are all over the place. Mumbai Indians are losing their plot.
21:20 IST: FOUR! Short delivery from Kaul, Suryakumar pulls it for a boundary. A little too predictable from Kaul and Suryakaumar is smart enough to anticipate the short ball.
21:14 IST: 10 runs off the over. Mumbai Indians are 121/5 after 16 overs.
21:12 IST: SIX! Suryakumar Yadav heaves it over long-off for a huge six. He takes on Shakib Al Hasan this time. It must have given the batsman a sigh of relief
21:08 IST: FOUR! Short and outside off, Pollard waits and craves the ball behind point for the second boundary of the over. Pollard is turning the heat on at the Rajiv Gandhi International Stadium.
21:06 IST: SIX!! Pollard is shifting his gears. Stanlake goes full, Pollard takes a step back and guides the ball over the umpire's head for a towering six. Pollard did not try to over-hit ball, this shows the sheer power that the man holds. What an athlete he is.
21:03 IST: SIX! Shakib bowls full and provides a bit of width as Pollard deposits him the stands. The pressure was building on Mumbai Indians and the West Indians released the pressure with a maximum. Pollard reads the ball early, frees his arms and lifts the ball over the cover as the ball easily goes past the boundary rope and into the second tier. Huge, Huge maximum from Pollard.
20:55 IST: FOUR! Kaul bowls a length ball outside off, Pollard plays the ball late and guides it past the past at short third-man with ease. Pollard is providing the occasional with much-needed boundaries.
20:53 IST: FOUR! After four consecutive dot balls, Pollard slaps Rashid straight down the ground for a boundary. Rashid bowls full and right in Pollard's slot who frees his arm and swings with all his power to send the ball over the umpires head for a much-needed boundary.
20:48 IST: Mumbai Indians 78/4 after the first 10 overs.
20:43 IST: OUT! And Shakib gets his revenge. Shakib bowls another tossed up delivery as Krunal was looking to play with the turn. However, the ball held its line and did not turn. Krunal, who was hoped to work the ball away with an open-faced bat, edges the ball straight down the throat of Williamson at cover. Mumbai Indians continue to lose wickets as the hosts tighten the grip further.
20:40 IST: FOUR! Back-to-back boundaries from Krunal off Shakib. It seems, Krunal is shifting gears now. Shakib bowls full and wide, Krunal gets to the pitch of the ball and drives it for a boundary. Poor delivery from Shakib, who had bowled a brilliant first over. Shakib tosses up the delivery outside off, Krunal reverse sweeps the ball fine. The ball beats the short third-man as it rolls away towards the rope. Shakib is not happy with himself.
20:38 IST: Mumbai Indians 59/3 (Suryakumar 2*, Krunal 3*) after eight overs.
20:35 IST: Shakib al Hasan concedes just one run in his first over. Hyderabad, at the moment, are all over Mumbai. Three quick wickets have done the trick for the home team. Can Suryakumar Yadav and Krunal Pandya turn the tide in their favour?
20:31 IST: BOWLED!! Siddharth Kaul is one fire as he gets his second wicket in his first over. Kauls bowls a slower knuckle ball as it pitches on middle and shapes across the left-hander. Lewis, who was looking to dispatch the ball over mid-wicket, misses and the ball crashes into the stumps. Hyderabad are off to a solid start. Kaul is ecstatic!
20:25 IST: OUT! Siddharth Kaul gets his first wicket of the night. Kaul bowls a good length delivery, the ball angled across the left-hander as Kishan was eyeing the mid-wicket region. Kishan goes across the line and flicks the ball but only manages to get a thick edge. The ball flies towards Yusuf Pathan at third-man boundary. Pathan, who was blinded the floodlights, did well to hold on to the catch. Poor, poor shot selection from the batsman.
20:23 IST: Mumbai Indians 48/1 after five overs.
20:20 IST: After the fall Rohit's wicket, Evin Lewis has taken the attack to the opposition as he is sending the bowlers on a leather hunt. Beautiful timing, sheer power and aggressive approach is helping the team's cause.
20:10 IST: OUT!! And that is out! Brilliant effort by Shakib in the field. Stanlake angles the ball into Rohit's pads and takes a leading edge to Shakib in front of short square leg. The Bangladeshi all-rounder dived forward and managed to get his hands underneath the ball to send the MI captain back in the hut.
20:08 IST: FOUR! Full and wide from Stanlake, Rohit leans forward and drives the ball past the fielder at cover-point for a beautiful boundary. The timing on the shot was immaculate. Rohit will definitely get his confidence back after the early scare.
20:06 IST: SIX!! Billy Stanlake, the new bowler in, bangs the ball in. Rohit, who has missed the pull in the previous over, does not miss the pull this time as he clobbers the ball high and over square leg. The ball sails into the sea of orange in the stands.
20:05 IST: Mumbai 1/0 after the first over.
20:02 IST: DROPPED! Short of a length delivery by Sandeep. Rohit, looking to pull, miscues and sends the ball high up in the air as the ball takes a top-edge and flies over mid-wicket. Hooda ran backwards for the catch but failed to collect the catch. Rohit has been dropped on a duck. Will this miss prove costly for the home team?
20:00 IST: First ball -- A absolute beauty to start with! Rohit has struggled against the moving ball in the last game and Sandeep creates problem first up. He first angles it into the batsman and then gets it to leave him after pitching. Rohit plays inside the line but is beaten by the away swing. It goes agonizingly close and past the outside edge and the off pole. Good start by Sandeep, this should give him confidence.
19:58 IST: Rohit Sharma and Evin Lewis are opening the batting for Mumbai Indians.
19:57 IST: Sandeep Sharma is opening the bowling for Sunrisers Hyderabad.
19:40 IST: Playing XI for both the teams:
Mumbai Indians: Rohit Sharma(c), Evin Lewis, Ishan Kishan(w), Suryakumar Yadav, Krunal Pandya, Kieron Pollard, Ben Cutting, Mayank Markande, Pradeep Sangwan, Mustafizur Rahman, Jasprit Bumrah
Sunrisers Hyderabad: Wriddhiman Saha(w), Shikhar Dhawan, Kane Williamson(c), Manish Pandey, Deepak Hooda, Yusuf Pathan, Shakib Al Hasan, Rashid Khan, Billy Stanlake, Siddarth Kaul, Sandeep Sharma
19:35 IST: Rohit Sharma: "We are missing Hardik due to injury, so Pradeep Sangwan playing instead of him. We've left out Mitch McCleneghan, and we've included Ben Cutting instead, who has played a lot of cricket here and knows the conditions pretty well. We need to focus on the positives and we won't look too much into that. We were outclassed by Bravo the other day, but we aren't disheartened by that. We need to look at the bigger things, that's what has helped us get success in the past. It's important to get momentum in the tournament. We know the threat that SRH possess."
19:33 IST: Kane Williamson: "Going to bowl. Good surface for bowling so we need to bowl well first up. Unfortunately Bhuvi misses out, he has a sore back, so Sandeep Sharma comes in making his debut for the franchise, so that's exciting for him. I suppose momentum is a reflection. We need to keep improving as a team. We started well but beating a side of Mumbai's calibre isn't going to be easy. No number in mind about what to chase. Last time it was a good surface but we were really good with the ball, so we just want to keep improving as a team; to go out there and perform."
19:32 IST: Sunrisers Hyderabad captain Kane Williamson wins toss, elects to field vs Mumbai at Rajiv Gandhi International Stadium.
19:30 IST: Hello and welcome to the live blog of the IPL 2018 match between Sunrisers Hyderabad and Mumbai Indians straight from Hyderabad.
For MI, the biggest gain from the opening game was young leg-spinner Mayank Markande's performance on IPL debut as he accounted for Ambati Rayudu and MS Dhoni. "He (Markande) has got great control of whatever he does, so, I think going forward he will be a great weapon for us," MI Captain Rohit Sharma had said recently. While googly is his stock ball, it will be interesting to figure how well Markande can bowl his leg-breaks.
Mumbai's another concern will be their death bowling as Jasprit Bumrah, Mustafizur Rahaman and Mitchell McLenaghan all missed their length with Dwayne Bravo going on a rampage during the other night at Wankhede.
Hardik Pandya played his heart out but his ankle injury could be a cause of worry for skipper Rohit.
For Sunrisers, it was a good start under new skipper Kane Williamson, who didn't look out of place after David Warner's suspension from the league due to ball tampering charges.
Shikhar Dhawan's blazing form has continued, which is the biggest shot in the arm for the 'Orange Army' apart from a bowling attack that looks potent on any surface.
Sunrisers Hyderabad: Kane Williamson (C), Shikhar Dhawan, Manish Pandey, Bhuvneshwar Kumar, Wriddhiman Saha, Siddharth Kaul, Deepak Hooda, Khaleel Ahmed, Sandeep Sharma, Yusuf Pathan, Shreevats Goswami, Ricky Bhui, Basil Thampi, T Natarajan, Sachin Baby, Bipul Sharma, Mehdi Hasan, Tanmay Agarwal, Alex Hales, Carlos Brathwaite, Rashid Khan, Shakib Al Hasan, Mohammad Nabi, Chris Jordan and Billy Stanlake.
Mumbai Indians: Rohit Sharma(C), Jasprit Bumrah, Hardik Pandya, Kieron Pollard, Mustafizur Rahman, Pat Cummins, Suryakumar Yadav, Krunal Pandya, Ishan Kishan, Rahul Chahar, Evin Lewis, Saurabh Tiwary, Ben Cutting, Pradeep Sangwan, Jean-Paul Duminy, Tajinder Singh, Sharad Lumba, Siddhesh Lad, Aditya Tare, Mayank Markande, Akila Dananjaya, Anukul Roy, Mohsin Khan, MD Nidheesh, Mitchell McClenaghan.
When and Where to Watch: Sunrisers Hyderabad (SRH) vs Mumbai Indians (MI)
India: TV: Star Sports 1, Star Sports 1 HD (English, Hindi, Tamil). Live Streaming: Hotstar.
UK: TV: Sky Sports 2. Live Streaming: Sky Go and Watch Sky Sports.
Bangladesh: TV: GTV and Star Sports.
USA: TV: Willow TV. Live Streaming: Willow TV Live Online.
Australia: TV: Fox Sports. Live Streaming: Foxtel.
New Zealand: TV: Sky Sport 1. Live Streaming: Sky Go NZ.
South Africa: TV: SuperSport 2. Live Streaming: SuperSport Live Video.
Middle East: TV: OSN Sports Cricket. Live Streaming: OSN Play.
Singapore: TV: Star Cricket.