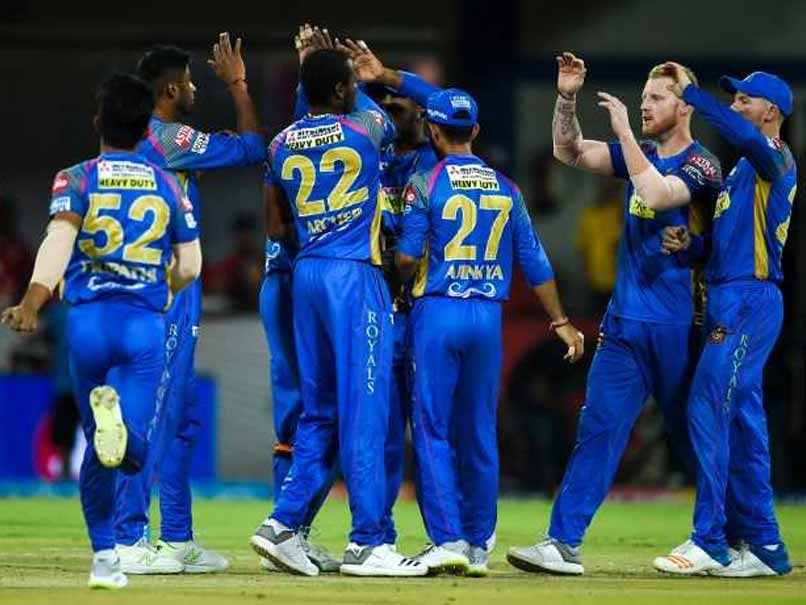 RR vs KXIP Highlights: The match was played at the Sawai Mansingh Stadium.
© AFP
Rajasthan Royals lived to fight another day with a 15-run win over Kings XI Punjab as KL Rahul's unbeaten 95, coming amidst a surprise batting meltdown, went in vain in the Indian Premier League on Tuesday night. Opting to bat in this must-win game, Rajasthan Royals could only muster 158 for eight despite Jos Buttler's blazing 58-ball 82 at the Sawai Mansingh Stadium. The home team, however, staged a strong fightback with the ball as it restricted Kings XI Punjab to 143 for seven in the stipulated 20 overs. Languishing at the bottom of the table prior to this game, RR have now moved to the sixth place, while KXIP remained in the third position. (Scorecard)
(Play IPL Fantasy Cricket & Win Cash Daily!)
IPL 2018 highlights of Rajasthan Royals vs Kings XI Punjab match, straight from Jaipur
23:40 IST: Thank you for joining us for the live blog.
23:33 IST: And it is all over. Rajasthan Royals beat Kings XI Punjab by 15 runs.
23:32 IST: Four! KL Rahul shuffles and guides the ball past the man at short third for a boundary. 
23:30 IST: Six! KL Rahul clubs Unadkat for a maximum off a free-hit.
23:27 IST: OUT! Short and wide from Unadkat, Stoinis slaps the ball straight towards Gowtham in the deep, who collects the catch quite comfortable. KXIP need 32 in 5 balls.
23:26 IST: Kings XI Punjab need 32 runs in 6 balls.
23:25 IST: Four! Back-to-back boundaries for Rahul off Archer.
23:24 IST: Four! Full delivery from Archer, KL Rahul shuffles and scoops him over short third for a boundary.
23:20 IST: Kings XI Punjab need 48 runs in 12 balls. 
23:17 IST: Four! Slower shorter delivery from Unadkat and KL Rahul pulls it away for a handsome boundary.
23:16 IST: Kings XI Punjab need 57 runs in 18 balls.
23:13 IST: 100 comes up for Kings XI Punjab in the 17th over.
23:10 IST: The first over after the break yielded just six runs for Punjab. The time is running away for the visitors and they need to hit the accelerator early in order to notch up a win.
23:03 IST: Strategic timeout -- KXIP 92/6, need 67 runs in 30 balls. 
22:59 IST: KL Rahul is fighting the lone battle as he scores his fifty off 48 balls. KXIP need 73 runs in 36 balls
22:56 IST: Run-Out! Slower and wider from Anureet, Axar drags it to long-on, and sets off for a run. However, Axar reacted late to Rahul call and fell short of the ground as Buttler collects the ball thrown in from Binny and takes the bails off.
22:53 IST: Four! Slower length ball from Anureet Singh, Axar Patel frees his arms and slogs him for a boundary.
22:49 IST: Four! Huge turn from Gowtham. KL Rahul leaned forward to defend the ball but missed the connection as the keeper too failed to collect the ball. A welcome boundary for the visitors.
22:46 IST: OUT! Soft, soft dismissal. Manoj Tiwary was looking to work the ball around but gets a leading edge and Rahane at extra cover takes a good catch. KXIP 66/5 in 12 overs
22:43 IST: Rajasthan Royals bowlers have not given any opportunity to Punjab to free their arm and score easily. Boundaries have dried up.
22:36 IST: Four! Mahipal Lomor bowls a short delivery, Rahul reads the ball early and pulls the ball handsomely for a boundary. The long-on fielder and the deep mid-wicket fielder were bisected perfectly.
22:33 IST: Strategic timeout -- Kings XI Punjab 45/4 in 9 overs.
22:32 IST: OUT! Akshdeep Nath looking to score some boundaries, sends the ball high up in the air as Sodhi picks his first wicket. Sodhi concedes just one run and takes a wicket. Sodhi is on fire.
22:29 IST: Four! Mahipal Lomror gets driven beautifully by Akshdeep Nath for a boundary. Lomror concedes nine runs in his first over.
22:25 IST:  A brilliant first over from Ish Sodhi as he concedes just two runs. KXIP 35/3
22:19 IST: Four! Sweet shot from Rahul. Good length delivery outside off, he leans forward and drives Stokes beautifully through the covers. The ball pierced the two fielders with perfection.
22:17 IST: Four! Short and wide from Ben Stokes and KL Rahul slashes the ball hard for a much-needed boundary. Crunched!
22:16 IST: Kings XI Punjab 25/3 after 5 overs.
22:12 IST: Punjab dealing in singles and double. The boundaries have dried up.
22:08 IST: OUT! Another one bites the dust. Short delivery from Jofra Archer, Karun Nair pulls and top edges the ball Unadkat takes a good catch running backwards. Punjab in trouble now.
22:03 IST: OUT! Punjab captain Ravichandran Ashwin, who promoted himself up the order, looked to heave Gowtham for a big one, misses and the stumps are all over the place. Rajasthan are on top.
22:00 IST: OUT! Huge, huge wicket for Rajasthan Royals as Gayle departs for 1. Gowtham sees Gayle coming down the track and fired the ball down the leg side. Gayle misses the connection and Buttler takes off the bails in a flash.
21:55 IST: At the end of the first over, Kings XI Punjab 5/0.
21:33 IST: Four! Rahul comes down the track and smacks Gowtham through the cover for his first boundary of the innings.
21:50 IST: Welcome back to the chase. KL Rahul and Chris Gayle opening the batting for Punjab. Krishnappa Gowtham opening the bowling for Rajasthan.
21:39 IST: Rajasthan Royals 158/8 in 20 overs (Jos Buttler 82; Andrew Tye 4/34, Mujeeb 2/21)
21:37 IST: OUT! Andrew Tye gets yet another wicket on the last ball of the innings.
21:35 IST: Four! Lomror shuffles and scoops the ball over the short fine for a much-needed boundary.
21:34 IST: OUT! Jofra Archer, the new man in, departs for a duck in search of quick runs. Heaves and manages to get the ball high up in the air and Manoj Tiwary at long-off takes a comfortable catch.
21:31 IST: OUT! Bent Stokes' poor form continues in the IPL 2018 season. Looking to guide the ball over the covers, Stokes makes room and gets the toe-end of the bat as Ashwin takes a comfortable catch at mid-off.
21:30 IST: Mohit Sharma bowls a fine 19th over, concedes just five runs.
21:23 IST: OUT! Binny's short stay in the middle comes to an end as he falls short of the crease. Rajasthan Royals 147/5 in 18 overs.
21:20 IST: Six! Stuart Binny, the new man in, picked up the knuckleball from Tye and clobbers it for a maximum straight down the ground.
21:15 IST: OUT! Mujeeb does not waste any time to dismiss Buttler. He came dancing down the track to hoick Mujeeb for a biggie, misses and KL Rahul, behind the stumps, does the rest. Mujeeb gets his second.
21:13 IST: Dropped! Buttler skies a ball as he was looking to dispatch Ashwin in the stands, Akshdeep Nath came in running but failed to complete the catch. Buttler dropped on 79. How costly will drop will prove to be?
21:10 IST: Four! Stokes, the new man in, is not wasting any time in settling down. Slaps the fuller and wider delivery straight down the ground for a boundary.
21:07 IST: OUT! Mujeeb ur Rahman strikes right after the break. Samson was looking to slam Mujeeb for a maximum, miscues and Manoj Tiwary at the boundary takes a comfortable catch.
21:03 IST: Strategic timeout -- Rajasthan Royals 115/2 in 14 overs.
21:02 IST: Four! Short and wide from Ashwin, Samson cuts it away for a boundary. The 50-run partnership also comes up between Samson and Buttler in the 14th over.
21:01 IST: Six! Ashwin bowls short and Samson rocks back and flat bats the ball for a maximum over long-on.
20:59 IST: 100 comes up for thehome team in the 13th over.
20:56 IST: Rajasthan Royals 96/2 after the 12th over.
20:51 IST: Four! Buttler slashed Axar wide of long-off, Tye moves across to his left, but failed to collect the ball as he didn't bend down in time. Axar is not happy with the effort.
20:48 IST: Rajasthan Royals 82/2 in 10 overs.
20:40 IST: Jos Buttler scores his 4th IPL fifty.
20:36 IST: OUT! Gowtham clears his front leg and tries heaving the fuller length into long-on as the ball goes straight down the throat of Manoj Tiwary at long-on. Stoinis gets a wicket.
20:31 IST: Strategic timeout -- Rajasthan Royals 63/1 in 6 overs.
20:29 IST: Four! Full and wide from Tye, Buttler makes room and lifts him over the cover for a consecutive boundary. Buttler is edging closer to a half-century.
20:28 IST: Four! Tye strays on the pads and gets punished as Buttler flicks him effortlessly for a boundary. No one moved as the ball rocketed away.
20:25 IST: Six! Full-length delivery from Mohit Sharma, Gowtham stands tall and hits the ball straight down the ground. He holds his position for the camera persons.
20:23 IST: Four! A seam up delivery outside off and Buttler gets in the position early and plays the shot really late as he guides the ball through point.
20:19 IST: Krishnappa Gowtham, right handed bat, comes to the crease
20:17 IST: OUT! Andrew Tye, the new bowler in, dismisses Ajinkya Rahane early. Knuckleball from Tye, Rahane fails to read, edges the ball high up in the air as he looked to flick the ball. RR 37/1 in 3.4 overs.
20:14 IST: Rajasthan Royals 35/0 after three overs.
20:13 IST: Four! Ajinkya Rahane gets his first boundary. Back of a length delivery from Mohit Sharma with no width at all, but Rahane plays the shot late and guides the ball for a boundary at the third-man region. Beautiful from the RR captain. 
20:10 IST: Four! Mohit Sharma, the new bowler in, bowls a good length delivery, Buttler stays back and pulls the shot past the man at mid-wicket. He is looking in prime form today. Crunched!
20:08 IST: Six! Same delivery, same shot, but the result is different as the ball flies over the boundary rope for a maximum.
20:07 IST: Four! Buttler gets the width, makes room for himself and lifts Axar inside-out over extra cover for a boundary.
20:05 IST: Rajasthan Royals 11/0 after the first over.
20:04 IST: Four! Full-length delivery from Stoinis, Buttler stands tall and punches the ball down the ground nonchalantly for a boundary.
20:02 IST: Four! Stoinis goes full and on the pads, Buttler flicks it behind square for a boundary. That shot was beautifully played
20:00 IST: First ball -- Hint of swing from Stoinis and Rahane edges the ball past the man at slips for a run.
19:58 IST: Marcus Stoinis opening the bowling for Kings XI Punjab.
19:57 IST: Alright, it is game time! Ajinkya Rahane and Jos Buttler opening the batting for Rajasthan Royals.
19:45 IST: Playing XI for both teams -- 
Rajasthan Royals: Jos Buttler (w/k), Ajinkya Rahane(c), Sanju Samson, Ben Stokes, Stuart Binny, Mahipal Lomror, Jofra Archer, Krishnappa Gowtham, Jaydev Unadkat, Ish Sodhi, Anureet Singh
Kings XI Punjab: Lokesh Rahul (/kw), Chris Gayle, Akshdeep Nath, Karun Nair, Axar Patel, Marcus Stoinis, Manoj Tiwary, Ravichandran Ashwin(c), Andrew Tye, Mohit Sharma, Mujeeb Ur Rahman
19:35 IST: Ravichandran Ashwin: I wanted to lose the toss. I don't think there'll be a lot of bounce on this wicket, not very good to chase. And personally knowing what score to chase is going to be the key. Both the teams will know what the strengths and weaknesses are and it will be fresh in their heads. Two changes - Akshdeep Nath comes in for Mayank Agarwal and Mohit Sharma comes back in for Ankit Rajpoot.
19:32 IST: Ajinkya Rahane: It looks like a very good wicket, our bowling has been fantastic. It seems interesting to put runs on the board and then defend it. The wicket looks completely different from the afternoon. It is a do or die situation for us, but the guys are pumped up and from now it is about giving it our best. The situation is such that we need to play with freedom. Three changes - Mahipal Lomror, Stuart Binny and Ish Sodhi come in.
19:30 IST: Rajasthan Royals captain Ajinkya Rahane wins toss, elects to bat against Kings XI Punjab. 
19:15 IST: Pitch report -- The pitch tonight isn't very well grassed. The spinners will come into play and the seamers with their cutters will be able to get some grip out of this surface. It might slow down by the end of the day and captains could be tempted to bat first.
19:00 IST: Hello and welcome to the live blog of the match between Rajasthan Royals and Kings XI Punjab straight from Jaipur.
Three consecutive defeats, including a narrow one against Delhi Daredevils, has left them demoralised and their mentor, the legendary Shane Warne, too wore a dejected look in the dugout from where he saw the Royals miss out on half chances. Average performance by captain Ajinkya Rahane and below-par show of English all-rounder Ben Stokes and Rahul Tripathi has hurt them and the hosts need all these batsmen to fire.
West Indian Jofra Archer, though, has been impressive while pacer Jaydev Unadkat has been a complete let-down, taking just seven wickets at a poor 9.86 economy rate. On the other hand, the visitors are back to winning ways after an emphatic triumph over the Royals and would look to consolidate their position in the top-four. Punjab can even take the second place if they win today, provided they improve their NRR.
Though they rely heavily on good partnerships between Chris Gayle and KL Rahul, the likes of Mayank Agarwal, Karun Nair, and Marcus Stoinis have been able to contribute handsomely. Their bowling too has the variety with R. Ashwin, Axar Patel and the new sensation from Afghanistan, Mujeeb Ur Rahman, proving more than a handful for the opponent.
Teams (from):
Rajasthan Royals: Ajinkya Rahane (c), Ben Stokes, Stuart Binny, Sanju Samson, Jos Buttler, Rahul Tripathi, D Arcy Short, Krishnappa Gowtham, Jofra Archer, Dhawal Kulkarni, Jaydev Unadkat, Ankit Sharma, Anureet Singh, Shreyas Gopal, Prashant Chopra, Sudhesan Midhun, Ben Laughlin, Mahipal Lomror, Aryaman Birla, Jatin Saxena, Dushmantha Chameera, Heinrich Klaasen, Ish Sodhi.
Kings XI Punjab: Ravichandran Ashwin (c), Axar Patel, Yuvraj Singh, Karun Nair, Lokesh Rahul, Chris Gayle, David Miller, Aaron Finch, Marcus Stoinis, Mayank Agarwal, Ankit Rajpoot, Manoj Tiwary, Mohit Sharma, Mujeeb Ur Rahman, Barinder Sran, Andrew Tye, Akshdeep Nath, Ben Dwarshuis, Pardeep Sahu, Mayank Dagar, Manzoor Dar.