Story Progress
Back to home
IPL 2018, Highlights KKR vs RCB: Kolkata Knight Riders Beat Royal Challengers Bangalore By 4 Wickets
Indian Premier League (IPL) 2018, Kolkata Knight Riders vs Royal Challengers Bangalore: KKR make a winning start against RCB.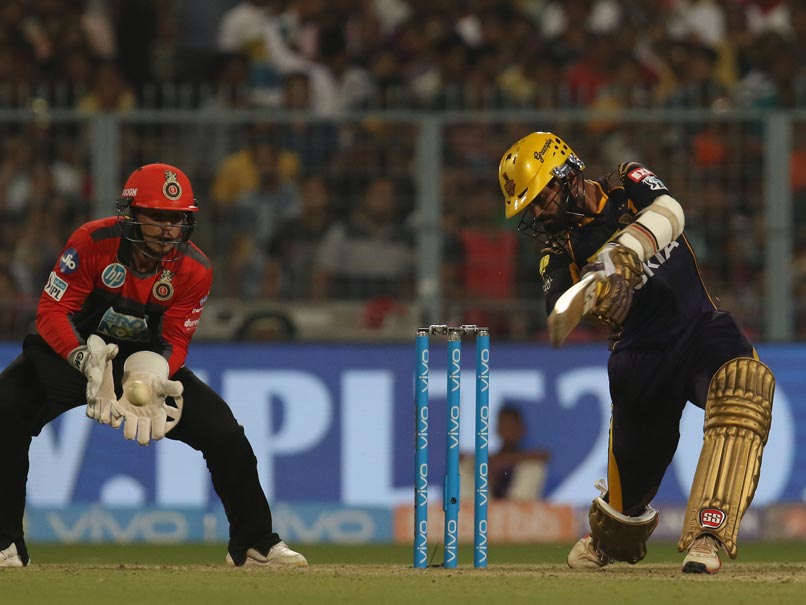 KKR make a winning start against RCB
© Twitter
Kolkata Knight Riders (KKR) rode on Nitish Rana's all-round show and Sunil Narine's whirlwind 19-ball 50 to beat Royal Challengers Bangalore (RCB) by four wickets in the Indian Premier League (IPL)clash on Sunday. In front of a packed Eden Gardens and co-owner Shah Rukh Khan, part-time off-spinner Rana (2/11) picked up the big wickets of AB de Villiers and skipper Virat Kohli in successive deliveries to reduce the visitors to 127/4 in 14.3 overs. Later, Mandeep Singh's 18-ball 37 helped RCB to a challenging 176/7, but mystery spinner Narine -- used effectively as a destructive opener by KKR since last season -- made light of the target with a fiery 19-ball 50 (4x4, 5x6) along with Rana who scored a vital 25-ball 34 to steer the hosts over the line with seven balls to spare. SCORECARD)
IPL 2018 Highlights of Kolkata Knight Riders vs Royal Challengers Bangalore match, straight from Eden Gardens, Kolkata
23:38 IST: It's all over. Kolkata Knight Riders beat Royal Challengers Bangalore by 4 wickets.
23:32 IST: WICKET! A Russell c de Villiers b Woakes 15(11)
After 17 overs, KKR are 162/5
23:28 IST: FOUR and SIX in an over for Andre Russell as Kolkata Knight Riders need 15 runs in 18 balls.
23:16 IST: WICKET! Rinku Singh c de Kock b Woakes 6(6)
After 15 overs, KKR are 141/4
23:09 IST: The 50-run partnership between Nitish Rana and Dinesh Karthik was up and Rana fell at a crucial stage. He missed the attempt to sweep and that was almost plumb.
23:08 IST: WICKET! Nitish Rana lbw b Washington Sundar 34(25)
After 13 overs, KKR are 119/3
22:57 IST: Kolkata Knight Riders now need 58 runs in 42 balls. Dinesh Karthik and Nitish Rana are hanging in there.
After 11 overs, KKR are 107/3
22:47 IST: 100 up for KRR in the 11th over. Kolkata Knight Riders now need 70 runs in 54 balls.
After 10 overs, KKR are 98/3
22:43 IST:The scoring rate has gone down considerably now. KRR need to accelerate now.
After 8 overs, KKR are 85/3
22:34 IST: Wicket number 2 for Umesh Yadav. Short and wide, the ball was moving away, Uthappa looked to swat the ball over midwicket played a wrong shot.
22:31 IST: WICKET! Uthappa c Brendon McCullum b U Yadav 13(12)
After 7 overs, KKR are 81/2
22:27 IST:The man, who dismissed Virat Kohli and AB de Villiers on consecutive deliveries is now doing it with the bat for KKR.
After 6 overs, KKR are 68/2
22:20 IST: Sunil Narine beaten by the pace. Gave a thick inside edge into off stump.
Sunil Narine is the only player with two fifties off 17 balls or less in IPL.
22:16 IST: WICKET! Narine b U Yadav 50(19)
After 5 overs, KKR are 65/1
22:15 IST: 50 up for KKR in the 5th over. Sunil Narine, the batsman, is toying with the bowlers. FOUR, SIX, SIX for Narine in the over as he brought up his FIFTY off 17 balls.
After 4 overs, KKR are 46/1
22:09 IST: SIX, FOUR, FOUR, SIX in the over for Sunil Narine.
After 3 overs, KKR are 26/1
22:04 IST: AB de Villiers (73) now has the second highest number of catches in IPL after Suresh Raina, who has 86.
After 2 overs, KKR are 16/1
21:57 IST: Chris Woakes strikes in his first over. A short, wide delivery outside off miscued by Lynn over mid-off where superman De Villiers took a splendid catch.
21:57 IST: WICKET! Chris Lynn c de Villiers b Woakes 5(8)
After 1 over, KKR are 12/0
21:53 IST: Sunil Narine started with a FOUR and SIX off Chahal
21:50 IST:Sunil Narine and Chris Lynn begin the chase for KKR and Yuzvendra Chahal opens the attack for RCB.
Royal Challengers Bangalore post 176/7, Kolkata Knight Riders need 177 to win.
21:35 IST: Much-needed runs for RCB as Mandeep Singh hits Vinay Kumar for SIX, FOUR, SIX before departing on 37 off 18.
21:34 IST: WICKET! Woakes c A Russell b Vinay Kumar 5(5)
21:33 IST: WICKET! Mandeep c Kuldeep Yadav b Vinay Kumar 37(18)
After 19 overs, RCB are 160/5
21:24 IST:Full outside off from Johnson and Sarfraz mistimed a lofted drive down to the long-on.
21:24 IST: WICKET! Sarfaraz Khan c Rinku Singh b Johnson 6(10)
After 16 overs, RCB are 137/4
21:12 IST:RCB are clearly struggling after losing AB de Villiers and Virat Kohli. Just 5 runs came off Andre Russell's over.
After 15 overs, RCB are 132/4
21:07 IST: The part-timer Nitish Rana gets AB de Villiers and Virat Kohli in consecutive deliveries.
21:06 IST: WICKET! Kohli b Nitish Rana 31(33)
21:05 IST: WICKET! AB de Villiers c Johnson b Nitish Rana 44(23)
After 13 overs, RCB are 116/2
20:57 IST:15th 50+ stand between Kohli & AB in the IPL. Eight of them 100+, two of them 200+
After 12 overs, RCB are 106/2
20:54 IST: DRS savs AB de Villiers and then he hits a FOUR and a SIX.
After 11 overs, RCB are 96/2
20:47 IST: Looks like Virat Kohli and AB de Villiers have decided to change the tempo of their innings after the halfway mark. 14 runs off Sunil Narine's over.
After 10 overs, RCB are 82/2
20:44 IST:Virat Kohli is finding it extremely difficult to rotate the strike that is why AB de Villiers is now dealing in SIXES.
After 9 overs, RCB are 66/2
20:38 IST: This one from Sunil Narine came slower than McCullum expected and the Kiwi was out bowled.
20:35 IST: WICKET! Brendon McCullum b Narine 43(27)
After 8 overs, RCB are 63/1
20:34 IST: This time the slower ball whacked by McCullum over the wide mid-off for a FOUR.
20:33 IST: Brendon McCullum got a full, outside off delivery from Mitchell Starc and he smoked it for a FOUR.
After 7 overs, RCB are 54/1
20:30 IST: Excellent first over from KKR veteran Sunil Narine. He gave away just 2 runs.
After 6 overs, RCB are 52/1
20:27 IST: 50 up for Royal Challengers Bangalore in the 6th over.
After 5 overs, RCB are 44/1
20:22 IST: Brendon McCullum survives a stumping off Kuldeep Yadav as 10 runs came in the over.
After 4 overs, RCB are 34/1
20:19 IST: Another excellent over for KKR from Piyush Chawla, just six runs came off it.
After 3 overs, RCB are 28/1
20:14 IST: Good first over for Kuldeep Yadav against the two most destructive batsmen in the world, just 7 came off it
After 2 overs, RCB are 21/1
20:10 IST:Soft dismissal and Piyush Chawla strikes in his first over. De Kock was attempting a reverse sweep and completely mistimed it. Got a top edge and the ball flew to short third man.
20:09 IST: WICKET! Quinton de Kock c Vinay Kumar b Chawla 4(4)
After 1 over, RCB are 14/0
20:05 IST: Brendon McCullum goes past 9000 T20 runs. 14 runs came off the first over for RCB.
20:00 IST:Brendon McCullum and Quinton de Kock start the proceedings for RCB. Vinay Kumar opens the attack for KKR
19:30 IST: Kolkata Knight Riders win the toss and opt to bowl
19:21 IST:We are moments away from the toss.
19:20 IST: Hello and welcome to the live match updates of the second match of the day between KKR and RCB at the Eden Gardens.
Just like previous editions, two-time champions KKR will kick off their IPL 2018 campaign as one of the favourites. Gautam Gambhir, who will be playing for Delhi Daredevils this season, had led KKR to title victories twice in his seven-year stint with the purple camp -- 2012 and 2014. Karthik will have a tough job and will be determined to keep KKR's domination intact like their slogan, 'Korbo Lorbo Jeetbo Rey'.
KKR full squad:Dinesh Karthik (c), Sunil Narine, Andre Russell, Chris Lynn, Tom Curran, Robin Uthappa, Kuldeep Singh Yadav, Piyush Chawla, Nitish Rana, Kamlesh Nagarkoti, Shivam Mavi, Mitchell Johnson, Shubman Gill, Ranganath Vinay Kumar, Rinku Singh, Cameron Delport, Javon Searless, Apoorv Vijay Wankhade, Ishank Jaggi.
Promoted
RCB full squad: Virat Kohli(c), AB de Villiers, Sarfaraz Khan, Chris Woakes, Yuzvendra Singh Chahal, Umesh Yadav, Brendon McCullum, Washington Sundar, Navdeep Saini, Quinton De Kock, Mohammed Siraj, Corey Anderson, Colin De Grandhomme, M. Ashwin, Parthiv Patel, Moeen Ali, Mandeep Singh, Manan Vohra, Pawan Negi, Tim Southee, Kulwant Khejroliya, Aniket Choudhary, Pavan Deshpande, Anirudha Ashok Joshi.
Topics mentioned in this article