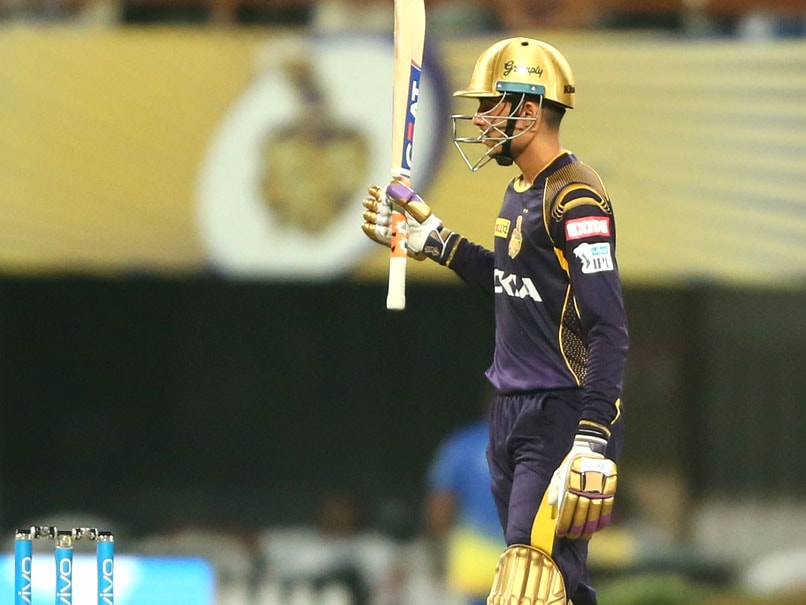 KKR vs CSK Highlights: Kolkata beat Chennai by 6 wickets
© BCCI
Shubman Gill (57*) and Dinesh Karthik (45*) played stellar knocks to help Kolkata Knight Riders beat Chennai Super Kings by 6 wickets in their Indian Premier League clash on Thursday at the Eden Gardens. Chasing 178 to win, Chris Lynn (12) gave KKR a solid start against CSK after he hit two sixes in the very first over. Lynn was however dismissed in the first over itself by Lungi Ngidi. Sunil Narine (32) continued KKR's charge as he hit two sixes and four boundaries before getting dismissed in the seventh over. Robin Uthappa (6) yet again failed to get going and was back to the pavilion off KM Asif's ball. Both Shubman and Karthik led the run-chase and kept the run-rate going. Harbhajan Singh (1/20) was the only economical bowler for CSK. Ngidi and Ravindra Jadeja shared a wicket apiece for Chennai. (SCORECARD)
Earlier, Chennai rode on a valiant 25-ball 43 run knock by MS Dhoni who helped them reach 177/5 against Kolkata in their IPL clash on Thursday. Shane Watson (36) and Faf du Plessis (27) gave the visitors a decent start. However, after Du Plessis' departure, KKR took control of the game. Suresh Raina (31) and Ambati Rayadu (21) got starts but could not convert it into big scores. Narine was the pick of the bowlers for KKR as he finished with bowling figures of 2/20 in 4 overs. Piyush Chawla also took two wickets but was slightly expensive.
IPL 2018 Highlights of Kolkata Knight Riders vs Chennai Super Kings match, straight from Eden Gardens, Kolkata
23:30 IST: Thank you for staying with us for the live match updates.
23:26 IST: Kolkata Knight Riders beat Chennai Super Kings by 6 wickets
23:25 IST: FOUR! Karthik wants to end this fast. 2 runs needed now. KKR 176/4
23:25 IST: Two runs taken. These two have stitched a wonderful partnership. KKR 171/4 in 17.2 overs
23:22 IST: FOUR! Karthik hits another boundary. KKR need 9 to win
23:18 IST: WIDE! Bowler under pressure. KKR should easily win this. They need 14 runs needed from 19 balls 
23:17 IST: FOUR! Karthik pulls Ngidi for a four towards the fine leg region. KKR 160/4
23:13 IST: FOUR! Karthik gets his four. KKR are getting boundaries at will now. KKR need 23 runs off 4 overs
23:11 IST: 50 up for Gill. His 1st fifty in IPL. Took 32 balls to reach his fifty. A lovely cover drive after reaching his maiden fifty.
23:10 IST: SIX! 21 runs off it. Karthik's turn to hit the big shots now. Kolkata Knight Riders need 37 runs in 30 balls
23:09 IST: SIX! This is a big over for KKR. Rayadu fails to save that one. Asif is expensive. Gill is now on 48. KKR 135/4 in 14.5 overs
23:05 IST: SIX! Shubhman Gill hammers it towards the mid on region. He is batting well. Asif under pressure here. 39 runs is his highest IPL score.
23:00 IST: FOUR! Karthik is turning it on for KKR now. A good shot towards the third man region. Good over for KKR. 11 runs off it. KKR 120/4 in 6 overs
22:57 IST: FOUR! Shubhman Gill thumps the ball over wide mid off for a boundary. KKR 106/4, need 72 off 44 balls.
22:55 IST: FOUR! Karthik guides Harbhajan towards third man for a boundary.
22:54 IST: Captain Dinesh Karthik comes to the crease.
22:52 IST: WICKET! Harbhajan Singh castles Rinku Singh for 16 runs. KKR 97/4, need 81 in 50 balls vs CSK.
22:47 IST: 10 overs gone! KKR 90/3. They still need 88 runs to win off 60 balls.
22:40 IST: FOUR! Wide and a four. Freebie runs for KKR. Jadeja gives away an unnecessary extra. KKR 80/3 in 9 overs
22:38 IST: Review taken for a stumping. Not out is the verdict.
22:34 IST: FOUR! Rinku Singh opens his account with an inside-out shot. KKR 71/3
22:33 IST: Kolkata Knight Riders need 111 runs in 78 balls
22:31 IST: OUT! Narine departs for 32. KKR lose their third wicket. Jadeja bowls a good one. Not timed well and an easy cath for Bravo at long on. KKR 64/3 in 6.4 overs 
22:30 IST: SIX! Narine sends it to the stands. Takes Jadeja over long on boundary for a six. Nice swing of the bat. 
22:29 IST: FOUR! Gill glides it towards the leg side boundary. Gill hits two boundaries off Bravo's over. Three boundaries in this over for KKR. A good one for the hosts. KKR 56/2 in 6 overs 
22:22 IST: FOUR! Narine gets his boundary. Bhajji completely misses the ball and conceded a four. CSK 44/2
22:21 IST: Shubman Gill is the new batsman for KKR. 
22:20 IST: OUT! Uthappa has to go now. He departs for 6 runs. Out off a short ball by Asif. Doesn't get the hold off the shot and an easy catch for Dwayne Bravo. CSK 40/2 in 4.2 overs
22:20 IST: Narine dropped on 6 twice by Jadeja.
22:18 IST: Watson has bowled well so far. Only 3 runs off his first four balls. However, a boundary off the last ball ruins it for him. Narine is simply looking to play all kinds of shots here. CSK 39/1 in 4 overs
22:12 IST: FOUR! What a shot by Uthappa. A stylish shot by him. A flick of wrists on the leg side for a four. CSK 32/1 in 3 overs 
22:09 IST: FOUR! Narine making CSK pay for his dropped catches. Ngidi is furious with the delivery. back-to-back boundaries for CSK. Frustration mounting for Chennai. CSK 27/1
22:07 IST: DROPPED! Another catch dropped. Narine survives twice. Poor fielding by CSK. KKR 19/1 in 2 overs
22:03 IST: KM Asif is the new bowler for CSK. Robin Uthappa is the new batsman for KKR.
22:02 IST: WICKET! Review taken for LBW. The original decision was not out. Lynn awaits his fate. He has to depart after hitting two maximums. Ngidi strikes in the first over. CSK 12/1 in 1 over
22:00 IST: SIX! Lynn takes Ngidi to the cleaners. The crowd enjoyed that shot. 75 metres long six for Lynn. Back-to-back sixes for him now. He is a powerful man and punishes the bowler over his head for a six. A superb over for Kolkata.
21:58 IST: What a good first two balls. Movement for Ngidi. Superb movement off his first two deliveries.
21:56 IST: Sunil Narine and Chris Lynn open for KKR. Lungi Ngidi bowls the first over for CSK.
INNINGS BREAK
21:42 IST: Chennai Super Kings 177/5 in 20 overs
21:42 IST: FOUR! Three boundaries in that last over.
21:41 IST: OUT! Jadeja departs for 12. Easy pickings for Dinesh Karthik. CSK 173/5 in 19.5 overs
21:39 IST: FOUR! Bonus rains for CSK. Jadeja, wicket keeper Karthik misses it completely.
21:38 IST: FOUR! Straight towards the ground by Jadeja. Much-needed boundary.
21:37 IST: Piyush Chawla bowls the final over. Dhoni takes a single off his first ball. 
21:36 IST: Brilliant over by Narine. Only 5 runs off it. CSK 163/4 in 19 overs 
21:33 IST: Narine bowls his final over. Just a single off his first ball.
21:32 IST: SIX! DHONI DROPPED! Dhoni dropped by Shubman Gill. Dhoni survives and gets a six instead. CSK 158/4 in 18 overs
21:30 IST: CSK reach 150/4 in 17.3 overs 
21:27 IST: SIX! Second boundary of the night. Sweetly on the middle of the ground. 15 runs off Johnson's over. CSK 146/4 in 17 overs 
21:25 IST: FOUR! Short, cushioned on the back foot. Dhoni is making this look so easy. One bounce and a four. CSK 139/4
21:22 IST: SIX! Pulled away by Dhoni for a maximum. Brute force by Dhoni. Clears deep mid wicket with ease. CSK 131/4 in 16 overs
21:21 IST: Shivam Mavi has come back stronger in this match for KKR. He has bowled extremely well in this match.  
21:16 IST: Brilliant over by Narine. 4 runs and a wicket for the Windies spinner. Final five overs to go for Chennai. CSK 121/4 in 15 overs.
21:13 IST: OUT! Narine bowls a ripper. He breaks this partnership. Rayadu is clean bowled. He departs for 21 runs. CSK 119/4 in 14.4 overs
21:09 IST: A critical next three overs for KKR. They have new batsmen on the crease. They need to bowl well. They have bowled well as they have succeeded in stalling the run rate.
21:03 IST: Dhoni and Rayadu have to bat the remaining 7 overs for CSK. These two are key to Chennai reaching a high total.
21:02 IST: FOUR! A little deft touch and Rayadu gets it finer for a boundary. CSK 107/3 in 12.2 overs
21:00 IST: KKR have bowled well to remove Raina and Watson in quick succession. CSK were cruising at one end. 
20:58 IST: OUT! Raina has to go. Kuldeep Yadav gets his first wicket. Poorly timed and a comfortable catch for Mitchell Johnson. He departs for 31 runs. CSK 101/3 in 11.3 overs
20:54 IST: FOUR! In-form batsman Ambati Rayadu opens his account with a boundary on the offside. A good-looking shot. CSK 97/2 in 11 overs
20:51 IST: OUT! Watson departs for 36. A crucial wicket for Narine. Good catch in the end by Shivam Mavi. Unlucky for Watson that he couldn't get it over the line. CSK 91/2 in 10.2 overs
20:48 IST: SIX to finish a very good over by Kuldeep Yadav. Watson hits it over the bowler's head. CSK 90/1 in 10 overs
20:47 IST: Watson and Raina have steadied the CSK ship after Du Plessis' wicket but their run rate hasn't been the same since his departure.
20:44 IST: 6 runs off it. Mavi bowls a good over. He has maintained his line and length. CSK 81/1 in 9 overs
20:41 IST: Mavi bowls his second over. 
20:40 IST: A good start for Kuldeep. Barring a boundary, he has bowled well. Gives 7 runs off the over. CSK 76/1 in 8 overs
20:38 IST: FOUR! Watson gets his boundary. No one at the deep square leg. He plays it fine. 
20:37 IST: Superb first two deliveries by Kuldeep.
20:36 IST: Kuldeep Yadav takes the ball for KKR.
20:31 IST: FOUR! What timing by Raina. A superbly timed shot towards the off side. CSK 66/1
20:30 IST: Andre Russell is the new bowler for KKR.
20:25 IST: Raina gets his first boundary. Opens his account with a four. Follows it up with another four. CSK 52/1
20:24 IST: OUT! Googly by Piyush Chawla does the trick. Du Plessis deceived by it completely. CSK lose their first wicket. He departs for 27. CSK 48/1
20:21 IST: SIX! What a shot by Du Plessis. The yellow stand in appreciation of this shot. Faf waits and pulls the short ball. The ball just flies over the boundary. Back-to-back sixes for Du Plessis. CSK 48/0 in 5 overs
20:18 IST: FOUR! What a shot by Watson. Fiercely struck. Misses Johnson by a whisker. Luck goes in Watson's favour.
20:17 IST: FOUR! Marginally short and Watson lashes onto the ball for a boundary. Narine bowled a good one. The last two overs were good for the bowling side. CSK 29/0 in 4 overs
20:14 IST: Sunil Narine is the new bowler for KKR.
20:13 IST: FOUR! Inside edge and Faf gets his boundary. He is doing the bulk of the scoring so far. Good over for Mavi. Only 6 runs off it. CSK 24/0 in 3 overs
20:10 IST: Shivam Mavi is the new bowler for KKR.
20:08 IST: FOUR! Faf clears the in field. Doesn't time it well but gets his boundary. Another good over for CSK. CSK 18/0 in 2 overs
20:06 IST: FOUR! Faf gets his second four. Picks up the gap on the off side.
20:05 IST: Piyush Chawla is the new bowler for KKR.
20:04 IST: FOUR! Finer. Boundary for Du Plessis. Third man was wide and Du Plessis gets his four. CSK 10/0 in 1 over
20:02 IST: FOUR! First runs off the bat for Watson. Got enough power to clear the mid off region for f our.
20:00 IST: Shane Watson, Faf du Plessis open the innings for Chennai. Mitchell Johnson begins the proceedings with the ball for Kolkata Knight Riders.
19:35 IST: Kolkata Knight Riders (Playing XI): Chris Lynn, Sunil Narine, Robin Uthappa, Dinesh Karthik(w/c), Rinku Singh, Shubman Gill, Andre Russell, Shivam Mavi, Piyush Chawla, Mitchell Johnson, Kuldeep Yadav
Chennai Super Kings (Playing XI): Shane Watson, Faf du Plessis, Suresh Raina, Ambati Rayudu, MS Dhoni(w/c), Dwayne Bravo, Ravindra Jadeja, Karn Sharma, Harbhajan Singh, Lungi Ngidi, KM Asif
19:30 IST: Kolkata Knight Riders captain Dinesh Karthik wins toss, elects to field vs Chennai Super Kings
19:23 IST: We are moments away from the toss.
19:22 IST: TRIVIA! CSK have won 11 games so far against KKR while the hosts have managed just six against Dhoni and his men. At the Eden Gardens too, CSK hold the edge with four wins from seven games.
19:00 IST: Hello and welcome to the live match updates of the 33rd match between KKR and CSK of the Indian Premier League (IPL)
Besides Dhoni, IPL-11's top-scorer Ambati Rayudu has been superb with the bat as well, amassing 370 runs at 46.25. In the last four matches, Rayudu has scores of 41, 46, 82 and 79. Veteran Australian opener Shane Watson has looked good too with a century to his name against Rajasthan Royals, a team he won the inaugural IPL with, in 2008.
Watson's 40-ball 78 in the last encounter underlined the fact that his big-hitting skills are still in the right place despite being on the wrong side of 30 and along with South African skipper Faf Du Plessis, they make a deadly combination at the top.
(Play Fantasy Cricket & Win Lakhs everyday !)
Du Plessis' compatriot Lungi Ngidi has added teeth to CSK's pace battery after returning to the fold following the demise of his father which had forced the 22-year old to rush home.
Ngidi played for the first time in CSK colours against Delhi and returned figures of 1/26. Besides Ngidi, the likes of Harbhajan Singh, and all-rounder Dwayne Bravo have also done well in games, giving the team an overall stability.
Coming to the hosts, KKR registered a morale-boosting six-wicket win against Royal Challengers Bangalore in their last game on the road.
After a harrowing 55-run loss against Delhi, Chris Lynn starred for Dinesh Karthik's KKR with an unbeaten 52-ball 62 as wrist spinners Piyush Chawla and Kuldeep Yadav also looked good.
KKR are fourth in the table with four wins and the same number of losses. They have looked good in patches so far and against a formidable side in CSK, the men in purple will have their task cut out.
KKR's consistent performer Nitish Rana got injured in the last game and had to be retired hurt for 15.
A lot will once again rest on West Indian all-rounder Andre Russell who has been KKR's go-to-man this season. Kuldeep and Piyush will have to weave their magic with the ball to restrict Chennai and look for early wickets along with mystery spinner Sunil Narine.
In their last meeting, CSK won a humdinger by five wickets with one ball to spare.
KKR don't have a good track record against CSK, losing 12 times out of a possible 19.
Teams (from):
KKR: Dinesh Karthik (C/WK), Sunil Narine, Andre Russell, Chris Lynn, Robin Uthappa, Kuldeep Yadav, Piyush Chawla, Nitish Rana, Prasidh Krishna, Shivam Mavi, Mitchell Johnson, Shubman Gill, R Vinay Kumar, Rinku Singh, Cameron Delport, Javon Searless, Apoorv Wankhade, Ishank Jaggi and Tom Curran.
CSK: MS Dhoni (C/WK), Ravindra Jadeja, Suresh Raina, Kedar Jadhav, Dwayne Bravo, Karn Sharma, Shane Watson, Shardul Thakur, Ambati Rayudu, Murali Vijay, Harbhajan Singh, Faf Du Plessis, Mark Wood, Sam Billings, Imran Tahir, Deepak Chahar, Lungisani Ngidi, K.M. Asif, N. Jagadeesan, Kanishk Seth, Monu Singh, Dhruv Shorey, Kshitiz Sharma, Chaitanya Bishnoi.