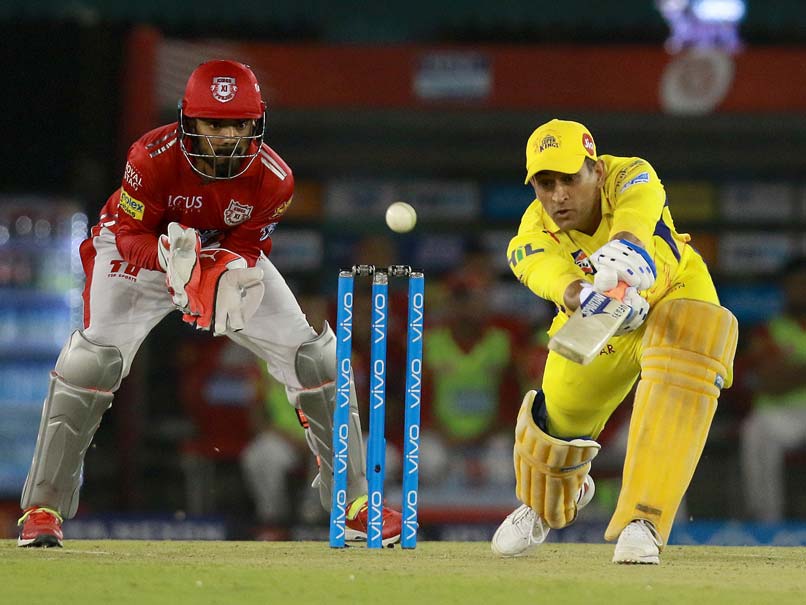 Kings XI Punjab vs Chennai Super Kings Highlights: Punjab edge Chennai by 4 runs in a thrilling encounter
© BCCI
MS Dhoni's unbeaten 79 went in vain as Kings XI Punjab (KXIP) edged Chennai Super Kings (CSK) by four runs in a thrilling Indian Premier League (IPL) clash in Mohali on Sunday. In a pulsating encounter, Dhoni was ably supported by Ambati Rayudu (49) in the middle overs. Dhoni stole the show with his batting prowess as he hit six fours and five sixes in his 44-ball 79. Andrew Tye took two wickets for Punjab but was expensive as he conceded 47 runs while Punjab skipper R Ashwin took a wicket giving away 32 runs in his four overs. (SCORECARD)
Earlier, Kings XI Punjab (KXIP) posted 197/7 in their 20 overs in the Indian Premier League (IPL) clash against Chennai Super Kings (CSK) at the Punjab Cricket Association IS Bindra Stadium, Mohali on Sunday. Riding on Chris Gayle's 63 off 33 balls, Punjab looked on course for a huge total. However, Imran Tahir's back-to-back wickets pegged the batting side. Both KL Rahul (37) and Gayle stitched a 96-run first wicket partnership. Mayank Agarwal (30) and Karun Nair (29) played crucial knocks in the middle to ensure Punjab reached a decent total. Shardul Thakur (2/33) took two wickets while Harbhajan Singh, Shane Watson and Dwayne Bravo shared a wicket each. 
IPL 2018 Highlights of Kings XI Punjab vs Chennai Super Kings match, straight from Punjab Cricket Association IS Bindra Stadium, Mohali
23:47 IST: Thank you for staying with us for the live match updates.
23:46 IST: SIX for Dhoni in the last over! But that isn't enough as Kings XI Punjab beat Chennai Super Kings by 4 runs
23:45 IST: 2 runs only. 11 runs needed in 1 ball. Looks impossible now but credit to MS Dhoni, he has been magnificent.
23:45 IST: Superb ball. Dot ball. Not a wide. 11 runs needed off 2 balls.
23:43 IST: FOUR! Boundary courtesy captain marvellous. Dhoni is turnung this on. He is now on 73 runs. 11 runs off 3 balls needed for CSK to win.
23:42 IST: WIDE! This one is wide.
23:41 IST: Good ball. Mohit Sharma bowls well. Not a wide. Legitimate delivery. Lucky escape. 16 runs off 4 balls needed.
23:40 IST: Dhoni on strike. 16 runs needed off 5 balls.
23:38 IST: SIX! One-handed six. What a shot. You just cannot stop this man. He is now on 69.
23:37 IST: FOUR! What a boundary. Sweetly timed over the third man fielder. CSK need 25 off 8 balls.
23:36 IST: SIX! Dhoni is on fire. He pulls it over the mid n boundary for a maximum. CSK need 29 off 9 balls.
23:35 IST: OUT! Chennai Super Kings lose their fifth wicket as Ravindra Jadeja departs for 19 runs vs Kings XI Punjab | CSK 163/5 in 18.2 overs
23:33 IST: 36 runs needed in 12 balls for CSK.
23:32 IST: SIX! Boom. That's 19 runs off the over. CSK can still pull this off.
23:32 IST: 50 up for Dhoni. Superb innings. 4 fours, 2 sixes, 18th IPL fifty in 34 balls. 
23:30 IST: SIX! This is Dhoni. What a shot over the bowler's head. He is turning the game on. Will he pull his team from the jaws of defeat? This helicopter shot reminded us of the 2011 World Cup winning six. CSK need 43 runs off 14 balls
23:28 IST: Well bowled. Dhoni is limping. Good yorker by Mohit Sharma out there. Only a single run. 50 runs needed by CSK in 16 balls
23:28 IST: FOUR! Deep wicket fielder misses it completely. Misjudges it and its four. Mohit Sharma must be furious. Easy runs for CSK.
23:26 IST: FOUR! One bounce. Big boundaries in Mohali but Jadeja clears it with ease over the mid off region. CSK 143/4, need 55 runs off 18 balls
23:24 IST: FOUR! That's why Dhoni doesn't run. Its a baseball shot over long off by Dhoni. He is just fantastic to watch. He is now on 38. CSK 139/4
23:21 IST: CSK need 67 more runs to win off 24 balls.
23:17 IST: A good over by Sran. Jadeja is under pressure now. 
23:10 IST: SIX! Dhoni is upping the ante now. Clean strike. Down on one knee and hammers it. CSK 123/4
23:08 IST: Chennai Super Kings lose their fourth wicket as Ambati Rayadu departs for 49 runs vs Kings XI Punjab | CSK 113/4 in 6.4 overs
23:05 IST: SIX! Much-needed six for CSK. Extra bounce, Rayadu gets down within it and hammers it towards a maximum. CSK 113/3 
23:00 IST: Chennai need another 92 runs off 44 balls.
22:55 IST: 100 up for Chennai in 12 overs.
22:52 IST:  Good shot by Dhoni. Two runs. Good running between the wickets by Rayadu and Dhoni. CSK 98/3
22:50 IST: FOUR! Good shot for four. Rayadu is playing well. Good sound innings taking place here. He knows what he is doing. He is hitting the boundaries as and when he gets the chance. 
22:45 IST: Mujeeb Ur Rahman bowls his second over.
22:42 IST: FOUR! Into the gap. A gentle nudge to deep backward point by Dhoni becomes a 13-run over. CSK need 117 more runs off 66 balls
22:40 IST: FOUR! Superb pull shot by Rayadu. Poor bowling. On the leg side, fuller length and Rayadu does his business. CSK 75/3 
22:36 IST: FOUR! Too easy for Dhoni. Width on the offside and he hammers it for a four.
22:35 IST: Ambati Rayudu and MS Dhoni need to bat long.
22:29 IST: WICKET! Chennai Super Kings lose their third wicket as Sam Billings departs for 9 runs vs Kings XI Punjab | CSK 56/3in 6.4 overs
22:17 IST: OUT! Chennai Super Kings lose their second wicket as Murali Vijay departs for 12 runs vs Kings XI Punjab | CSK 39/2 in 4.1 overs 
22:15 IST: FOUR! One bounce for a four. Uses his feet perfectly. Superb shot by Rayadu.
22:14 IST: Briefly in the air but Vijay knew what he was doing. CSK 33/1 
22:11 IST: SIX! Good over until the last ball six by Murali Vijay. He pummels it to the on side boundary for a maximum. CSK 31/1 in 3 overs
22:10 IST: FOUR! What a shot by Rayadu. Mid on fielder underestimated the timing. Superb shot by Rayadu.
22:07 IST: WICKET! Chennai Super Kings lose their first wicket as Shane Watson departs for 11 runs vs Kings XI Punjab. Mohit Sharma bowls well varies with his pace and foxes Watson completely. A simple catch taken by Sran | CSK 17/1 in 2 overs 
22:04 IST: FOUR! Good cricket from Watson. Delicately placed by Watson. Not a bad ball but Watson played the shot extremely well. 
22:03 IST: FOUR! Watson clears the in field. Big ground but Watson had his eyes set on the offside boundary. CSK 13/0
22:02 IST: Mohit Sharma is the new bowler for CSK.
22:00 IST: Finally the over is actually over. 9 runs off it. CSK 9/0 in 1 over 
21:57 IST: WIDE! Sran is missing his line and length. Another extra.
21:57 IST: WIDE! Not an ideal start for the bowler. 2 extra runs taken.
21:56 IST: Shane Watson, Murali Vijay are the two Chennai openers while Barinder Sran begins the proceedings for Punjab.
INNINGS BREAK
21:40 IST: Kings XI Punjab post 197/7 in 20 overs.
21:40 IST: Superb last over by Bravo. This shows his experience in the big stage. Bravo takes on the batsmen and succeeds.
21:37 IST: OUT! Nair departs for 29. Easy catch for the fielder by Ravindra Jadeja. A good knock comes to an end. Down the wicket and Bravo closes down the angle for him to play a shot. KXIP 195/7 in 19.4 overs
21:36 IST: Dwayne Bravo bowls the last over.
21:35 IST: Final over. Karun Nair on strike.
21:35 IST: Deepak Chahar saves a single. Good fielding by Deepak Chahar at the boundary. KXIP 193/6 in 19 overs
21:33 IST: Kings XI Punjab lose their sixth wicket as R Ashwin departs for 14 runs vs Chennai Super Kings | KXIP 190/6 in 18.5 overs
21:31 IST: SIX! What a shot by Punjab skipper Ashwin. A good over ruined by that six. The ball disappeared. KXIP 190/5 
21:25 IST: FOUR! Ball drifting to the pads and it races towards the leg side for a boundary. Good shot by Karun Nair. 
21:17 IST: OUT! Kings XI Punjab lose their fifth wicket as Yuvraj Singh departs for 20 runs vs Chennai Super Kings | KXIP 157/5 in 15.3 overs
21:14 IST: OUT!! Imran Tahir gets two-in-two. Aaron Finch follows Mayank Agarwal back to the hut. This is the second time in the tournament Finch has been dismissed for a first-ball duck. Chennai are slowly gaining control of the match.
21:01 IST: FOUR! Full delivery from Imran Tahir and Yuvraj frees his arm as he sends him straight down the ground for a boundary. Can Yuvraj deliver tonight?
20:57 IST: OUT!! Slower short delivery from Watson, Gayle, on one feet, tried working it around for a single, miscues and edges it straight to Imran Tahir at short fine-leg. Gayle departs for 63. Big, big wicket for CSK as the audience stand in disbelief.
20:54 IST: SIX! Right in Mayank Agarwal's slot and Shane Watson is not happy with himself as he watches the ball fly over him for a maximum. Chennai is finding it hard to get a breakthrough.
20:45 IST: Mayank Agarwal is turning on the heat and is not taking any time to settle. He has taken the attack to Harbhajan Singh by slamming him for consecutive boundaries. Gayle magic has definitely rubbed off on him. It will be safe to say that KXIP are on course for a big total.
20:40 IST: OUT! Harbhajan gets the breakthrough. KL Rahul departs for 37.
20:34 IST: 50! Chris Gayle has announced himself in style. He scores his 22nd IPL fifty with a boundary off Tahir straight down the target. Punjab in onslaught mode.
20:30 IST: FOUR! Imran Tahir bowls a shorter delivery first up and Rahul pulls him brilliantly. A boundary to start the over. Are we going to have another big over?
20:28 IST: FOUR! Mohali is being entertained thoroughly as Gayle is playing magnificent cricket. Where has he been all the time?! Never mind, he is here now.
20:27 IST: FOUR and FOUR! Gayle follows his gigantic maximum with two boundaries. First he pulls a slower short delivery perfectly and then slaps a back of a length delivery straight down the ground for a boundary.
20:26 IST: SIX! Deepak Chahar is being torn apart. Length ball from Chahar and Gayle smokes the ball rows back in the crowd. There is no stopping the big West Indian.
20:23 IST: FOUR! Gayle dispatches Shardul for a boundary as 50 comes up for Punjab in the 5th over. KXIP is going strong! 
20:22 IST: FOUR! Short delivery from Shardul and KL Rahul says thank you. Stands tall and times the pull off the backfoot. The ball runs away to the boundary in a blink of an eye.
20:20 IST: FOUR! Full and wide from Shardul Thakur, Gayle looking to drive, edges it between the keeper and the first slip. No one moved. Gayle gets a life.
20:19 IST: FOUR and FOUR! KL Rahul will not be holding back. Two poor deliveries from Harbhajan gets driven by Rahul beautifully through covers. Impeccable timing and picture perfect shot.
20:16 IST: Four and a SIX! Chris Gayle is targeting Harbhajan. Short and wide from the Indian spinner and Gayle cuts it the ball away past the man at point. He follows it up by guiding Bhajji over the long-off boundary for a huge maximum. GAYLE has arrived!
20:14 IST: FOUR! Short ball from Chahar and KL Rahul, who is in the prime, pulls it away with brute force. Poor, poor delivery from Deepak Chahar
20:08 IST: FOUR! Welcome to the crease Harbhajan Singh. Full and wide and Gayle takes a stride forward and beautiful times his drives through the cover. The first of many Gayle boundaries.
20:06 IST: FOUR! Rahul's second four of the over. A good start for the batting side. KXIP 10/0 in 1 over
20:02 IST: FOUR! What a shot to open your run account. Second ball and Rahul drives it towards the offside boundary. KXIP 6/0
20:00 IST: Lokesh Rahul and Chris Gayle open the innings for Punjab while Deepak Chahar begins the proceedings for Chennai.
19:33 IST: Chennai Super Kings have won the toss and have opted to field
19:20 IST: Hello and welcome to the live match updates of the Indian Premier League clash between Kings XI Punjab and Chennai Super Kings.
In the second match, Chennai was handed a challenging 203-run target by Kolkata Knight Riders (KKR) in their first home game at the MA Chidambaram Stadium. Winning the toss, Dhoni opted to bowl first and opined his side love to chase, a statement which was hence proved right by his boys. CSK was off to a flying start with Shane Watson (42) and Ambati Rayudu (39) adding 75 runs for the opening wicket. With just everything going CSK's way, KKR's spinners- Kuldeep Yadav and Sunil Narine struck to bring back their side in the contest. Overall, Chennai will once again be the favourites over Punjab, after winning the last three encounters the two sides have met.
When and Where to Watch: Kings XI Punjab (KXIP) vs Chennai Super Kings (CSK)
India: TV: Star Sports 1, Star Sports 1 HD (English, Hindi, Tamil). Live Streaming: Hotstar.
UK: TV: Sky Sports 2. Live Streaming: Sky Go and Watch Sky Sports.
Bangladesh: TV: GTV and Star Sports.
USA: TV: Willow TV. Live Streaming: Willow TV Live Online.
Australia: TV: Fox Sports. Live Streaming: Foxtel.
New Zealand: TV: Sky Sport 1. Live Streaming: Sky Go NZ.
South Africa: TV: SuperSport 2. Live Streaming: SuperSport Live Video.
Middle East: TV: OSN Sports Cricket. Live Streaming: OSN Play.
Singapore: TV: Star Cricket.