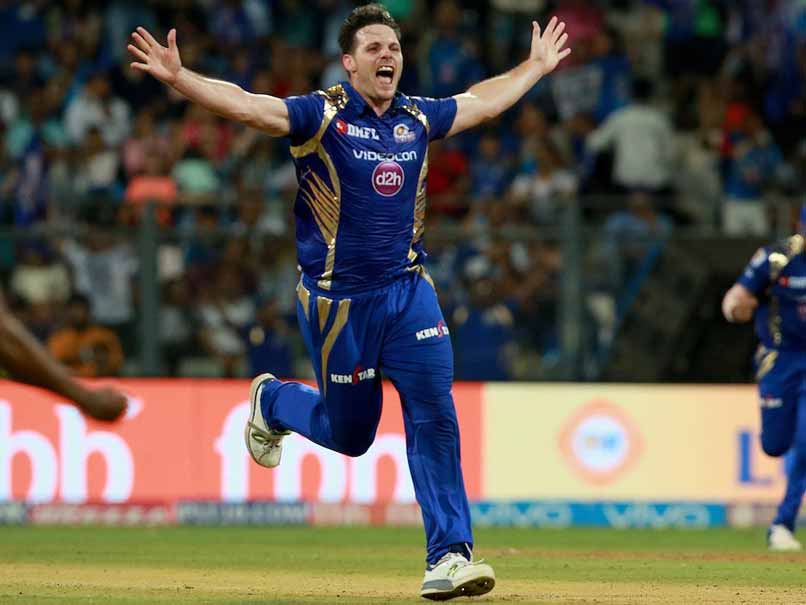 Mitchell McClenaghan celebrates after taking a Delhi wicket.
© BCCI
Mumbai Indians have been on a roll this season having won their sixth consecutive Indian Premier League (IPL) match on Sunday. Yet pacer Mitchell McClenaghan believes there's a long way to go and it's too soon to be thinking of the play-offs. He thinks Mumbai Indians have to remain consistent to reach that stage. McClenaghan's contribution in Mumbai's 14-run victory over Delhi Daredevils on Sunday was crucial. He grabbed three wickets at the Wankhede.
Fantastic win tonight from a very determined unit. Everyone put their body on the line for each other and that's what team is all about #MI

— Mitchell McClenaghan (@Mitch_Savage) April 22, 2017
"It's a long way to go (to reach play-offs). We have got a very liberal management and a very liberal team. So, fresh start every time, planning process is injected at the same time. Same routine. It's important that we do not get too high or two low, just stay consistent because there is ups and downs in T20 cricket," he said at the post match conference.
Sunday's win gave Mumbai 12 points from seven matches and they have consolidated their top spot on the table.
The Kiwi pacer said while defending a modest total, their bowlers stuck to the plan and bowled with control. "Obviously, you have to take wickets upfront. The message was very clear, just do our things. When you think of a sub-par score on a pretty good wicket, the team insists you to go out and be too aggressive with the ball and make things happen from the outset. We worked very hard with Bondy (Shane Bond, bowling coach), our analyst, (coach) Mahela (Jayawardene) to what plans in place and we stuck to our plans. We bowled with control, but still with a nice presence," McClenaghan said when asked what was the team's approach defending 142 on the board.
(With PTI inputs)