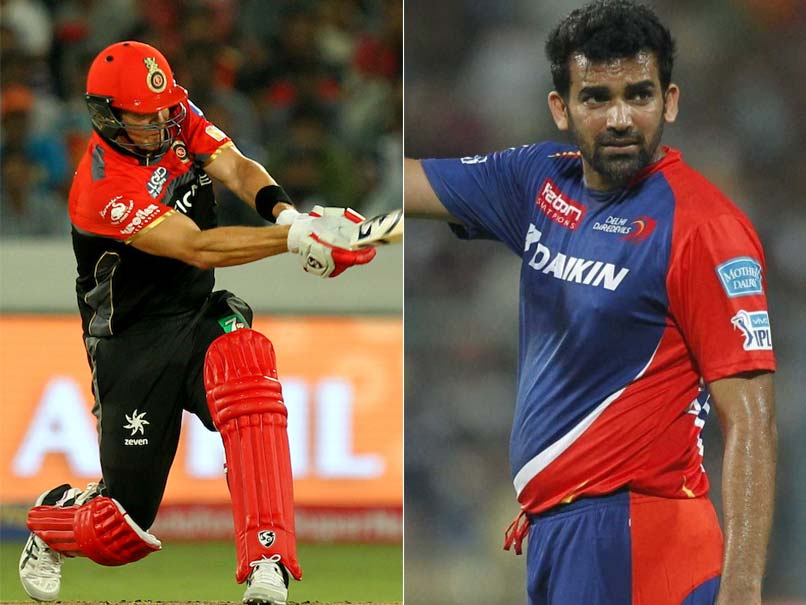 RCB vs DD: Bangalore beat Delhi by 15 runs to cap off a thrilling win.
© BCCI
Royal Challengers Bangalore (RCB) picked up their first points of the Indian Premier League (IPL) when a very mediocre batting performance by Delhi Daredevils gave the hosts a victory. A heroic knock by young Rishabh Pant (57), who lost his father just a couple of days ago, was to no avail as the rest of the DD batting showed no imagination and even less grit. The visitors completed a fine 15-run win thanks to a brilliant last over from left-arm spinner Pawan Negi. (Scorecard)
Catch all the highlights of RCB vs DD in Bengaluru.
23:57 IST: That's it from us. Do join us for the double-header on Super Sunday. Adios!
23:55 IST: So RCB pick up their first points of the IPL after having lost their opener. Delhi will be left wondering as to what went wrong especially since they looked in command of the match right through.
23:50 IST: That's it! Bangalore win by 15 runs. Brilliant last over from Negi, Huge gamble from Watson has paid off. Great captaincy!
23:45 IST: Another one gone! Nadeep plays it straight into Negi's hands. What a turnaround!
23:42 IST: WICKET! Oh my word! Negi bowls Pant round his legs on the very first ball of the final over. Huge, huge blow  for Delhi!
23:40 IST: The last over is a battle between two Indian youngsters - Negi vs Pant!
23:37 IST: What a brilliant 19th over from the skipper. Watson has put RCB ahead in his contest now. 19 needed off the last over. Can Pant be a hero?
23:32 IST: SIX! Pant pulls Mills for six. The left-hander anticipated the slower ball and went after it.
23:30 IST: FIFTY for Pant. The left-hander picks up a single off Mills and raises his bat.
23:22 IST: OUT! Watson cleans up Cummins. There are more twists in this tale!
23:20 IST: FOUR! Cummins clips Watson off his pads for an easy boundary.
23:16 IST: Delhi Daredevils are 121/6 in 16 overs vs Royal Challengers Bangalore
23:10 IST: OUT! Chahal cleans up Brathwaite. Big problems for Delhi now.
23:07 IST: Pant holds the key for Delhi from here. He can ease off the pressure with some lusty blows.
23:00 IST: WICKET! Abdulla traps Morris lbw. This contest is headed for a tense finish.
22:57 IST: SIX! Pant sweeps Abdulla for a massive six over midwicket.
22:48 IST: OUT! Delhi lose their fourth wicket. Samson is caught at long on by Binny off Stanlake's bowling.
22:43 IST: Delhi Daredevils 79/3 in 10 overs vs Royal Challengers Bangalore
22:33 IST: Pant smokes a six on the very first ball. What a talent!
22:30 IST: OUT! Abdulla gets the big wicket of Billings. The England batsman was looking dangerous.
22:25 IST: SIX! Billings does the unthinkable - hits Chahal's leg-spinner for a six off a reverse-sweep. Incredible!
22:19 IST: GONE! Stanlake cleans up Nair with a quick one. Delhi in a spot of bother now.
22:14 IST: WICKET! Mills cleans up Tare, Delhi lose their first wicket.
22:08 IST: FOUR! Tare cuts hard and the ball flies past Gayle at first slip Abdulla is disappointed.
22:05 IST: Stanlake is dispatched over deep square leg by Tare for a four!
22:02 IST: Delhi off to a decent start in Bengaluru. 
21:40 IST: Morris, after conceding a six in the last over, cleaned up two RCB batsmen to help restrict the home side to 157/8.
21:34 IST: Too good from Cummins there. Negi and Abdulla struggling to get in the big hits. This is hurting RCB.
21:25 IST: WICKET! Zaheer gets the danger man - Kedar Jadhav. This is a huge blow for RCB with three overs to go. He could have done some serious damage.
21:23 IST: OUT! Vinod is run out after some clinical work by Zaheer at the stumps.
21:21 IST: SIX! Vinod launches Zaheer's delivery into the stands.
21:19 IST: SIX! Jadhav at it again, clobbers Brathwaite straight back over his head for a massive one.
21:10 IST: OUT! Binny departs, RCB lose their fourth wicket. Thankfully for the home fans, Jadhav is still out in the middle.
21:08 IST: FIFTY for Jadhav off just 26 balls. This has been some performance from the right-hander.
21:01 IST: SIX! Jadhav on fire! The right-hander plants Mishra's delivery over the long on boundary and into the crowd.
20:59 IST: FOUR and FOUR! Jadhav goes after Mishra again and earns himself back-to-back fours.
20:58 IST: 66th SIX of the IPL!  Jadhav muscles Mishra over long on for a massive one.
20:53 IST: Cummins comes on to the attack. Bangalore need a move on here.
20:50 IST: Again a bit of turn for Nadeem. Jadhav goes for the big shot but misses it by a long margin. Did he drag his foot outside the crease? Yes he did but just got back in time before Pant removed the bails.
20:48 IST: So six coming of that Zaheer over. Bangalore 61 for 3 at the end of 10 overs.
20:47 IST: Zaheer Khan comes on to the attack.
20:45 IST: Stuart Binny is the next man in. Bangalore need a partnership now.
20:44 IST: Wicket! Great bit of bowling from Nadeem. A hint of turn as Watson went down the track but missed the ball. Pant behind the stumps whips off the bails in a flash.
20:40 IST: Six! Jadhav goes big and finds the boundary. Wasn't a bad ball from Mishra but great use of the feet by Jadhav.
20:30 IST: OUT! Cummins strikes as Mandeep plays on to his stumps. RCB lose their second wicket.
20:28 IST: FOUR and FOUR! Mandeep smacks Cummins for back-to-back boundaries off the front foot. Superb strokeplay!
20:26 IST: OUT! Gayle mistimes a full toss off Morris and is caught by Samson. Big, big wicket for Delhi.
20:16 IST: FOUR! Watson crunches Cummins through the off-side for a boundary.
20:09 IST: FOUR! Gayle diverts a low full toss from Morris past point for a four.
20:04 IST: FOUR! Watson leans forward and drives a full delivery from Zaheer through the off side. Brilliant shot!
20:03 IST: FOUR! Watson flicks Zaheer off his pads for the first boundary of the match.
19:59 IST: RCB openers are out in the middle.
19:40 IST: Bangalore, after losing the first match would look to get some points under their belt.
19:38 IST: Delhi will look to get off to a winning start in this season.
19:36 IST: Royal Challengers Bangalore have won the toss and they have opted to bat first.
19:34 IST: Hello and welcome to the match between Royal Challengers Bangalore and Delhi Daredevils.
Delhi will be banking on experienced international all-rounders like Corey Anderson of New Zealand and Sri Lankan captain Angelo Mathews to fill the void left by Duminy's absence but to find a replacement for De Kock would be much harder. The bowling line up looks a lot more settled with Zaheer Khan leading the way along with India seamer Mohammed Shami.
Bangalore will be relying a lot on their openers Chris Gayle and Shane Watson to get them off to a good start. Watson would play a key role in the middle of the innings to keep things rolling for the home side and with the likes of Tymal Mills and Yuzvendra Chahal in the team, the bowling looks a lot more competitive than what it was in the previous seasons. Travis Head and Kedhar Jadhav will only go to bolster their batting line-up which looks a bit depleted in the absence of Kohli and de Villiers.