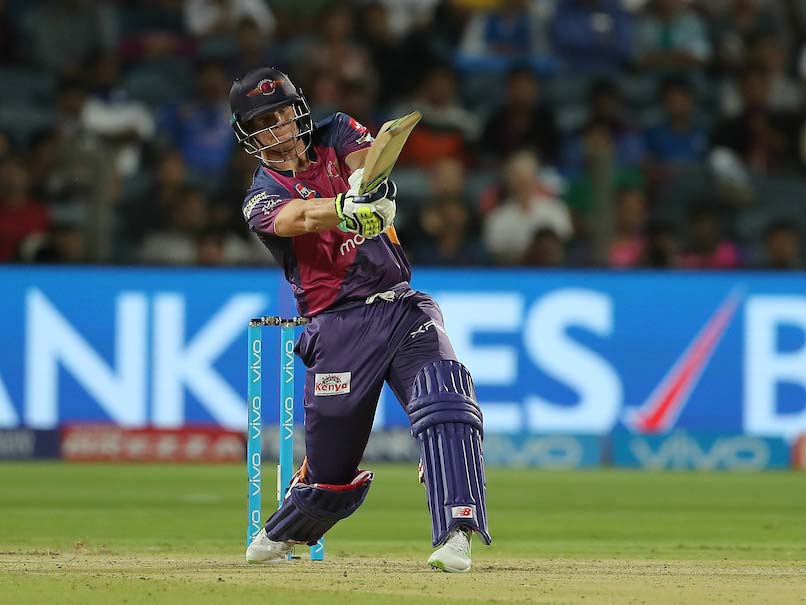 Steve Smith scored an unbeaten 84 to take his team home against Mumbai Indians
© BCCI
Chasing a target of 185 to win, Rising Pune Supergiant got off to a great start, thanks to Ajinkya Rahane (60) who was in his elements. After losing a couple of wickets, it was the skipper Steve Smith who came to the party and took his team home with an unbeaten 84. Mumbai Indians were sloppy in the field as they dropped a couple of important catches but got back in the match because of very good 19th over by Jasprit Bumrah. Needing 13 to win of the final over, Smith finished things off in style by hitting a couple of sixes. In the end Pune won by seven wickets against Mumbai.  (SCORECARD)
Highlights: RPS vs MI straight from Pune, India
23:38 IST: Pune 187 for 3 after 19.5 overs. Win by 7 wickets against Mumbai.
23:37 IST: Oh what a shot! What a player this guy Smith is. Two back to back sixes to take his team home.
23:36 IST: Smith got under it and that has gone all the way. Six!
23:35: Only a single. 10 from 3.
23:35 IST: 11 needed off 4.
23:33 IST: Need 13 off the last over.
23:32 IST: Dropped! Goes for the big heave and finds the man at deep mid-wicket. Southee puts it down and Dhoni survives.
23:31 IST: Spoke too soon. Dhoni finds the fence.
23:30 IST: Good over Bumrah. Couple of dots puts the pressure back on Dhoni.
23:28 IST: So 20 from 12 required.
23:27 IST: Boundary off the last ball again. Takes Smith to 70. Pune 165 for 3.
23:22 IST: Four! That ruins a very good over from Bumrah. Pune need 27 off 18.
23:18 IST: Pune need 37 off 24.
23:13 IST: In comes Mahendra Singh Dhoni
23:12 IST: Wicket! One too many for Stokes. Goes for the big one again but holes out at deep mid-wicket.
23:11 IST: It is all too easy for Pune at the moment. Another boundary.
23: 07 IST: Yet another half-century for Steve Smith. Pune 136 for 2 in 14.3 overs.
23:06 IST: Make that 32. Stokes has belted that through mid off.
23:05 IST: So Pune need 56 off 36 balls.
23:02 IST: A four followed by a six. Pollard is turning out to be expensive here. Smith will take them all.
22:58 IST: Dropped! Nitish Rana the culprit. That was not an easy chance but at this level needs to be taken.
22:57 IST: McClenaghan straying down the leg-side and Smith makes full use of that. Four!
22:56 IST: Smith got stuck into that pull shot. That's gone like a bullet to the fence.
22:52 IST: Stokes pulls and pulls well. Finds the gap in the deep. Four!
22:50 IST: Bumrah back on
22:47 IST: That brings Ben Stokes to the crease. All eyes will be with him.
22:46 IST: Wicket: Rahane goes for the pull but only finds the man at deep square-leg. Southee strikes.
22:42 IST: Pune 93 for 1 after 10 overs.
22:40 IST: Six! Rahane just chipped it over the man at long on. Effortless shot.
22:36 IST: Rahane has split the gap between fine leg and deep square-leg. Four for the taking. Brings up his fifty in style.
22:32 IST: Great timing from Smith. Beats the man at deep cover. Four!
22:30 IST: Krunal Pandya comes on to the attack.
22:24 IST: Four more! Rahane is playing a little blinder here.
22:23 IST: Six! Now Rahane joins the party. Guides it over third man.
22:22 IST: Right out of the screws. That one. Smith continues from where he left off in the Test matches against India. Add Four to the total.
22:18 IST: Jasprit Bumrah comes on to the attack.
22:12 IST: Wicket! Mitchell McClenaghan comes on and picks up a wicket first ball. Mayank Agarwal would be disappointed with that shot. Pune lose their first wicket. That will bring Steve Smith to the crease.
22:09 IST: A six followed by a boundary. Rahane is picking his spots here. Great batting.
22:05 IST: Third boundary of the over. Rahane is looking good here.
22:02 IST: Hardik Pandya to share the new ball and Rahane picks up two back to back boundaries.
21:59 IST: Southee finds the outside edge but wide off the only slip in place. Mayank off the mark with a boundary.
21:58 IST: Rahane off the mark straight away.
21:57 IST: Tim Southee to take the new ball.
21:56 IST: So both the Pune openers are out there in the middle. Ajinkya Rahane and Mayank Agarwal are the two openers.
21:42 IST: Mumbai Indians 184 for 8 at the end of the 20 overs.
21:40 IST: Run Out! Southee departs. We still have a ball to play.
21:38: Pandya is taking Dinda to the cleaners here. Four sixes and a boundary in this over.
21:37 IST: Another one. This is unbelievable batting. Three in a row in this over.
21:36 IST: Three in a row. Pandya again clears the fence with ease. Poor stuff from Dinda.
21:35 IST: Add six more to the total. Dinda gets the treatment for bowling a low full toss. Hardik Pandya was ready for that.
21:34 IST: Six! Tim Southee using the long handle to good effect. Too full from Stokes.
21:29 IST: Wicket! Pollard goes for the big one and a great catch by Mayank Agarwal in the outfield. Stokes strikes for Pune as Mumbai lose their seventh wicket. More importantly it is the the big man who has to depart.
21:27 IST: Off the edge and flies off to the third man boundary. Pollard is going for everything now. Four! That was a bit harsh on Dinda though. Eight of the over.
21:19 IST: That is a good piece of willow that Pollard has. Hit through the line and goes all the way. SIx! That will bring an end to a brilliant spell from Imran Tahir. He has turned this match on its head.
21:14 IST: Wicket: Now Zampa gets among the wickets. Nitish Rana takes the aerial route but only manages to find the man at deep mid-wicket. Mumbai are in a spot of bother.
21:10 IST: Pollard hits it straight back to Zampa and that went like a bullet to the fence. Four!
21:05 IST: Tahir comes back and the new man Kieron Pollard welcomes him with a boundary.
21:02 IST: Another slower delivery and Rajat Bhatia is on a roll here. Krunal Pandya departs in trying to go for the big shot. Mumbai lose half their side.
20:58 IST: Six! Short from Stokes and what a shot by Nitish Rana. That was short but still had to be put away and Rana does it in style.
20:55 IST: Wicket! Rayudu deceived by the lack of pace and a simple caught and bowled chance for Rajat Bhatia. Bhatia strikes first ball. Mumbai lose their fourth wicket.
20:52 IST: The wrong one pitched in the wrong place. Easy pickings for Rana. Zampa needs to be more on the off-stump than straying down the leg-side.
20:48 IST: Mumbai Indians 82 for 3 after 10 overs.
20:41 IST: Six! Short from Zampa and Rana rocks back and deposits it into the stands.
20:38 IST: Nitish Rana and Ambati Rayudu need to rebuild here for Pune. Adam Zampa comes on to the attack
20:32 IST: Buttler Gone! Tahir is on fire here. Picks up his third wicket. This one was close but looks as though Buttler had got a big inside edge. Given Leg before. Unlucky.
20:30 IST: Wicket: This is a big wicket. Rohit Sharma is taking the long walk back to the dressing room. Tahir strikes again for Pune.
20:28 IST: A four followed by a six. Buttler is taking the attack to Pune. Chahar struggling with his line and length at the moment.
20:25 IST: Rohit Sharma is the next man in for Mumbai Indians.
20:23 IST: Wicket: Tahir comes back brilliantly. Cleans up Parthiv round his legs. Important breakthrough for Pune.
20:20 IST: Imran Tahir comes on to the attack. Parthiv hits the first ball to the square-leg boundary. Gets Four!
20:18 IST: Two back to sixes for Buttler. Stokes is the one at the receiving end. Mumbai are off to a flyer here in Pune. MI 41 for 0 in 4 overs.
20:16: Stokes to Buttler. Two Englishmen going after each other here. Who will win the contest? At the moment Stokes has managed to keep Buttler quiet.
20:15 IST: Ben Stokes comes on to the attack.
20:14 IST: Dropped! Short again from Dinda and Parthiv slashes it hard. The ball carries to third man and Rajat Bhatia drops a sitter. In and out she goes.
20:13 IST: Four! Hit straight past the bowler and the ball has enough legs to run away to the boundary.
21:12 IST: Half-volley from Dinda and Parthiv misses out on the opportunity. No runs added to the total.
20:11 IST: Four! Short and Parthiv pulls it in front of square for a boundary.
20:10 IST: Mumbai Indians 19 for 0 after 2 overs.
20:08 IST: Four! Buttler moves towards the off-side and gets it past fine-leg.
20:07 IST: Deepak Chahar to share the new ball with Dinda and Buttler welcomes him with a boundary.
20:05 IST: Four! Parthiv clips it off his leg and that has gone fine. First boundary off the bat.
20:04 IST: Buttler goes for the quick single and it would have been close, had the ball hit the stumps. To make matters worse five overthrows given away. Some freebies for Mumbai here.
20:03 IST: Parthiv Patel clips it away off his pads and gets off the mark with a single at fine-leg.
20:02 IST: Patel to take strike and Dinda starts off with a wide.
20:01 IST: Ashok Dinda will take the new ball for Pune.
20:00 IST: So the players make their way to the middle. Parthiv Patel and Jos Buttler are the two openers for Mumbai Indians.
19:48 IST: Here is a look at the playing eleven of both the sides.
Here's are the Playing XIs for @RPSupergiants vs. @mipaltan #IPL #RPSvMI pic.twitter.com/ZxbitEMi1c

— IndianPremierLeague (@IPL) April 6, 2017
19:45 IST: Mumbai Indians in a hurdle just before the match.
The @mipaltan is all warmed up. Bring it on #IPL pic.twitter.com/BlbtIasxHX

— IndianPremierLeague (@IPL) April 6, 2017
19:40 IST: Pune getting into the IPL mode.
Getting into the groove - @RPSupergiants #IPL pic.twitter.com/GNmIrjzVyP

— IndianPremierLeague (@IPL) April 6, 2017
19:30 IST: Toss time: Pune Supergiant win toss, elect to bowl first.
19:29 IST: A closer look at the surface this evening. Looks like a good track to bat on.
Here's how the pitch is looking for @RPSupergiants vs @mipaltan match #IPL pic.twitter.com/IhPOh6yiQW

— IndianPremierLeague (@IPL) April 6, 2017
19:27 IST: Both teams have won a match apiece in the last season.
19:17 IST: Here is a look at the format of the tournament.
VIVO #IPL Tournament Format pic.twitter.com/FOY830CEfS

— IndianPremierLeague (@IPL) April 6, 2017
19:10 IST: The toss will take place in about 15 minutes.
18:59 IST: Deshmukh is enthralling his fans with 'Haath Uthake' right now.
18:57 IST: Bollywood star, Riteish Deshmukh makes his way out to the middle.
18:52 IST: It is now Rohit Sharma's turn to come out on a golf cart. Rohit is not too pleased with the fire crackers it seems.
Play Hard, Play Fair - Spirit of Cricket at #IPL - @stevesmith49 and @ImRo45 pic.twitter.com/UwPVL8CYih

— IndianPremierLeague (@IPL) April 6, 2017
18:50 IST: Pune captain Steve Smith making his way out to the middle on a golf cart.
18:45 IST: Kholgade dancing to the tunes of 'Baby ko base pasand hai' right now.
18:40 IST: Shalmali Kholgade, an Indian playback singer to start things off in Pune. 'Balampichkari' is reverberating all around the stadium right now.
18:35 IST: And we are away with the opening ceremony.
We are in Pune today for @RPSupergiants vs. @mipaltan. Match starts at 8 PM IST #IPL pic.twitter.com/evncMJFLRQ

— IndianPremierLeague (@IPL) April 6, 2017
18:26 IST: Pune have been plagued by some injuries in the tournament. Mitchell Marsh and R Ashwin will no longer be part of this year's IPL while Mumbai Indians have a new coach in the form of Mahela Jayawardene replacing Ricky Ponting.
18:20 IST: The first match saw Sunrisers Hyderabad beat Royal Challengers Bangalore by 35 runs.
18:19 IST: So some big names will be in action today. Rohit Sharma coming back from an injury for Mumbai Indians while Steve Smith, Mahendra Singh Dhoni will look to make a mark to start off their campaign.
18:12 IST: The opening ceremony is about to get underway in some time.
18:10 IST: Hello and welcome to the match between Rising Pune Supergiant and Mumbai Indians.
Mumbai skipper Rohit Sharma's form at the top will be important, while Kieron Pollard and Jos Buttler's big hits, and veteran spinner Harbhajan Singh's guile would decide how the team would fare.
Mumbai are one team that has not been ravaged by injuries. This will allow them to pick from a talented pool of overseas and Indian cricketers, including Mitchell Johnson, Lendl Simmons, Lasith Malinga, who is expected to join the team on Thursday, Mitchell McClenaghan, Parthiv Patel and Jasprit Bumrah among others.