Story Progress
Back to home
IPL Highlights, RCB vs MI: Pollard, Krunal Pandya Shine As Mumbai Stun Kohli's Bangalore
IPL Highlights, RCB vs MI: Virat Kohli who scored a brilliant half-century on his return to the IPL 2017 was over-shadowed by Kieron Pollard's innings.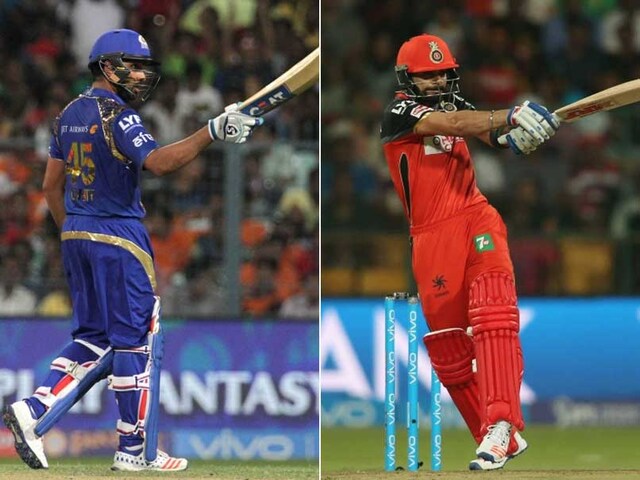 IPL Live Cricket Score, RCB vs MI: Bangalore take on Mumbai in a crucial tie
© BCCI
Despite the heroics from Samuel Badree, Mumbai Indians(MI) chased down an average score of 142/5 made by Royal Challengers Bangalore in the M Chinnaswamy Stadium in Bengaluru on Friday. This win is the third consecutive one for Rohit Sharma and his team and second consecutive loss for RCB. Kieron Pollard's 70 and Krunal Pandya's 37 not out helped the visitors salvage the match for the visitors. Down to 9/4 early in the innings, Pollard and Krunal Pandya batted smartly and held the fort. Virat Kohli who scored a brilliant half-century on his return to the IPL 2017 was over-shadowed by the fifty made by Pollard. Kieron Pollard was adjudged the Man of the Match for scoring 70 runs off 47 balls with 5 sixes and 3 runs. (Scorecard)
Catch all IPL highlights between RCB and MI straight from Bangalore​.
19:45 IST: Stay tuned for the next match between Gujarat Lions and Rising Pune Supergiant live from Rajkot.
19:45 IST: Kieron Pollard adjudged the Man of the Match award.
19:31 IST: It was the partnership between Pollard and Krunal which held the fort against RCB.
19:30 IST: Six! And its all over ! Hardik Pandya finishes off in style! Mumbai Indians chase down the score of 142 for 5 in just 18.5 overs.
19:29 IST: With Pandya brothers out in the middle, it promises to be an exciting finish to a well balanced game.
19:28 IST: Despite Badree heroics, Mumbai need only 5 runs from 9 balls.
19:27 IST: Four! Krunal slams Mills for a boundary.
19:24 IST: Mumbai Indians are nearing their victory as they need just 10 runs from 12 balls.
19:21 IST: Out! Chahal sends Pollard packing for 70 runs. de Villiers completes the catch.
19:20 IST: Six! Pollard is heading full steam ahead! Smokes Chahal right over his head for a big one!
19:19 IST: The match is slowly going away from the grip of RCB. MI need 23 from 18 balls.
19:17 IST: Four! Mills misses the ball as the ball rolls away to the fine leg boundary.
19:15 IST: Very smart cricket from Mumbai. The game may go down till the last ball.
19:14 IST: MI need 32 off 23 balls! Pollard and Krunal have very much put the visitors in the game.
19:13 IST: Six again! Two consecutive maximums from Pollard, Negi concedes 19 runs.
19:12 IST: Six! Pollard slams a flat maximum over Negi's head.
19:19 IST: Pollard and Pandya with a partnership of 59 runs from 45 balls have kept Mumbai alive in the contest.
19:04 IST: Four! Good over for MI as Mills gives away 11 runs.
19:03 IST: Four! Mills balls a slow full ball and Pandya sends it to the boundary.
19:03 IST: Mumbai Indians have to keep a check on the required run rate which has slowly crept up to 10.69.
19:02 IST: Next in the batting line-up for MI - Hardik Pandya, Harbhajan Singh, Jasprit Bumrah and Tim Southee.
19:02 IST: Mumbai Indians need 63 runs off 36 balls. It is tough but not impossible for Pollard and Krunal Pandya.
19:01 IST: Six! Pollard clears the boundary with ease as he hits Negi inside out.
19:00 IST: Krunal charges Negi, ball goes up high in the air, falls on no mans land.
18:59 IST: Pollard stretches to tap, ball spun away into the keeper's gloves.
18:58 IST: Pawan Negi introduced in the balling attack.
18:54 IST: Sreenath Aravind beautifully bowled his third over, conceded just 5 runs.
18:52 IST: Mumbai Indians require 78 off 48 balls to win the match.
18:49 IST: Four! Binny bowls Pollard on the pads and Pollard guides it to the boundary line.
18:44 IST: Four! Mills balls a full delivery and Pollard edges it between the wicket keeper and first slip.
18:42 IST: Six! Krunal Pandya slams Chahal for a big one on the last ball of ninth over.
18:34 IST: Mumbai Indians need 110 runs from 66 runs with 5 wickets remaining.
18:33 IST: The required run-rate is over 9 as Mumbai Indians enter the last 10 overs of the match.
18:32 IST: Krunal Pandya walks out in the middle to join Pollard. Will be a mammoth task for the batsmen to salvage the match.
18:30 IST: What a display by the West Indies spin bowler. Goes back with four wickets and nine runs from four overs.
18:29 IST: Out! Badree dismisses Rana as he cuts the ball hard right into the hand of Aravind. MI 34 for 5.
18:23 IST: Six! First ball after the powerplay, Pollard dispatches Chahal straight over his head.
18:21 IST: After the end of the powerplay, Mumbai Indians stand at 21 for four. Badree shines with a hat-trick!
18:15 IST: Four! The first boundary for MI in the innings. Rana guides the ball to the fine leg boundary.
18:13 IST: Tymal Mills comes in the attack.
18:12 IST: Now it all depends upon Pollard and young gun Nitish Rana to get Mumbai out of the difficult situation.
18:10 IST: Kieron Pollard gets off the mark on his sixth ball. After 4 overs, Mumbai 10 for 4.
18:03 IST: Hat-trick for Badree!! The first of IPL 2017 and Mumbai are in sixes and sevens at the moment. MI are 7/4 in 2.4 overs.
18:02 IST: WICKET!! And another one goes as McClenaghan is sent packing.
18:00 IST: WICKET!! Another one bites the dust as Parthiv walks back. Badree gets the wicket. Mumbai in big trouble, they are 7/2 in 2.2 overs.
17:57 IST: WICKET!! Buttler is dismissed by Binny. It's a soft dismissal for the Englishman, lobbing a simple catch to Gayle. First blood for RCB and they will be pumped now.
17:56 IST: Ball not coming on to the bat. Parthiv and Buttler are finding the going hard.
17:52 IST: Good start from the West Indian spinner. Just four off that over. MI 4/0 in 1 over.
17:49 IST: Samuel Badree to start off the proceedings for RCB.
17:47 IST: Welcome back for the second innings. Mumbai need 143 to win and will be backing themselves to easily overhaul the target.
​17:35 IST: Stay tuned for the second innings.
17:34 IST: Beautiful bowling display from Mumbai as the visitors kept on taking wickets in quick succession.
17:33 IST: And its done! Royal Challengers Bangalore stand at 142 for 5 from 20 overs.
17:30 IST: Penultimate over for RCB to put up a big total on the board. Negi 12 off 12.
17:29 IST: Runs for RCB! Negi steals one run as Parthiv tries to do a Dhoni and misses the stumps.
17:26 IST: Stuart Binny is the new man in.
17:24 IST: Out! McClenaghan dismisses Mandeep Singh for a duck (127/5).
17:22 IST: Out! Negi swings the bat hard, one drop into Bumrah's hand as he turns and hits the stumps directly at non-striker's end to send Jadhav back.
17:20 IST: Free Hit for RCB! Bumrah bowls a full toss over Jadhav's shoulder.
17:18 IST: Important last couple of overs as Mumbai Indians tighten grip on RCB.
17:17 IST: Pawan Negi comes out in the middle, replaces de Villiers.
17:15 IST: Out! Rohit Sharma dives to his left to send de Villiers back to pavilion. Big wicket for MI.
17:14 IST: Crucial 17th over for both teams as Krunal Pandya comes into the attack.
17:11 IST: Kedhar Jadhav joins de Villiers out in the middle.
17:08 IST: Kohli departs for 62 as RCB stand at 110 for 2 (15.3)
17:07 IST: Out! Big wicket for Mumbai Indians as McClenaghan sends Virat Kohli packing.
17:03 IST: Miss! Parthiv misses the outside edge as Virat swings the bat hard.
17:02 IST: Kohli is lighting up the stadium as the audience cheers loudly for the home team.
17:01 IST: Six! Kohli hammers Bumrah over extra cover to bring up his 27th half-century.
17:00 IST: Six! de Villiers smashes Bumrah over the boundary line as he starts his attacks on the bowlers.
16:55 IST: Catch miss! de Villiers gets another life as Buttler drops him at the boundary line.
16:54 IST: With twelve overs done, RCB have to up their game as they stand at 76 for one.
16:47 IST: Will be interesting to see how Kohli and de Villiers treat the Pandya brothers.
16:47 IST: Rohit Sharma brings on Krunal Pandya into the attack.
16:44 IST: AB de Villiers comes out to bat in the middle.
16:43 IST: Out! Hardik Pandya introduced into the attack and sends back Gayle for 22.
16:38 IST: Completing his spell, Bhajji gives away 23 runs from his four overs.
16:36 IST: Four! Short and wide, Kohli slams Harbhajan through extra covers for a beautiful boundary.
​16:34 IST: Bumrah off to a silent start as he concedes only 3 runs. 
16:32 IST: Jasprit Bumrah comes into the bowling attack.
16:30 IST: Six! Gayle steps down the wicket and slams Harbhajan straight over his head.
16:27 IST: After six overs, RCB stand at 41 for zero. Kohli at 26 and Gayle at 13.
16:26 IST: Four! Short and wide Gayle cuts it beautifully.
16:24 IST: Kohli and Gayle are consistently keeping the RCB scoreboard ticking.
16:20 IST: Four! Gayle welcomes Harbhajan Singh with a boundary.
16:18 IST: Loud appeal from McClenaghan as umpire turns down the appeal.
16:17 IST: Looks like Kohli is in no mood to spare the bowlers.
16:16 IST: McClenaghan bowls at Kohli's pads and he punches it away beautifully for deep mid-wicket for two runs.
16:14 IST: McClenaghan replaces Harbhajan Singh.
16:13 IST: Audience chanting RCB! RCB! as Kohli hammers Southee.
16:12 IST: Kohli now stands at 20 runs off 10 balls.
16:11 IST: Four! Short from Southee as Kohli hits second consecutive boundary.
16:09 IST: Six! Announcing his arrival, Kohli hits Southee over his head for a long boundary.
16:08 IST: Gayle playing smart against Harbhajan. Leaves one ball and defends two consecutive balls.
16:07 IST: Charging Harbhajan, Kohli smashes the ball towards long on.
16:06 IST: Harbhajan Singh comes in the attack from pavilion end.
16:05 IST: Close shave for Gayle as ball swings past his outside edge to MI keeper Parthiv Patel.
16:04 IST: Wide again from Southee! This time to Gayle on the leg side.
16:02 IST: Scoring his first run of IPL 2017, Kohli directs the ball towards fine leg for a single.
16:02 IST: Kohli on strike and Southee bowls a huge wide down the leg side.
16:00 IST: Tim Southee opens the bowling attack for MI.
16:00 IST: Virat Kohli and Chris Gayle to start the proceedings for RCB against MI.
15:59 IST: Both teams make out way in the middle. Chinnaswamy stadium lightens up as they see their skipper Kohli back on the field.
15:51 IST: Shane Watson who had captained the RCB side in absence of Kohli has been dropped.
15:44 IST: A pumped up Royal Challengers Bangalore warming up before taking on Mumbai Indians at M Chinnaswamy Stadium, Bengaluru.
#IPL Match 12 - The @RCBTweets boys are warming up ahead of #RCBvMI pic.twitter.com/pdBWtnxdeZ

— IndianPremierLeague (@IPL) April 14, 2017
15:42 IST: For RCB Chris Gayle comes back in the squad, for MI Tim Southee comes in for Lasith Malinga.
15:40 IST: Here are the playing XIs for both teams.
#IPL Match 12 - Here are the Playing XIs for @RCBTweets vs. @mipaltan #RCBvMI pic.twitter.com/VhHlERzjtt

— IndianPremierLeague (@IPL) April 14, 2017
15:37 IST: It will be interesting to see Royal Challengers Bangalore bounce back into their rhythm as Kohli comes back in the playing eleven.
15:36 IST: RCB skipper warming up before the crucial match against Mumbai Indians at Bengaluru.
.@RCBTweets @imVkohli And it continues #IPL #RCBvMI pic.twitter.com/XCSR3K5Bme

— IndianPremierLeague (@IPL) April 14, 2017
15:32 IST: Rohit Sharma has won the toss and elected to bowl.
15:31 IST: Toss time!!
15:28 IST: Hello and weclome to the live blog of the match between RCB and MI. Huge news for the Bengaluru fans is that captain and leader Virat Kohli finally returns.
Kohli had to undergo rehabilitation after sustaining an injury to his right shoulder while fielding during the 3rd Test against Australia in Ranchi and he has been missing in action ever since.
However, the Delhi batsman has been declared fit on Thursday by the BCCI Medical Team.
Kohli, who had dropped hints of making a return after posting a video on his Instagram account of his gym session on April 11, did some fielding drills during the team's net session on Wednesday.
Last year, Kohli had scored a staggering 973 runs in 16 matches with four centuries to guide RCB to the finals against Sunrisers Hyderabad (SRH) and he would look to improve Bangalore's current sixth place standing on the points table.
Topics mentioned in this article