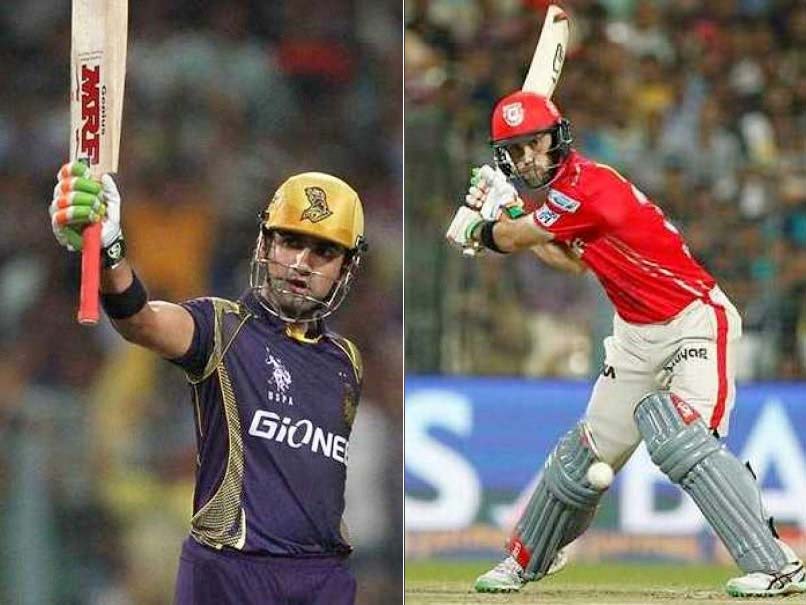 IPL Highlights: KXIP vs KKR - Punjab beat Kolkata to win crucial tie at home.
© BCCI
Kings XI Punjab (KXIP) defeated Kolkata Knight Riders (KKR) by 14 runs in an Indian Premier League (IPL) match in Mohali on Tuesday. With this win, Punjab kept their hopes alive of making the Play-offs. They have two games remaining and they need to win both to stay in the hunt. Though Kolkata began briskly thanks to Sunil Narine (18) and Chris Lynn (84), the Punjab bowlers were brilliant as they managed to defend their total (167/6). Mohit Sharma (2/24) and Rahul Tewatia (2/18) were the pick of the bowlers. (SCORECARD)
IPL Highlights and updates between KXIP vs KKR straight from Mohali, India
23:44 IST: Thank you for joining us this evening. Delhi Daredevils play Gujarat Lions tomorrow in Kanpur. Good night!
23:43 IST: Mohit Sharma is the man of the match.
23:30 IST: Punjab win crucial tie to stay in the hunt for a Play-off berth! 
23:29 IST: Beautiful bowling by Sandeep. The crowd celebrates. And Punjab win by 14 runs!!!! 
23:28 IST: 15 off 2 needed...
23:27 IST: Not out! Woakes is saved from a run out! 
23:26 IST: 18 off 4 balls now 
23:25 IST: Sandeep Sharma in for the last over... 
23:23 IST: Kolkata need 20 off 6 balls for a win! Can they do it? 
23:22 IST: SIX! De Grandhomme smashes a maximum over mid wicket off a Mohit delivery
23:19 IST: OUT!! Yusuf Pathan out for 2. Great bowling by Mohit, caught by Maxwell. Kolkata 139/6 (18.1 ovs)
23:17 IST: Four!! De Grandhomme slams a boundary much to Kolkata's relief. They are 139/5 after 18 overs
23:14 IST: OUT! Lynn is run out!! What a massive wicket! Lynn departs for 84 as Punjab celebrate. Kolkata 132/5 (17.2 ovs)
23:12 IST: OUT! Manish Pandey out for 18. Caught by Axar as Henry gets his first wicket. Kolkata 131/4 (17.1 ovs)
23:10 IST: Four from Lynn!!! Lynn and Pandey bring up their partnership to 50 plus.
23:09 IST: Mohit back into the attack... 
23:05 IST: Time out called for. Kolkata need the runs. 44 needed off 24 balls 
22:58 IST: Kolkata 118/3 after 15 overs
22:56 IST: SIX!!!! Lynn muscles a maximum off Axar. What power!
22:55 IST: Kolkata 106/3 after 14 overs. 
22:54 IST: Excellent spell by Tewatia. 2 for 18 after his 4 overs.
22:53 IST: Four!! Pandey joins the party with a boundary! Kolkata need the runs now
22:50 IST: SIX!! A much needed maximum from Lynn off Swapnil Singh
22:47 IST: 4 off the last over. Kolkata seem to have hit a speed bump. 86/3 after 12 overs
22:43 IST: Great bowling by Axar. Gives away only 3 runs after three dots in a row. Kolkata are 82/3 after 11 overs
22:39 IST: OUT!! What a brilliant catch by Axar!! Robin Uthappa out for a duck! Tewatia strikes again!! Kolkata 78/3 (9.5 ovs) 
22:37 IST: OUT!! Gambhir goes for 8. He is caught by Shaun Marsh off a Rahul Tewatia delivery. Kolkata 78/2 (9.3 ovs). 
22:36 IST: 50! Lynn brings up his third IPL half ton with a single
22:34 IST: Kolkata are keeping it steady.. 76/1 after 9 overs
22:29 IST: Good bowling by Rahul. Just 4 off the over. Kolkata are 68/1 after 8 overs 
22:27 IST: Rahul Tewatia come into the attack. Kolkata have kept the run rate under control
22:24 IST: Economical bowling from Axar, gives away only 3 runs. Kolkata 64/1 after 7 overs and a time out is called for.
22:22 IST: Kolkata 61/1 after 6 overs
22:19 IST: Six!! A maximum to deep square leg. Lynn is on fire!!! Henry can only shake his head!
22:18 IST: FOUR!! What a shot!! Lynn just smashes the ball! one bounce over the rope!   
22:16 IST: Kolkata 49/1 after 5 overs
22:14 IST: Four and four!! Axar into the attack and Lynn just hammers the ball!  
22:13 IST: Captain Gambhir comes in.. Narine has done his job. 18 off 10 deliveries. Great batting
22:12 IST: OUT!! Narine bowled by Mohit!! He departs for 18 as Kolkata are 39/1 (3.4 ovs)
22:11 IST: Four! Narine is on a roll!
22:10 IST: Four! Narine slams a boundary to extra cover off Mohit Sharma. Beautiful shot!
22:08 IST: Kolkata 31/0 after 3 overs
22:05 IST: Another four by Lynn! This time off Sandeep Sharma..
22:01 IST: Four!! Lynn again off Henry! Great start by Kolkata!
21:58 IST: FOUR!! Lynn slams the ball between two men at the stumps but no one moves to try and stop it! Matt Henry is not amused   
21:57 IST: That's an expensive first over from Sandeep Sharma. Kolkata 14/0 
21:56 IST: Four!! Chris Lynn's turn to join the party!
21:55 IST: Four again!! Narine once again slams it... Great start by the West Indian
21:54 IST: FOUR! Off the first ball!! Narine goes for it!
21:52 IST: And we are back for the second innings. Sunil Narine and Chris Lynn to open for Kolkata. Sandeep Sharma to bowl
21:37 IST: Good last ball.. Punjab end their 20 overs with 167/6 on the board
21:35 IST: Four! Very nice played by Rahul 
21:32 IST: Rajpoot to bowl the final over
21:31 IST: Punjab 158/6 (19 ovs). Woakes gives 10 runs
21:30 IST: That's a four again!!! Rahul's second boundary.
21:29 IST: Four! Rahul Tewatia slams a boundary off Woakes
21:26 IST: And OUT!!!! Swapnil Singh bowled!!! He departs for 2 as Woakes celebrates! Punjab 149/6 (18.2 ovs) 
21:25 IST: 2 overs to go and Woakes comes into the attack
21:22 IST: OUT!! Saha gone!! Stumped by Uthappa off a Kuldeep delivery. Punjab are 146/5 (17.5 ovs)
21:21 IST: Six!!! What a strike from Saha as he spanks it off a Kuldeep delivery
21:19 IST: Punjab 134/4 after 17 overs
21:16 IST: Saha taking risks now but falling short. Punjab need to get up a big total on the board. 
21:13 IST!!! OUT!! After 2 sixes, Maxwell attempts a third but is caught by Woakes off a Kuldeep delivery. He departs for 44. Punjab 127/4 (15.3 ovs)
21:12 IST: SIX!!! Maxwell hits another maximum 
21:11 IST: SIX!!! Miles up in the air as Maxwell slams a maximum off Kuldeep
21:10 IST: 10 off the over! Punjab are 115/3 after 15 overs.
21:08 IST: Four!!! Saha slams a boundary between extra cover and long off. Narine not happy
21:04 IST: Punjab 105/3 (14 ovs). The second time out is called for
21:02 IST: Maxwell and Saha running fast taking twos. Kuldeep Yadav comes into the attack
21:00 IST: Rajpoot gives away 11 runs... Punjab 97/3 (13 ovs)
20:58 IST: Four! Maxwell takes the ball early and slams it for a boundary.
20:56 IST: Four!! Saha gets going. Slams a boundary off Rajpoot
20:54 IST: Gambhir won't be happy with that expensive over. De Granhomme concedes 19 runs! Punjab 86/3 (12 ovs)
20:53 IST: A maximum again!!! Maxwell hits it to backward square leg. The home crowd cheering for the captain
20:52 IST: Six!! That's a beauty from Maxwell! De Grandhomme doesn't seem happy
20:49 IST: Good over from Woakes. Gives just 4 runs. Kolkata seem to be in control. Punjab 67/3 (11 ovs)
20:45 IST: Punjab are 63/3 after 10 overs 
20:41 IST: Maxwell gets off the mark with a single. Good over by Woakes. 3 runs and 1 wicket
20:40 IST: Punjab seems to be in trouble losing 3 early wickets. Captain Maxwell comes in. Can he get things going for the home team? 
20:37 IST: The first time out is called for
20:36 IST: OUT!! Marsh is bowled by Woakes! He departs for 11 as Punjab are 56/3 (8.3 ovs)
Match 49: WICKET! Shaun Marsh b Chris Woakes 11 (10b). Kings XI Punjab 56/3 (8.3 Ovs). #KXIPvKKR pic.twitter.com/lPrxPAXi6O

— NDTV Live Scores (@CricketNDTVLive) May 9, 2017
20:33 IST: Four and four!!! Marsh gets going! De Grandhomme won't be pleased with two back-to-back boundaries
20:30 IST: Good over. Woakes concedes only 4 runs.
20:27 IST: Chris Woakes comes into the attack... 
20:26 IST: Punjab are 41/2 at the end of 6 overs
20:25 IST: Out!!! Guptill is given LBW by the umpire as Narine celebrates! The opener departs for 12
.@SunilPNarine74 WICKET! KXIP - / #Narine gets Guptill for the 4th time in 8 innings. #DusKiDahaad #AmiKKR #KXIPvKKR pic.twitter.com/AEJsZRfXKJ

— KolkataKnightRiders (@KKRiders) May 9, 2017
20:23 IST: Shaun Marsh in. Punjab need the Marsh-Guptill partnership to work in this crucial tie. Can they do it? 
20:19 IST: Out!!! Manan Vohra out! Caught by Uthappa off an Umesh bouncer. Vohra departs for 25. Punjab are 39/1 (4.5 ovs)
20:18 IST: Four again! Vohra times it well and the ball goes towards the boundary
20:17 IST: Four! Beautiful shot by Vohra has he picks up a slow delivery off Umesh
20:15 IST: Big appeal for LBW from Narine but umpire doesn't budge. Guptill survives. Punjab are 28/0 after 4 overs
20:14 IST: Four and four! Vohra slams two back-to-back boundaries off Sunil Narine 
20:10 IST: Umesh is back and gives away 8 runs in the third over. Punjab are 19/0
20:07 IST: De Grandhomme gives away only 3 runs. Good over
20:06 IST: Colin de Grandhomme comes into the attack
20:04 IST: That's the end of the first over and Punjab are 8/0. Good start. Punjab have to win their three remaining matches to keep themselves in the running for a Play-off berth
20:03 IST: Four!! A nudge again from Guptill and the ball goes for a boundary. That's the first four of the evening 
20:01 IST: Just a nudge from Guptill and the ball goes deep. Punjab take two runs
20:00 IST: And let's play!
19:58 IST: The players come on to the field. Martin Guptill and Manan Vohra to open for Punjab. Umesh Yadav has the new ball.
19:34 IST: Punjab make four changes. Swapnil Singh, Rahul Tewatia, Manan Vohra and Matt Henry come in. For Kolkata, Robin Uthappa is back while Kuldeep Yadav in for Piyush Chawla
19:30 IST: Kolkata win toss and elect to bowl.
19:28 IST: KXIP are without Hashim Amla and David Miller. They've left for national duty. 
19:27 IST: We are minutes away from the toss... stay tuned
19:25 IST: Hello and welcome to the live blog of the Kolkata Knight Riders-Kings XI Punjab match from Mohali.