Story Progress
Back to home
IPL Highlights, GL vs RPS: Gujarat Earn 1st Victory Of Season, Beat Pune By 7 Wickets
IPL Highlights: Gujarat Lions defeated Rising Pune Supergiant in the Indian Premier League (IPL) at the Saurashtra Cricket Association Stadium in Rajkot on Friday evening.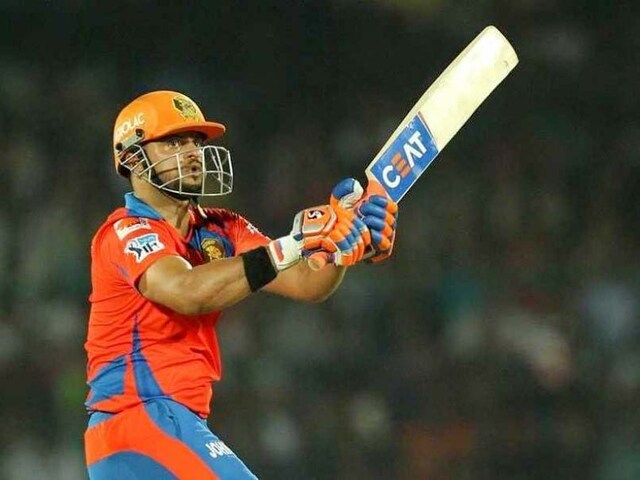 IPL: Suresh Raina led Gujarat Lions to victory vs Rising Pune Supergiant on Friday.
© BCCI
Registering their first win of the season, Gujarat Lions (GL) beat Rising Pune Supergiant (RPS) by seven wickets with two overs to spare in the Indian Premier Legaue (IPL). Giving a blistering start to their team, Brendon McCullum and Dwayne Smith scored 49 and 47 respectively to give the hosts a platform at the start. GL chased down the challenging total of 171/8 posted by RPS at the Saurashtra Cricket Association Stadium at Rajkot on Friday night. Earlier in the evening, IPL debutant Andrew Tye scalped 5 wickets, which included a hat-trick, in the last over of the RPS innings. Smith had emerged as the highest run-getter for the visitors with 45, followed by Ankit Tripathi (33) and Manoj Tiwary (31.) Ben Stokes and MS Dhoni failed to impress with the bat yet again. (Scorecard)
IPL highlights of Gujarat Lions vs Rising Pune Supergiant straight from Rajkot, India.
23:25 IST: Hope you enjoyed our coverage. Catch us tomorrow again.
23:22 IST: And Gujarat Lions have won their first match of the season. On the other hand, RPS have succumbed to their 3rd consecutive loss.
#IPL Match 13 - @TheGujaratLions 172/3 (18 overs) beat @RPSupergiants 171/8 by 7 wickets. Relive the game - https://t.co/CPeldwCT3g #GLvRPS pic.twitter.com/MdEM5CxzJj

— IndianPremierLeague (@IPL) April 14, 2017
23:18 IST: Gujarat Lions win their first match of IPL 2017. 
23:16 IST: Six! Aaron Finch finishes off in style yet again !!
​23:15 IST: Gujarat enroute to their first victory of Indian Premier League.
23:12 IST: Catch miss! Imran Tahir drops Finch, ball rolls away for boundary.
23:09 IST: Just 5 runs from the Thakur over.
23:07 IST: Thakur comes in to bowl the 17th over.
23:03 IST: Four! Getting to the pitch of the ball, Raina blasts Tahir for a boundary.
23:02 IST: Imran Tahir bowling his last over.
23:00 IST: Four! Raina times the ball beautifully through covers.
22:59 IST: Wide delivery from Ben Stokes!
22:58 IST: Four! Suresh Raina carves Ben Stokes for a boundary.
22:57 IST: Gujarat Lions edge near to victory as they need 44 off 33 balls.
22:50 IST: Out! Tahir runs around the field as Karthik plays himself down.
22:46 IST: Imran Tahir comes back after an expensive first spell.
22:45 IST: Dinesh Karthik joins skipper Raina out in the middle.
22:42 IST: McCullum dances down the wicket, misses and Dhoni takes off the bails.
22:42 IST: Breakthrough for RPS! Chahar sends McCullum (49) back to pavilion.
22:41 IST: After 11 overs, GL stand at 101 for one.
22:39 IST: Brilliant paddle scoop from Brendon McCullum but Chahar keeps the ball in by jumping over the boundary rope!
22:37 IST: Brilliant over by Ferguson as he concedes only 2 runs!
22:32 IST: GL skipper Suresh Raina comes out in the middle.
22:30 IST: Out! Shardul Thakur sends Smith packing. Smith misses out on a half-century.
22:28 IST: GL need 80 off 70 to win !!
22:27 IST: After 8 overs, Gujarat Lions stand at 91 for zero.
22:26 IST: 20 runs off the second over by Imran Tahir!!
22:25 IST: Six! Tahir being taken to the cleaners by McCullum.
22:24 IST: McCullum and Smith are dealing in boundaries right now.
22:23 IST: Four! Tahir is being smoked by both McCullum and Smith.
22:21 IST: Back-to-Back boundaries for Smith against Chahar.
22:20 IST: Rahul Chahar introduced. Imran Tahir cuts off a definite boundary in the deep cover.
22:16 IST: After six overs Gujarat stand at 61 for zero.
22:15 IST: Six! McCullum not respecting Tahir at all.
22:15 IST: Back-to-back boundaries for McCullum.
22:15 IST: Imran Tahir brought into attack. 
22:10 IST: Four! Two boundaries in three balls for Smith.
22:09 IST: Ferguson fires in a yorker, blocked by Smith.
22:07 IST: Four! Lockie Ferguson slammed by Smith.
22:03 IST: Four! McCullum easily clears the boundary.
22:00 IST: Shardul Thakur replaces Ankit Sharma.
21:59 IST: Four! Gujarat stand at 27 for zero after two overs.
21:58 IST: It seems the Gujarat Lions are in mood to punish the RPS bowlers.
21:57 IST: Six! McCullum smokes Ferguson over covers.
21:56 IST: Lockie Ferguson comes into the attack.
21:55 IST: Four! Smith looking dangerous.
21:54: IST: Six! Smith dispatches Sharma for a huge maximum over mid wicket.
21:38 IST: Four! Smith slams the first ball for a boundary on the leg side. 
21:37 IST: Dwayne Smith and Brendon McCullum start the proceeding for GL while Ankit Sharma opens the bowling attack for RPS.
21:36 IST: Hello and welcome back to second innings between Rising Pune Supergiant and Gujarat Lions. 
21:35 IST: Stay tuned for the second innings.
21:35 IST: RPS finish 171 for 8 at the end of 20 overs.
21:35 IST: Jadeja drops a sitter. Tye misses out on his sixth wicket.
21:34 IST: Tye is setting the temperature soaring at Rajkot.
21:33 IST: What a last over it is turning out to be for Gujarat Lions! 
21:33 IST: Tye registers second IPL hat-trick.
21:32 IST: Hat-trick!!! Andrew Tye gets his fifth wicket.
21:32 IST: Four wickets for debutant Andrew Tye.
21:32 IST: Second in a row for Tye!! Dismisses Manoj Tiwary for 31 runs.
21:31 IST: Ankit Sharma departs for 25.
21:31 IST: Out! McCullum holds onto a skier just on the boundary rope. Tye gets his third.
21:30 IST: Penultimate over for both teams!
21:29 IST: Praveen Kumar finishes his stipulated four overs for 51/1.
21:28 IST: Breaking bat! Tiwary splits his bat into two while carving a low full toss.
21:26 IST: With just two overs left, RPS will be looking to blast the bowlers.
21:26 IST: Six! Huge maximum from Ankit Sharma who read the slower ball early.
21:25 IST: Praveen Kumar start his fresh spell with a wide down the leg side.
21:22 IST: With just 6 runs from the 18th over Andrew Tye restricts the RPS batsmen.
21:18 IST: Jadeja proved costly. Jadeja completes his overs for 40/1.
21:17 IST: Four! Ankit hits Jadeja for boundary.
21:16 IST: Caught and bowl chance for Jadeja as Tiwary fires right into him.
21:11 IST: Four! Boundary for Tiwary through covers.
21:10 IST: Five runs from the Jadeja over. Pune are 126/5 in 15 overs.
21:07 IST: WICKET!! Jadeja gets the big wicket of Dhoni. Pune are in big trouble now. 
21:04 IST: Last 10 balls have yielded just 10 runs for Pune. They need to get a move on with just about four overs left.
21:00 IST: Andrew Tye completes two overs - 7/2.
20:58 IST: MS Dhoni is the new man in, joins Manoj Tiwary.
20:56 IST: Bowled! Andrew Tye gets a slower ball right and the stumps are all over the place. Ben Stokes departs for 25(18).
20:55 IST: 106 for three RPS after 12 overs.
20:53 IST: Four! Stokes gets the ball away over short backward square leg.
20:51 IST: Four! 100 runs come up for RPS as Stokes edges the ball towards third man.
20:49 IST: Gujarat Lions captain Suresh Raina comes into the attack.
20:47 IST: Manoj Tiwary is the new man in. With the run rate hovering around 10 per over, it is on Tiwary and Stokes to put up a big total on board.
20:45 IST: Out! Smith gets Smith! Dwayne Smith bowls short, Steve Smith miscues and goes straight into the hands of Aaron Finch.
20:44 IST: Suresh Raina introduces Dwayne Smith into the attack.
20:40 IST: Six! Ben Stokes slams Jadeja over the rope for a big maximum.
20:38 IST: At the end of 8 overs, RPS stand at 77 for two.
20:36 IST: Thampi bowls a slower short delivery, Smith misses and ball smashes into Smith's right rib-cage.
20:32 IST: Four! Smith guides the ball to fine leg for a boundary.
20:30 IST: After powerplay, RPS stand at 64 for two.
20:29 IST: Ben Stokes comes out in the middle to join skipper Smith.
​20:27 IST: Out! Breakthrough for Lions, Tye dismisses Rahul Tripathi.
20:25 IST: Tripathi races to 33 off 15 balls.
20:24 IST: Andrew Tye gets introduced into the bowling attack.
20:23 IST: Big over for RPS! 25 runs off Praveen over.
20:22 IST: Four! Smith smashes Praveen for consecutive boundaries!!!
20:21 IST: Four! Tripathi going Berserk, hits Praveen for another boundary through off-side.
20:21 IST: Six! Beautiful stroke from Tripathi as he hits consecutive maximum.
20:20 IST: Six! Short by Praveen, Tripathi dances down the wicket and clears the boundary with ease.
20:19 IST: RPS 35 for one after 4 overs.
20:18 IST: Six! Consecutive boundaries by skipper Smith.
20:17 IST: Four! Short by Jakati and Smith smashes it through mid wicket.
20:11 IST: Four!! Wide from Praveen and Tripathi smashes it to the square boundary.
20:07 IST: Four!! Full toss from Thampi and Tripathi hits a brilliant straight drive.
20:03 IST: That was just out-of-the-world stuff from Gujarat's captain. He plucked the ball out of thin air. Pune are 6/1 in 1 over.
20:02 IST: WICKET!! What a catch from Suresh Raina at first slip. Absolutely breathtaking!! Rahane walks back for zero. Huge setback for Pune.
20:01 IST: Praveen starts off with a dot ball. 
19:55 IST: Rahul Tripathi and Ajinkya Rahane walk out to bat. Praveen Kumar has the ball in hand.
19:35 IST: Suresh Raina wins toss and elects to bowl vs Pune.
19:30 IST: Toss time!!
19:25 IST: Hello and welcome to the live blog of the day's second game. Gujarat take on Pune in Rajkot.
GL, who finished an impressive third in their maiden IPL appearance last year, would be desperate to turn their fortunes around in front of home fans.
Jadeja has had a terrific home season with both ball and bat for India and his return will definitely boost GL morale.
Topics mentioned in this article