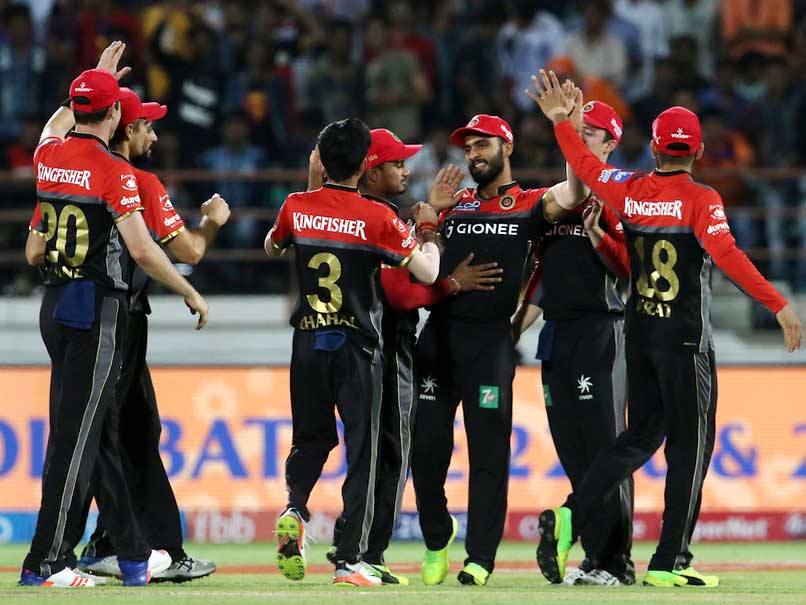 IPL Highlights: Virat Kohli-led Royal Challengers Bangalore defeated Suresh Raina's Gujarat Lions.
© BCCI
The Virat Kohli-led Royal Challengers Bangalore defeated Suresh Raina's Gujarat Lions by 21 runs for their second win in IPL 2017. Being put into bat, Chris Gayle and Virat Kohli gave RCB a blistering start, putting on 122 runs for the first wicket. Gayle reached a personal milestone, becoming the first man to score 10000 runs in T20 cricket, but fell just 23 runs short of his sixth IPL ton. Kohli, too, looked in great touch and scored his 28th IPL half century but fell in search of quick runs. While Brendon McCullum (72) steadied the Gujarat innings after Dwayne Smith (1), Suresh Raina (23) and Aaron Finch (19) fell, young Ishan Kishan's quick 16 ball-39 gave RCB a bit of a scare, especially with Kohli dropping his catch at a crucial moment. However, things worked out just fine and Kohli and his merry men can finally smile! (SCORECARD)
IPL Highlights between GL vs RCB straight from Rajkot, India. 
23:51 IST: Thank you for joining us for today's match. Do join us for tomorrow's encounter between Delhi Daredevils and Sunrisers Hyderabad at Hyderabad! Good night! 
23:50 IST: Man of the Match is Chris Gayle!
23:36 IST: RCB win second match in 6 outings. Defeat Gujarat Lions at Rajkot by 21 runs. 
23:35 IST: VICTORY FOR RCB!!! Gujarat end with 192/7 as home crowd is disappointed
23:33 IST: OUT!!! Ishan Kishan out after a brilliant 39 off 16 balls!
23:32 IST: Needed 23 off 3 balls. It's not possible for Gujarat to snatch a home victory anymore
23:28 IST: SIX andSIX! Kohli must be feeling very disappointed having dropped Kishan earlier in the over. Gujarat need 26 off the final over! The crowd is going mad!!!
23:27 IST: Kishan utilises the second chance with another FOUR!! 
23.25 IST: That was close! Ishan Kishan given a second chance after Kohli let go of an easy chance at the long on boundary.
23:21 IST: RUN OUT! A mix up leads to Jadeja being dismissed for 23. Gujarat are struggling at 165/6 in 17.4 overs
23:20 IST: SIX and SIX!!! Ishan Kishan gets the home crowd roaring!!! 
23:15 IST: Gujarat are 146/5 after 16 overs
23:07 IST: McCullum (72 off 44 balls) hits it in the air but unfortunately it didn't have enough power as Milne takes an easy catch.  
23:06 IST: OUT!!! McCullum OUT! Is this a game changer?
23:01 IST: Four for Jadeja and SIX again for the former New Zealand captain! Gujarat need 80 in 36 balls with 6 wickets in hand
22:58 IST: SIX! McCullum is just all about power, hitting his sixth 6 to long off
22:54 IST: FOUR!! This time it's Jadeja who hits a boundary! Excellent timing.
22:47 IST: OUT!! Dinesh Karthik gone for just 1 run. Gujarat are 106/4 after 11 overs
22:41 IST: Gujarat are 103/3 after 10 overs. They need another 111 runs from 60 balls with 7 wickets in hand
22:39 IST: OUT! After stylish and steady play, Finch stumped by Jadhav off Negi's bowling.     
22:36 IST: 50!! McCullum brings up his 13th IPL half century in style with a six at backward square leg.
22:35 IST: FOUR!! Finch giving McCullum good company as Gujarat are almost keeping up with the 10.98 required run rate.   
22:32 IST: And FOUR from McCullum! Followed by another SIX!! 
22:29 IST: SIX! Oh boy there's no slowing down McCullum! Gujarat are 78/2 after 8 overs
22:24 IST: FOUR! Finch keeping it steady
22:19 IST: While Gujarat Lions are trying to keep the momentum going, accolades keep pouring in for Chris Gayle. Read about his achievement here - Chris Gayle becomes 1st batsman to score 10000 runs in T20s
22:15 IST: SIX for FINCH!!
22:11 IST: SIX AND FOUR! That's the McCullum way! His uninhibited batting showcases his mastery of the game! It's always a big crowd puller! And he seems to be in the mood today!   
SIX and a FOUR. #BrendonMcCullum goes along his merry way. #GL 47/2 #GameMaariChhe #GLvRCB

— The Gujarat Lions (@TheGujaratLions) April 18, 2017
22:07 IST: OUT!!! After a blistering knock Suresh Raina departs after scoring 23 off 8 balls. His knock included two 4s and the same number of 6s. Gujarat are 37/2 after 4 overs. 
22:06 IST: SIX for McCullum! FOUR for Raina!! Gujarat are piling on the runs! 
22:03 IST: FOUR! Wow captain Raina is giving the home fans something to cheer about!! Gujarat are 23/1 after 3 overs
22:01 IST: SIX AND SIX!!! Raina hits two back-to-back sixes much to the glee of the Gujarat fans
21:57 IST: Gujarat seem to be in big trouble as captain Suresh Raina comes into bat. He is playing in his 250th T20 match.    
21:55 IST: OUT!!!! Smith cheaply dismissed for just 1 run! 
21:51 IST: And play resumes as Dwayne Smith and Brendon McCullum come out to bat for Gujarat Lions
21:38 IST: Stay tuned for Gujarat Lions to show off their skills at home and we will be back after a short break! 
21:37 IST: That was some wonderful batting by RCB. Gayle and Kohli's partnership set the momentum and then, Head and Jadhav followed through to set Gujarat Lions a tough target.  
VIDEO: 10000 T20I runs for @henrygayle. That is some T20 domination https://t.co/kfYSxSfdkO - @RCBTweets #IPL

— IndianPremierLeague (@IPL) April 18, 2017
21:36 IST: FOUR! Jadhav hits his fifth boundary. RCB make 213/2 at the end of 20 overs
21:35 IST: SIX!! Jadhav is on fire!!!
21:34 IST: FOUR!! Jadhav at it again!  
21:33 IST: Ravindra Jadeja bowling the last over for Gujarat.
21:31 IST: RCB are 196/2 after 19 overs
21:30 IST: FOUR! Jadhav at it again! 
21:28 IST: SIX AND FOUR! Now Jadhav on fire! No let up for Gujarat bowlers.  
21:24 IST: FOUR AND FOUR! Travis Head hits two back-to-back boundaries to keep the momentum going for RCB 
21:20 IST: FOUR! Easy shot for Kedar Jadhav.  
21:14 IST: OUT!! Kohli (64 off 50 balls) departs after a wonderful innings but RCB are still on course for a big total. RCB are 160/2 after 16 overs
21:10 IST: SIX again!! Head sweeps Kaushik over deep midwicket. RCB are 153/1 after 15 overs 
21:09 IST: SIX! Kohli keeps adding runs as he hits his first six in this match. 
21:06 IST: 50! Kohli brings up his 28th IPL half century, his second in this edition. 
21:00 IST: OUT!! What just happened! Basil Thampi takes Gayle's wicket. The first man to make 10000 runs in T20 cricket falls short of his sixth IPL century to depart at 77. 
20:54 IST: FOUR! Gayle seems very determined to score his sixth IPL century! 
20:50 IST: SIX AGAIN! Gayle is taking his job very seriously!
20:49 IST: SIX! Almost a short arm jab and the ball goes flying over the long on boundary. Gaylestorm indeed! 
20:48 IST: RCB are 92/0 after 10 overs (Gayle 53*, Kohli 38*) 
20:45 IST: Gayle brings up his 21st IPL 50 in style with a maximum!
20:42 IST: FOUR! There seems to be no stopping Kohli as the RCB captain hits his sixth 4 of the match
20:37 IST: RCB are 75/0 after 8 overs (Gayle 44*, Kohli 31*)
20:33 IST: What a catch! Brendon McCullum takes an improbable catch at the long-off boundary but Gayle gets lucky as McCullum's hat touched the ropes.And it's a six instead! Whew, what a close call for Gayle. 
20:31 IST: FOUR, FOUR AND SIX!!! GAYLESTORM has hit Rajkot! 
20:30 IST: FOUR!! Dropped from the previous match, Gayle is making up for lost time with back-to-back fours!
20:28 IST: SIX! What a shot by Gayle! He lifts the ball over long off from a Kaushik delivery.  
20:23 IST: FOUR! Gayle hits the ball off the back foot past mid-off for a boundary!  
20:16 IST: SIX!!! Gayle hits the first six of the match!! RCB are 33/0 after 4 overs.  
20:15 IST: 10000 runs for Gayle in T20 cricket! What an achievement!
20:11 IST: 3 consecutive boundaries for Kohli! Kulkarni being taken to the cleaners it seems! RCB are 25/0 after 3 overs
20:10 IST: FOUR! There seems to be no stopping Virat! Comes down the track to hit a mid-wicket boundary!
20:07 IST: FOUR again for Virat! Short delivery from Basil Thampi and captain Kohli pulls it to square leg for a boundary.
20:03 IST: FOUR! When Virat Kohli comes to bat, fans are always ready for an explosive innings. 
19:58 IST: Virat and Gayle make their way to the field. Dhawal Kulkarni gears up to bowl the first ball!
19:33 IST: Some changes in the squad: Chris Gayle and Travis Head come in for RCB. Three changes for Gujarat - Dhawal Kulkarni, Shivil Kaushik and Aaron Finch come in for Praveen Kumar, Munaf Patel and Jason Roy. 
.@TheGujaratLions @RCBTweets #IPL Match 20 - @RCBTweets are missing @ABdeVilliers17 & @qmanbad for #GLvRCB game pic.twitter.com/CA8OiKZDj3

— IndianPremierLeague (@IPL) April 18, 2017
19:30 IST: Gujarat Lions win toss, elect to bowl!
19:28 IST: So folks, get ready for the toss! 
19:11 IST: Hello all, welcome to the live blog of the Gujarat Lions v Royal Challengers Bangalore tie from Rajkot. It's 'Raina v Kohli' and fans are hoping the must-win match for both teams is a cracker of an encounter!  
#IPL Match 20 - Preview by @statanalyst: Match 20 - @TheGujaratLions vs @RCBTweets. Match starts at 8 PM IST today https://t.co/sNaKPChxW2 pic.twitter.com/8ofYQcbRug

— IndianPremierLeague (@IPL) April 18, 2017
Raina would be hoping that returning home would be something of a boost for his side. They were looking good to be competitive in their last match with Mumbai Indians, but the Mumbai outfit is almost unstoppable now.
RCB, on the other hand, are extremely upset, with Kohli mincing no words when he reminded his team of their responsibility towards the fans and franchise owners.
RCB have by far the most formidable batting in the tournament, with Kohli, Chris Gayle and AB de Villiers being among the best batsmen in the business. GL too have the likes of Raina, Brendon McCullum, Dwayne Smith and Aaron Finch in their batting armoury.