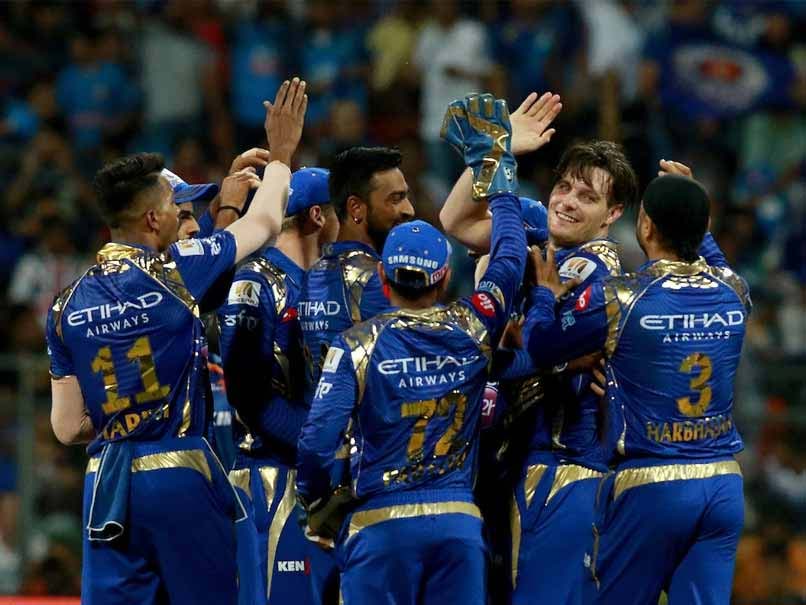 IPL 2017, GL vs MI: Mumbai beat Gujarat by 5 runs in super over.
© BCCI
In a thrilling Super Over, Mumbai Indians (MI) beat Gujarat Lions (GL) by 5 runs in the 35th match of the Indian Premier League (IPL) in Rajkot on Saturday. Chasing a total of 154, Parthiv Patel (70) gave Mumbai Indians a flying start, but Gujarat Lions came back into the game by picking up wickets regularly towards the end of the innings to earn themselves a Super Over. Basil Thampi was the pick of the bowlers for Gujarat as he finished with figures of 3/29 in his four overs. Kieron Pollard and Jos Buttler opened the batting for Mumbai in the Super Over and scored a total of 12 runs off James Faulkner. Jasprit Bumrah was given the responsibility to defend the target for Mumbai. For Gujarat, Aaron Finch and Brendon McCullum came out to bat but were held by Bumrah's brilliant yorkers in the Super Over. After this win Mumbai Indian still stand second on the table with 14 points, while Gujarat are placed fifth with six points. (SCORECARD)
IPL highlights between GL vs MI straight from Rajkot, India.
00:22 IST: Thank you for reading our live blog. Please do come back tomorrow for another double header. 
00:02 IST: Single run! Mumbai win the super over as Gujarat finish 6 for zero. Beautiful bowling by Jasprit Bumrah!
00:01 IST: Dot ball! Beautiful yorker from Bumrah! Gujarat need 7 runs off 1 ball.
23:59 IST: A bye for Gujarat, they need 8 off 4 balls.
23:58 IST: Gujarat need 9 runs off 4 balls!
23:57 IST: Wide Ball from Bumrah! Mumbai Indians under pressure.
23:56 IST: Good delivery from Bumrah. One run from the first ball. Gujarat need 10 from 5.
23:55 IST: No ball from Bumrah and Gujarat gets a Free Hit!! Crazy start to the over!
23:51 IST: Brendon McCullum and Aaron Finch to take responsibility of the Super Over.
23:50 IST: Jasprit Bumrah to lead the bowling attack for Mumbai.
23:49 IST: Gujarat Lions need 12 runs from 6 balls to win the Super over and the match! 
23:48 IST: Out! Slower ball from Faulker, Buttler hits a skier but Ishan Kishan completes a fantastic catch.
23:47 IST: Out! Trying to get the yorker right, Pollard hits a low full-toss and Aaron Finch completes the catch. Mumbai 11 for one.
23:47 IST: Six! Right into the slot to Pollard and he smokes the Aussie for a huge maximum.
23:46 IST: Four!  Wide from Faulkner, and Pollards smacks the ball for a boundary.
23:45 IST: Buttler tucks away the first ball for a single!
23:44 IST: For Mumbai Indians, Jos Buttler and Kieron Pollard will open the batting line-up.
23:43 IST: James Faulkner to bowl the penultimate over for Gujarat Lions.
23:42 IST: It's Super Over time!!
23:40 IST: Stay tuned for the super over!
23:37 IST: Run Out yet again!!! A Super Over awaits Gujarat Lions and Mumbai Indians! Score tied at 153 at the end of 20 overs.
23:31 IST: Run out! It is all drama in the last over, Bumrah gone for a duck, but Krunal is still on strike. Mumbai need 4 runs in three balls. Can Gujarat pull off a sensational victory?!!
23:29 IST: Six! First ball of the last over, Krunal smokes Pathan for a maximum straight down the ground.
23:26 IST: Out! Mitchell McClenaghan falls short of crease as Irfan Pathan stops a boundary and releases the ball quickly. Mumbai need 11 runs in six balls.
23:24 IST: Out! Basil Thampi gets his third wicket of the night. Harbhajan LBW first ball. Mumbai 142 for seven, need more 12 in seven ball.
23:20 IST: Out! Basil Thampi sends Hardik Pandya back to pavilion. Mumbai 139 for six, 18.1 overs. Need more 15 runs.
23:18 IST: Four! Krunal Pandya gets the most important boundary at the long on. Mumbai Indians need 15 runs in 12 balls.
23:16 IST: Dropped! Faulkner creating chances for home team.
23:14 IST: Pandya brothers at the crease as Mumbai Indians need 24 runs in 18 balls​. An exciting finish awaits!
23:10 IST: Out! Full length from Thampi, Pollard hits the ball straight to McCullum at the boundary. Mumbai 127 for five, 16.2 overs.
23:09 IST: Four! Stand and deliver from Pollard. Mumbai stepping closer to a win in Rajkot.
23:05 IST: Four! Krunal Pandya just gets the ball past by Aaron Finch, at the inner circle, to get the boundary.
23:04 IST: Five overs more for Mumbai Indians to overhaul the target of 153.
22:55 IST: Mumbai need 43 more runs off 34 balls. Gujarat need a few more wickets to get right back into the game.
#IPL - @aj191 has been carried off the field on a stretcher after he got injured while fielding #GLvMI pic.twitter.com/3YCeWzm0gd

— IndianPremierLeague (@IPL) April 29, 2017
22:50 IST: Out! Two successive wickets for Gujarat. Parthiv Patel looking to guide the ball to third man, edges the ball to Karthik. Faulkner gets two in an over.
22:45 IST: Out! James Faulkner sends Rohit Sharma packing. trying to tickle the ball down to the third man, Rohit nicks the ball and Dinesh Karthi completes the catch.
22:34 IST: Out! Ankit Soni traps Nitish Rana in front of the wickets. Mumbai 82 for two.
22:32 IST: Four! Wide from Soni, Rana dispatches the ball over covers for a boundary.
22:27 IST: Parthiv Patel brings up his ninth IPL half century off 32 balls. Mumbai stand 72 for one.
22:32 IST: Four! Wide from Soni, Rana dispatches the ball over covers for a boundary.
22:27 IST: Parthiv Patel brings up his ninth IPL half century off 32 balls. Mumbai stand 72 for one.
22:18 IST: At the end of the powerplay, Mumbai stand at 61 for one. Need 93 runs in 84 balls
22:15 IST: Four! Patel on fire! Wide from Tye, Patel guides the ball to third man for a boundary.
22:14 IST: Six! Rana gets off the mark in style, sweeps Raina for a maximum on the leg side.
22:11 IST: That was a good first over from Ankit Soni, concedes only 3 runs.
22:10 IST: Run-out! Brilliant piece of fielding from James Faulkner, catches Buttler miles short off the crease. Mumbai 43 for one, 4 overs.
22:05 IST: Four! Patel flicks the ball on the fine leg boundary.
22:03 IST: Six! Parthiv Patel welcomes Irfan Pathan with a huge maximum on the leg side.
22:00 IST: Four more!! Raining boundaries in Rajkot! Faulkner provides the width and Parthiv obliges. MI are 24/0 in 2 overs. 
21:58 IST: Four!! New over same story. Parthiv drives off the front foot and gets it through the covers for his 2nd boundary.
21:57 IST: Four more!! Buttler gets it away to the fine-leg boundary this time. Expensive start from Thampi. MI are 13/0 in 1 over.
21:56 IST: Four!! Buttler joins in the action! It was full and on the legs and the Englishman just flicks it through mid-wicket. Absolutely effortless!!
21:54 IST: Four!! First ball and Parthiv Patel gets it away to the boundary.
21:38 IST: And it's done. Gujarat finish 153 for nine at the end of the 20 overs.
21:37 IST: Six! Ankit Soni swings his bat, connects and slams the ball straight down the ground.
21:33 IST: Bowled! Bumrah cleans up James Faulkner, bowls a full length delivery on the leg stump, Faulkner misses, ball hits! Gujarat 144 for nine.
21:32 IST: Run-out! Bumrah runs out Tye out off his own bowling. Gujarat 144 for eight, 18.4 overs.
21:32 IST: Four! Faulker getting the best of Bumrah. Slams his on the leg side for a boundary.
21:31 IST: Bumrah gives away only a single off his free hit.
21:30 IST: No ball yet again! Bumrah to bowl his second free hit ball.
21:29 IST: No ball! Jasprit Bumrah to bowl the free hit!
21:28 IST: Four! Tye having the time of his life!
21:25 IST: Six! Six! Andrew Tye smokes McClenaghan for back-to-back maximums.
21:24 IST: Four! Slower short ball from McClenaghan and Faulkner puts it away for a boundary.
21:21 IST: Four! Andrew Tye slams Bumrah straight down the ground.
21:15 IST: Looks like Malinga found his mojo back!
21:14 IST: Out! Krunal gets his third victim. Irfan Pathan slog-sweepes, miscues and Hardik completes the catch. Gujarat in trouble, 101 for seven, 15.4 overs.
21:12 IST: Mumbai Indians have been really consistent with their bowling and have kept Lions on a leash.
21:11 IST: With just five overs remaining in the game, Gujarat Lions have to look for a partnership and put away the balls to cross the 150-mark.
21:05 IST: Out! Krunal gets his second of the night. Lions losing momentum as Jadeja takes a long back walk to the pavilion. Gujarat 95 for six, 13.5 overs.
21:01 IST: Four! Gets the ball over the top of the point fielder for a boundary. Jadeja moves onto 25, his highest this season.
20:53 IST: Out! Harbhajan tosses the ball up and Kishan sends the ball straight down the throat of Pollard. Gujarat 83 for five, 11.1 overs.
20:49 IST: Four! Wide from Malinga and Jadeja edges the ball for a boundary. Cheeky edge.
20:48 IST: After 10 overs, Gujarat fight back to stand at 70 for four.
20:47 IST: Four! Ishan Kishan edging towards his maiden IPL half fifty, slams Harbhajan for a boundary straight down the ground.
20:45 IST: Another good over by Krunal, concedes just a maximum and a wicket.
20:44 IST: Six! Ravindra Jadeja, the new man in, hits Krunal for a flat maximum.
20:41 IST: Stumped! Krunal Pandya deceives Dinesh Karthik, wide and stumped. Parthiv Patel lightning fast behind the wicket.
20:37 IST: Mumbai bowlers slowly coming back in the back with good bowling. Gujarat after the eight over stand at 55 for three.
20:30 IST: At the end of the powerplay, Gujarat 48 for three.
20:29 IST: Out! Malinga removes Aaron Finch for a duck. Slower ball from the Sri Lankan and Finch drags it onto his stumps.
20:21 IST: Out! Jasprit strikes as he removes Suresh Raina. Gujarat 46 for two after 4.2 overs.
20:19 IST: Four! Kishan into overdrive mode, pulls Harbhajan for a boundary at mid-wicket.
20:17 IST: Four! Kishan not sparing anyone. Welcomes Harbhajan Singh with a boundary.
20:15 IST: At the end of the third over, Gujarat stand at 36 for one.
20:14 IST: Four again! Kishan on fire! This time guides the ball towards third man.
20:13 IST: Four! A bit of width from McClenaghan, and Kishan square cuts the ball beautifully for a boundary.
20:12 IST: Six! Ishan Kishan changing his gears now, smacks the short McClenaghan ball out of the park into the second tier.
20:11 IST: First breakthrough!! McCullum comes down the track, gives himself room, misses the ball as it crashes into the stumps. Gujarat 21 for one after two overs.
20:10 IST: Four! Width from Maling and McCullum gets on top of the ball and cuts it for a boundary.
20:08 IST: Six! Full length from Malinga, and Ishan Kishan dispatches the ball for a maximum with authority.
20:05 IST: Decent first over from Mumbai, Gujarat seven for no loss.
20:02 IST: Four! Well directed bouncer from McClenaghan, Kishan pulls and top edges the ball over the keeper's head for the first boundary.
20:01 IST: McClenaghan starts with a huge wide down the leg side.
20:00 IST: Mitchell McClenaghan leading the attack for Mumbai.
19:59 IST: Brendon McCullum and Ishan Kishan opening the battling line up for Gujarat.
19:58 IST: Players making their way out to the middle of the field. 
19:40 IST: Gujarat Lions warming up before their match vs Mumbai Indians.
19:39 IST: Here are the playing XI for both the teams.
19:32 IST: Gujarat Lions win toss and elect to bat first in Rajkot against Mumbai.
19:30 IST: Hello and welcome to the live blog of the match between Gujarat Lions and Mumbai Indians.
One of the more balanced outfits with all bases covered, Mumbai's primary aim will be to get two more wins as quickly as possibly which will all but ensure a smooth passage into the playoffs.
GL, on the other hand, need to win five out of their next six games and any slip up from here will considerably lessen their chances of making it to the next stage.