Story Progress
Back to home
Brad Hodge Apologises To Virat Kohli For Comments On Injury, Says Meant No Harm
Brad Hodge, coach of the Gujarat Lions team in the Indian Premier League, has been rattled by the backlash and issued a long apology after suggesting that Virat Kohli missed the fourth test in Dharamsala to rest his injured shoulder ahead of the IPL 2017.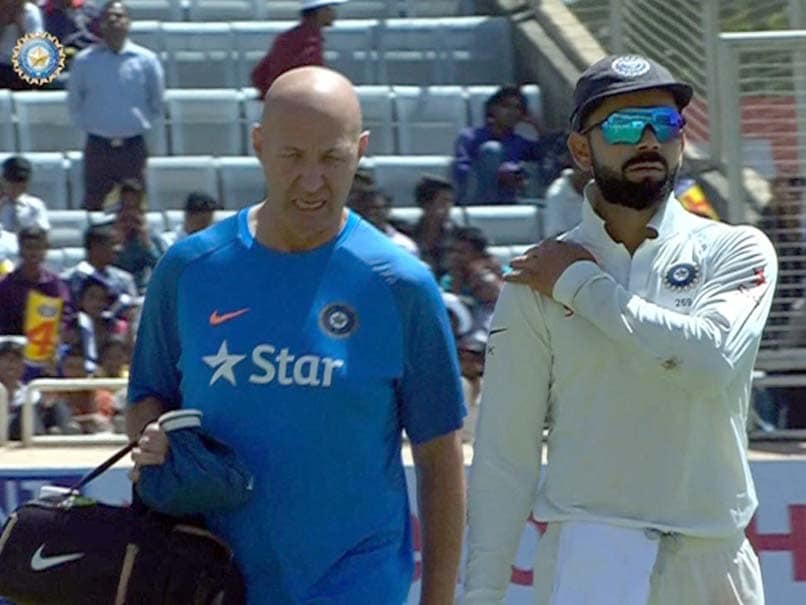 Virat Kohli injured his right shoulder while fielding in the third Test in Ranchi against Australia.
© BCCI
Highlights
Hodge apologises for his comments regarding Kohli's injury

Hodge had suggested Kohli missed the 4th Test to save himself for IPL

Kohli had injured his shoulder while fielding on Day 1 of the 3rd Test
Former Australian batsman Brad Hodge has apologised to Virat Kohli for his comments after the Indian captain pulled out of the Dharamsala Test due to a shoulder injury. Hodge came under fire in the subcontinent for his suggestions that Kohli had not played the Test in order to save himself for the Indian Premier League (IPL). "You'd hope as a sportsman that he's seriously injured. Because if you miss one game of Test match cricket and you're fronting up the next week for RCB (Royal Challengers Bangalore) versus whoever... you'd be pretty dirty if he didn't front up to a Test match and try and win a valuable series against Australia," Hodge had said on Sunday.
The Australian, coach of the Gujarat Lions team in the IPL, has been rattled by the backlash and issued a long apology.
March 29, 2017
"I take this opportunity to apologise to the people of India, cricket fans, the Indian national cricket team and particularly Virat Kohli for my previous comments," he posted to Twitter.
"My intention was never to harm, criticise or be derogatory toward anyone. They were intended to be light-hearted comments with the utmost respect to the Indian Premier League which I have thoroughly enjoyed through the years.
"The public and fans have every right to be upset, and the backlash I have received has certainly driven this home."
He said that he respected Kohli and meant no "ill intention".
Kohli pulled out of the Dharamsala Test after suffering a shoulder injury on the opening day of the Ranchi Test. Kohli failed to recover in time from his injury and sat out the decisive Test that India went on to win. The Indian skipper had made it clear on the day before the Test that he would play only if 100 per cent fit.
Promoted
Australia's Glenn Maxwell was also at the centre of controversy over Kohli's injury when he grabbed his shoulder in parody and grinned at his team-mates after making a similar stop later in the third Test.
(With AFP Inputs)
Topics mentioned in this article