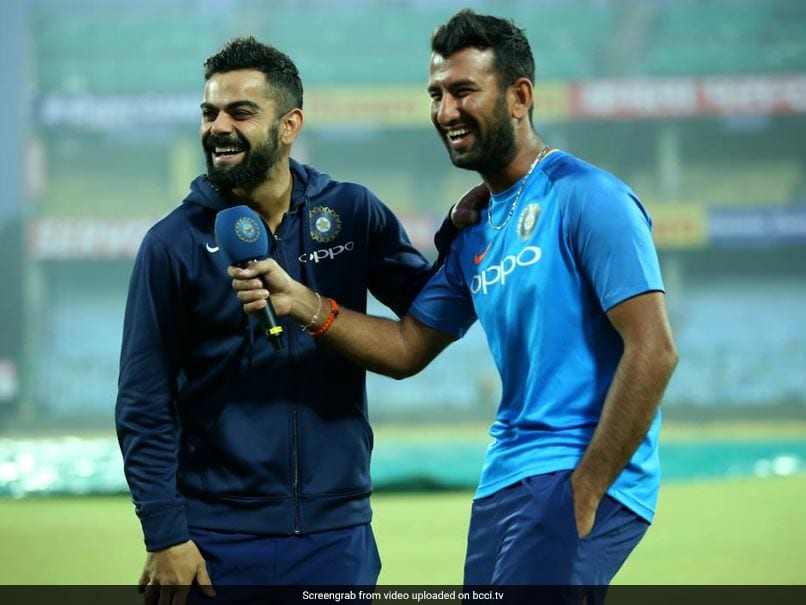 Cheteshwar Pujara turned interviewer in a video and fired questions at Virat Kohli.
© BCCI
Virat Kohli has revealed that besides cricket, he hates playing any other sport with his team-mate Cheteshwar Pujara. The latter turned interviewer in a video and fired questions at his captain. Both players seemed in high spirits and one could clearly see the respect they have for one another. Kohli's revelation came after Pujara asked him which other sport would Kohli like to challenge him in. Kohli held his forehead in embarrassment and said that he ends up losing every game to Pujara because of his "safe" approach.
"I am going to admit something today. I am very competitive and I hate playing against people who don't make errors. And this is one guy (Pujara) who will play so safe, every sport, and I end up making so many unforced errors and I lose everything. Table tennis, tennis and even FIFA (video game) now he has started beating me. So I think I need to try my luck in badminton with him because it's a faster game. I think I can beat you in badminton," Kohli told Pujara in an interview posted on bcci.tv.
In response, Pujara said: "Ok, so this challenge is pending and we will have a badminton game soon".
VIDEO: #TeamIndia Captain @imVkohli makes an admission to @cheteshwar1 and challenges him for a game of badminton.

Watch the full interview on https://t.co/CPALMGgLOj pic.twitter.com/NZNE6pZLnU

— BCCI (@BCCI) December 3, 2017
The duo has been in sensational form for India in the ongoing Test series against Sri Lanka. Kohli leads the run charts with 560 runs in four innings with an average of 186.66.
Pujara is third in the list of run-getters this series behind teammate Murali Vijay. Pujara has scored 240 run in four innings at an average 42.17.
The bonhomie between the two was clear to see as the Indian skipper praised Pujara and said that he had been inspired by Pujara to score big hundreds and that he had learnt to bat longer watching him do that.
"It feels wonderful. It was always my mindset to score big hundreds, something that I have watched you do a lot in your career early on and learnt also, how to concentrate for longer periods.
"We have all learnt from his (Pujara) long innings, his concentration levels and his will to keep batting. So I also got inspired by that to keep batting for the team for as long as possible," said the Indian skipper.