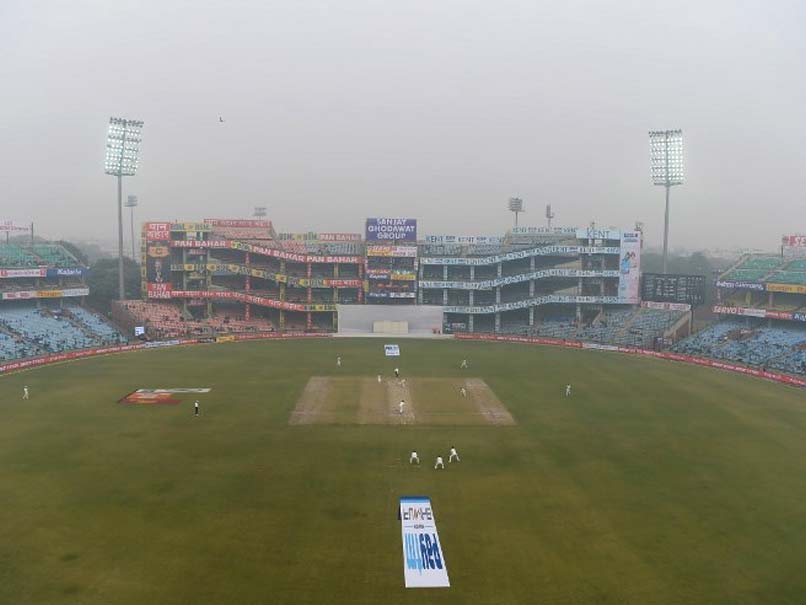 Delhi's viability as an international sports venue has been called into question.
© AFP
Even as the 3rd Test between India and Sri Lanka continues under difficult conditions at the Feroz Shah Kotla in New Delhi, the Board of Control for Cricket in India (BCCI) is hoping that the board's rotation policy about allocating international matches to venues would come to its aid in the case of Delhi, which may not get another Test match at least till 2020. "BCCI is pitching for their exclusive home season slot in February-March every year. They will only get that slot in February-March 2020 as per the new Future Tours Programme (FTP). Therefore, Kotla may or may not be in line for a Test match before 2020," a senior BCCI official told PTI.
Delhi's viability as an international sports venue has been called into question after Sri Lankan players complained of breathing problems due to smog and continued to wear anti-pollution masks in the ongoing third Test against India here.
"As per the rotation policy, Kotla has now got its Test match and in November it got an ODI. Their turn will not come next year as India will perhaps have at the most one full-fledged series," the official said.
"There are other venues waiting for their turn. Similarly in 2019, when the fresh Future Tours and Programme (FTP) starts, it will take some time for Kotla to get another game," he added.
The Sri Lankan grievance came close on the heels of the furore that preceded last month's Delhi Half Marathon which took place despite high pollution levels and an appeal by the Indian Medical Association to cancel the event.
The second day's play in the ongoing match was halted for 26 minutes after Sri Lankans complained of breathing problems forcing Indian captain Virat Kohli to declare the innings at 536/7.
The Indian team, however, has taken the conditions in its stride with pacer Mohammed Shami casually stating that they are "used to suffering" and didn't want to make a big deal out of it.
The BCCI acting secretary Amitabh Chaudhary, during a media conference on Monday, admitted that scheduling Test matches in New Delhi during this time of the year will come up for discussion.
However, another BCCI official observed that the board will be relieved for the time being as Kotla has had its share of matches for the time being.
"Now what will be the environmental condition in 2020 can't be predicted in 2017. So if Kotla doesn't get a match, it will be purely because of rotation," the official said.
The Lankan players on Tuesday wore N95 masks, required to protect the lungs from the poor air quality that has plagued the national capital for years now.
Pacer Suranga Lakmal had a rough time on the field after bowling three overs. Fielding at third man, he started throwing up on the ground and was taken off.
In fact, groundsmen had to come out and put sand and sawdust on that particular area.
Lakmal later came back and bowled a second spell and was quite impressive. He was one of the rare Lankan players not wearing a mask.
(With PTI inputs)