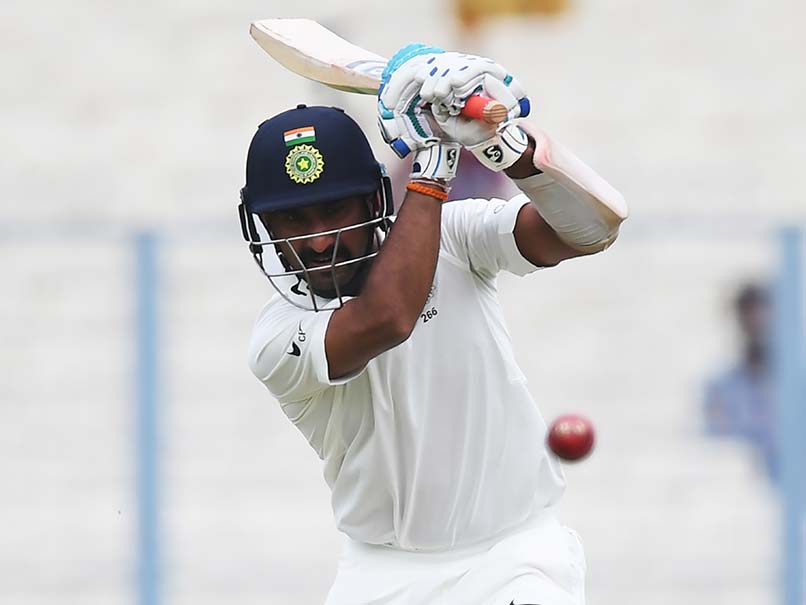 Cheteshwar Pujara is currently in Grade A along with Virat Kohli and MS Dhoni.
© AFP
India's chief coach Ravi Shastri said that it is important that India's Test specialist Cheteshwar Pujara should remain in the top bracket of the central contracts when the Board of Control for Cricket in India (BCCI) and Supreme Court-appointed Committee of Administrators (CoA) finalise the revised deals based on new remuneration structure. Pujara, one of the important links in the Indian Test set-up, is currently in the Grade A of the contracts alongside India captain Virat Kohli, Mahendra Singh Dhoni, Ravichandran Ashwin, Ajinkya Rahane and Murali Vijay.
Shastri, along with Kohli and Dhoni, met CoA chief Vinod Rai on Thursday to discuss the revised compensation package and Future Tours and Programme (FTP) calendar. There have been discussions in BCCI circles that players will be bracketed as per who plays the maximum number of international matches across formats in a particular calendar year.
During a panel discussion on journalist Rajdeep Sardesai's new book 'Democracy's XI', Shastri said, "It is very important that someone like Cheteshwar Pujara is kept in the top bracket of central contract.
"We had extensive discussions with players on issues that pertain to them directly, which means the number of matches they have to play, the Future Tours Program (FTP) and compensation package etc.," Rai told reporters after the meeting.
"All the inputs they have to give us were taken and we are going to factor those in. The FTP, we bounced it off them. Presentations have been made and they are in agreement with the FTP so that they get enough rest. Number of days, I can't tell you as we have not yet worked it out," Rai added.
As per the current pay structure, contracted Grade A players are paid rupees two crores annually, Grade B players are in rupees one crore bracket, followed by Grade C at Rs 50 lakh per year.
The per Test match fee for the first XI players stands at Rs 15 lakh, while they are paid Rs 6 lakh and Rs 3 lakh per ODI and Twenty20 respectively. The players outside the first XI but in the squad are paid half these amounts. Former coach Anil Kumble, during a presentation to the CoA, had demanded rupees five crores for the Grade A players.
Shastri also spoke on how the relationship between Kohli and Dhoni is playing a huge role in the team's success
"I have never seen Dhoni lose his cool. If he has, it must have been for 10 seconds. Kohli is still work in progress but he will certainly mature. I hear a lot of stories about their relationship but all those are not true. I have seen how much mutual respect the two have for each other," Shastri remarked.
(With PTI inputs)