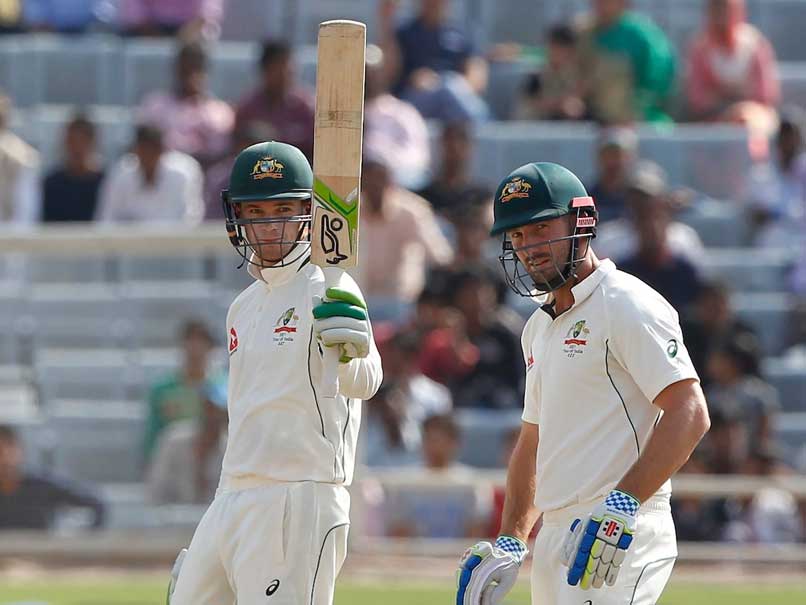 India vs Australia: Marsh, Handscomb shared a century-run stand for the fifth wicket
© BCCI
Australia showed strong resistance on the final day after losing Steve Smith and Matt Renshaw early in the day as Shaun Marsh and Peter Handscomb stitched together a 124-run stand for the fifth wicket to help the visitors salvage a draw in the third Test match in Ranchi. The series is tied at 1-1 with the last Test match starting on the 25th March at Dharamsala. (Scorecard)
Catch all the highlights on India vs Australia straight from Ranchi, India
16:27 IST: Thanks for joining in as we look forward to your company for the last Test match starting in Dharamsala from the 25th of March.
16:25 IST: That's about it as Virat Kohli shakes hands with Peter Handscomb who remained unbeaten on 72. The first ever Test match in Ranchi is drawn.
16:17 IST: So four overs remaining in the day's play.
16:08 IST: Matthew Wade joins Handscome in the middle.
16:06 IST: Wicket! Ashwin bowls the carrom ball and Maxwell gets an inside edge. The finger goes up and Maxwell departs.
15:57 IST: Glenn Maxwell is the next man in.
15:54 IST: Wicket: Jadeja gets some bounce, Marsh lunges forward but the ball hits the gloves and the man at short-leg makes no mistake. The breakthrough comes at a time when there is little time left in the Test match.
15:51 IST: Banged in short by Ishant and Handscomb pulls it for a boundary.
15:47 IST: Australia now lead by 31 runs. A little over ten overs left for the day.
15:40 IST: Ishant Sharma comes back on as Handscomb and Marsh continue to frustrate the Indians
15:30 IST: Four! Marsh comes down the track and caresses it through the covers. Brings up his seventh half-century.
15:19 IST: Ashwin bowls it quicker through the air. Hits the pads and a huge appeal for leg before. The umpire didn't raise the finger and India ask for the review. Replays suggest it would have hit the stumps but since the umpire's call was not out, it would remain so. Marsh lucky to get away with that.
15:10 IST: Australia 170 for 4, Peter Handscomb 56*, Shaun Marsh 46* Lead by 18 runs
15:01 IST: Huge appeal for leg before. Jadeja looks convinced. But the umpire rules it in favour of the batsman. No reviews left for India. Handscomb survives a scare. Replays suggest the ball pitched outside leg-stump.
14:56 IST: Peter Handscomb brings up his third half-century. Australia lead by 11 runs.
FIFTY! What a performance from @phandscomb54! It comes off 126 balls when Australia desperately needed it #INDvAUS pic.twitter.com/j3ouGgLKpq

— cricket.com.au (@CricketAus) March 20, 2017
14:55 IST: Can you guess who is at the ground?
Meanwhile, a special guest is keeping a close eye on things... #INDvAUS pic.twitter.com/Hbm3HYdiZv

— cricket.com.au (@CricketAus) March 20, 2017
14:50 IST: Shaun Marsh clips it off his legs and Australia take the lead.
14:40 IST: Umesh has been excellent today. Fast, straight with a hint of reverse swing at times.
14:37 IST: Handscomb survives a lbw appeal off Umesh's bowling. India reviewed umpire's not out decision. No more reviews for Kohli now.
14:10 IST: So that's tea. Excellent session for Australia. The visitors have not lost a wicket in the session. Now trail India by 3 runs. Shaun Marsh 38*, Peter Handscomb 44*
14:00 IST: Handscomb has looked very good against the spinners. Every now and then he comes down the track. Ashwin hardly getting any assistance from the pitch to the right-handers.
13:57 IST: Jadeja gets it to turn off the rough and hits Marsh on the pads. Big appeal from Jadeja but clearly missing leg. Marsh survives.
13:53 IST: Australia 143 for 6. Trail by 9 runs. Handscomb 40*, Marsh 36*
13:47 IST: Five overthrows. Terrible throw from KL Rahul. Deficit now 13 runs.
13:40 IST: This is a very good session for Australia. They have not lost a single wicket. Now trail India by just 19 runs.
13:35 IST: Ishant Sharma replaces Ashwin.
13:33 IST: So India struggling to pick up wickets in the post-lunch session.
The hardness is gone out of the ball. Not as much spin for the bowlers.

— Michael Clarke (@MClarke23) March 20, 2017
13:27 IST: Four! Three boundaries of the Ashwin over. Australia now trail by 21 runs.
13:26 IST: Four! Another boundary. Handscomb cuts and cuts well through the covers.
13:24 IST: Four! Taken on the full as Handscomb this time comes down the track. Ashwin giving it a bit of air and Handscomb turns it away through the on-side region.
13:22 IST: Four! Marsh comes down the wicket to Jadeja and gets it away through the short-third region. Thickish outside edge and it goes all the way.
13:20 IST: Australia 113 for 4. Trail by 39 runs.
13:11 IST: So much like the first session, Australia have not lost a wicket in the first hour of play after lunch. Players take a drinks break,
13:02 IST: So both the spinners, Ashwin and Jadeja are bowling in tandem at the moment.
12:56 IST: Just as we speak, Jadeja replaces Ashwin.
12:55 IST: India have to strike and strike pretty quickly. No signs of Jadeja yet.
India needs a magical spell which gives them 3 wickets and it needs to happen NOW. Loving this wicket as a cricket fan.#IndvAus

— Mohammad Kaif (@MohammadKaif) March 20, 2017
12:52 IST: Marsh didn't offer a shot and a big appeal for leg before. Kohli goes for the review. Umesh Yadav doesn't look too excited. Replays show it has pitched outside leg-stump.
Even Virat had a laugh after that last review! #INDvAUS pic.twitter.com/E1oQbaIAWl

— cricket.com.au (@CricketAus) March 20, 2017
12:48 IST: Marsh and Handscomb have already added 42 runs in this partnership.
This is a good partnership for Australia; as much for the time in the middle as for the runs it has knocked off

— Harsha Bhogle (@bhogleharsha) March 20, 2017
12:41 IST: Four! Tossed up from Ashwin and Marsh hits it down the ground.
12:40 IST: Umesh Yadav continues to bowl full but Handscomb up to the task.
12:30 IST: Full from Yadav and Marsh showing the full face of the bat. Beautiful straight drive. Gets four for it.
12:25 IST: Dropped! Difficult chance at forward short-leg. Those catches either stick or they don't. Handscomb tries to turn it away to the on-side, hits it straight to Nair standing there and it just pops out of his hand. Ashwin not happy.
12:22 IST: Umesh comes round the wicket and gets it to move away from the left-handed Marsh. Beaten all ends up.
12:19 IST: Ashwin comes on from the other end.
12:12 IST: Umesh Yadav to start proceedings after lunch. Handscomb to take first strike.
12:10 IST: Hello and welcome to the post-lunch session. Australia are struggling at the moment.
Lunch on Day 5, Australia are (451 & 83/4) trail India (603/9d) by 69 runs #INDvAUS pic.twitter.com/gDFEZqZZ5X

— BCCI (@BCCI) March 20, 2017
11:30 IST: So that is lunch on Day 5. Australia 83 for 4, trail India by 69 runs.
11:26 IST: After a long wait, Ravichandran Ashwin comes on to the attack.
11:20 IST: Ishant strays down the leg-side and Wriddhiman Saha can't get there. Four Byes!
11:17 IST: Australia 67 for 4. Shaun Marsh and Peter Handscomb at the crease.
11:10 IST: Ishant is in the middle of a very good spell. Getting it to reverse at the moment. Beats Marsh once again.
11:03 IST: Wicket! This is the big fish. Steve Smith has to make his way back to the pavillion. Brilliant bowling by Jadeja. Comes over the wicket, pitches it in the rough and Smith offers no shot only to see his off-stump pegged back.
Aussies rocked by shock Smith dismissal: https://t.co/s5niPEKoi1 #INDvAUS pic.twitter.com/IH3he1m9kR

— cricket.com.au (@CricketAus) March 20, 2017
11:00 IST: Shaun Marsh is the next man in and Ishant finds the edge first ball. Flies off to the vacant third man region for a boundary.
10:58 IST: Wicket: Ishant Sharma has given India the first breakthrough of the morning. Set up Renshaw beautifully. Bowled two short balls back to back pushing the left-hander back and then getting it right up there. Renshaw was hit in line and the umpire raises the finger. Renshaw lbw b Sharma for 15.
10:55 IST: India trying different things now. Ishant bowls short but not well directed. Renshaw had no trouble leaving that one.
10:47 IST: Still no sign of Ashwin and we are well past an hour in the morning session of the final day's play.
10:42 IST: Turn and bounce from Jadeja. Misses everything and goes to the boundary. Four Byes!
10:40 IST: So 50 up for Australia. Deficit still 102. The visitors have looked to play each ball on its merit. So far no damage done.
10:31 IST: Australia have done well in the first hour of play by not losing a wicket as drinks being called for in the field.
The Aussies make it through the first hour unscathed with Smith 16* off 57 and Renshaw 14* off 65: https://t.co/EgbDSOUWdB #INDvAUS pic.twitter.com/nzd7DkYkh3

— cricket.com.au (@CricketAus) March 20, 2017
10:30 IST: Now Jadeja comes over the wicket to Steve Smith.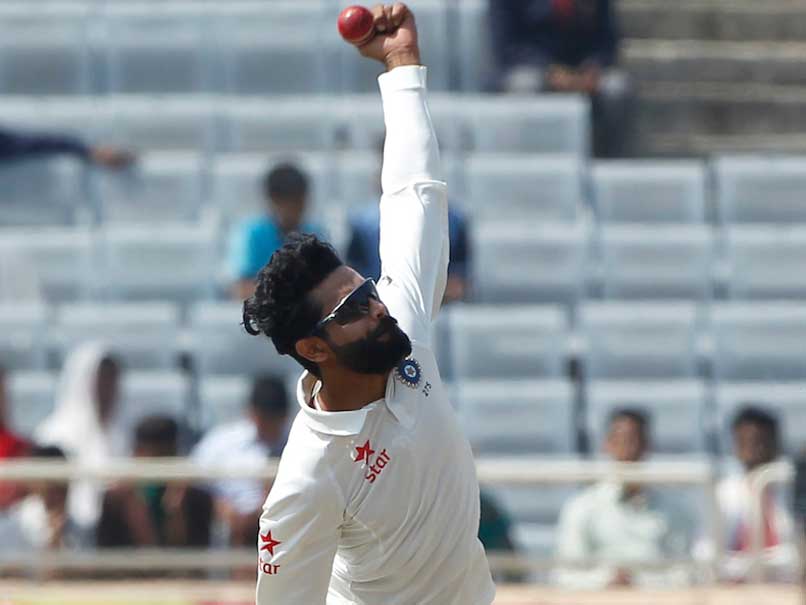 10:22 IST: Do you agree with former India opener Aakash Chopra?
Losing crucial overs here....Ashwin should've bowled before Renshaw/Smith were set. Hard ball...more bite. #INDvsAUS

— Aakash Chopra (@cricketaakash) March 20, 2017
10:14 IST: Ishant Sharma replaces Umesh Yadav.
10:11 IST: Turn and bounce from Jadeja. Gets the inside edge of Renshaw's bat but the ball falls wide of the short-leg fielder.
10:08 IST: A packed off-side field for Steve Smith. And Yadav keeps bowling wide trying to tempt Smith to pierce the off-side field. So far not successful.
10:03 IST: Big appeal! That one from Jadeja pitches outside off-stump and went straight on with the arm. Hit Renshaw on the pads but it was always hitting outside the line.
10:00 IST: Yadav comes round the wicket to Renshaw.
9:58 IST: Jadeja completes yet another economical over. Australia 37 for 2.
9:56 IST: Umesh Yadav bowling too wide at the moment. That will not bother Smith too much.
9:50 IST: Jadeja going wider of the crease. Trying to use the rough outside the left-handers off-stump. Renshaw is playing it well at the moment.
9:45 IST: Jadeja coming over the wicket to Renshaw finds the edge but falls short of first slip.
9:41 IST: Lovely shot from Smith. First boundary of the morning. Six from the Yadav over.
9:38 IST: Smith gets off the mark with a couple.
9:35 IST: Umesh Yadav to share the new ball with Jadeja. So spin from one end and pace from the other.
9:33 IST: No real drama in the first over. Smith yet to get of the mark.
9:30 IST: So the first ball of the day. Jadeja to bowl to Steve Smith.
9:30 IST: This is how the pitch looks on the final day.
Final day #INDvAUS pic.twitter.com/UDDmWGpqe8

— cricket.com.au (@CricketAus) March 20, 2017
9:28 IST: Close-in catchers will have their work cut out today.
Time to grab them all on Day 5 #INDvAUS #TeamIndia @Paytm Test cricket pic.twitter.com/DXmqnwL7eY

— BCCI (@BCCI) March 20, 2017
9:27 IST: Ishant Sharma warming up before the match.
Target practice - @ImIshant in action #INDvAUS #TeamIndia @Paytm Test cricket pic.twitter.com/OEUK8ZngWo

— BCCI (@BCCI) March 20, 2017
9:25 IST: Bowlers would have a lot to do for India on the final day.
Big day for the bowlers coming up! Marking run-ups @y_umesh before the start of play #INDvAUS #TeamIndia @Paytm Test cricket pic.twitter.com/qgewpX2Ngg

— BCCI (@BCCI) March 20, 2017
9:22 IST: Australia have lost David Warner and nightwatchman Nathan Lyon yesterday just before the end of the day's play. A crucial first session for both the sides. Aussies would look play out the session without losing a wicket while India would look to pick up a couple of wickets before lunch.
9:20 IST: Hello and welcome to the coverage of the final day of the third Test match.
Resuming the day at 360/6, India went on to score 603/9 and declared the innings, taking a 152-run first innings lead to put Australia under immense pressure. Cheteshwar Pujara played a marathon innings of 202 runs and was ably supported by Wriddhiman Saha (117) for a 199-run eighth wicket stand that set the tone for India. Ravindra Jadeja used the long handle to good effect and Umesh Yadav too joined the party to help the hosts score a mammoth total of over 600.
Australia, on the other hand, started off poorly and lost two quick wickets to end Day 4 at 23/2 with David Warner and nightwatchman Nathon Lyon already shown the door. The onus will now be on skipper Steve Smith and others to stay at the crease as long as possible and give India a target to chase in the fourth innings.