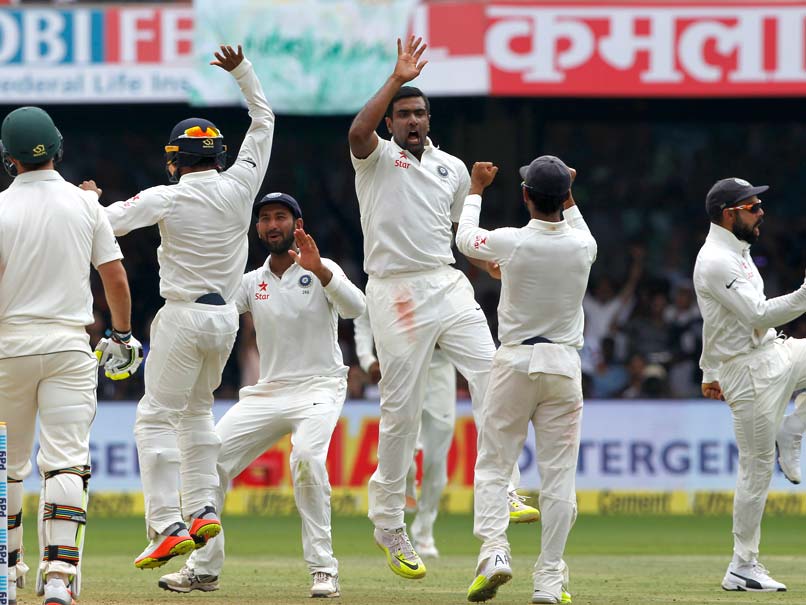 India scripted a sensational fightback and defeated Australia by 75 runs
© BCCI
Riding on Umesh Yadav and R Ashwin's superb show with the ball, India scripted a sensational fightback and defeated Australia by 75 runs to level the four match series 1-1. Chasing 188 runs to win, the visitors were bowled out for 112 runs. R Ashwin was again the pick of the bowlers who took 6/41 in the second innings. He was well supported by Umesh Yadav (2/30), Ishant Sharma 1/28 and Ravindra Jadeja 1/3. From batting, Cheteshwar Pujara (92) and Ajinkya Rahane (52) deserve the accolades too as they stitched together a stand of 108 runs, the highest in the series, for the 5th wicket and helped India give a competitive target to Australia. Now, the next Test match will be played in Ranchi from March 16. (SCORECARD)
Catch the highlights of India vs Australia, Day 4, from Bengaluru, India
15:35 IST: That's it from us. Hope you enjoyed our coverage!!! Adios!!
15:30 IST: Virat Kohli after the match: Specially after the way we lost the first Test. We wanted to prove ourselves. Today, the boys showed their heart and character along with the crowd. A couple of the sessions were game changing. The moment they did not get big runs in the first innings. We knew we had a chance. The wicket has been relaid. It exactly panned out the way we wanted. After conceding the lead, it was a champion partnership. The two of our best Test batsmen applied themselves. The knock from Wriddhi (Wriddhiman Saha) and the way Ishant batted was a bonus as well. Ranchi is going to be very competitive. We can't wait to get there. Hopefully, we can take the momentum forward and never look back.
KL Rahul, Man of the Match: Absolutely, no better place for me to perform. The way we performed was a proud moment for us. I have played my cricket in Bangalore. I told Virat yesterday, if we get 150 runs as a lead, we will win by 30 runs. We applied our plans. There was a time, when they said I get past 20, I get a hundred. I was disappointed. It gets quite sore. I can't quite dive on the field. I might restrict a few shots. Even I do, it's not that I can't score.
15:25 IST: Steve Smith after the match: Yeah, it was a great Test match. It was a good one. I am proud of the boys. The partnership between Rahane and Pujara hurt us. Ashwin challenged our boys and we were not up for it. Everyone makes mistakes. It is a difficult pitch to umpire on. You have to be smart to take your referrals as well. Certainly a lot to play for as we go to Ranchi. Hopefully some good times ahead
Fantastic come-from-behind win. Showed great resolve and ambition. Test No.1 ranking not misplaced. Opens up series. Well played India!

— Cricketwallah (@cricketwallah) March 7, 2017
The bowler that Australia were most concerned about, @ashwinravi99, has produced a top performance. Big impact on the rest of the series.

— Harsha Bhogle (@bhogleharsha) March 7, 2017
15:20 IST: What a fightback this has been from India.  This will definitely be counted as one of the famous victories posted by the home team
INDIA WIN! Ashwin finishes with six wickets.

What a Test match we've had in Bengaluru: https://t.co/iGxoJAaz64 #INDvAUS pic.twitter.com/2rMQLdvZ2A

— cricket.com.au (@CricketAus) March 7, 2017
High fives all around. India win the 2nd @Paytm Test by 75 runs. Level the 4-match Test series 1-1 #INDvAUS pic.twitter.com/XDEmS7L8fN

— BCCI (@BCCI) March 7, 2017
15:04 IST: OUT!!! It's all over and India win by 75 runs. Ashwin takes 6/41. Australia all out on 112
15:03 IST: R Ashwin takes his 5th wicket. What a superb comeback by the Indian team.
15:02 IST: OUT!!! Up in the air and caught by Wriddhiman Saha. This time it's Peter Handscomb
2nd Test. 34.2: WICKET! S O'Keefe (2) is out, b Ravindra Jadeja, 110/8 https://t.co/Qj8RbwMTOS #IndvAus @Paytm

— BCCI (@BCCI) March 7, 2017
14:57 IST: OUT!!! Jadeja joins the party this time. Steve O'Keefe goes 2. India on the verge of series levelling now
14:53 IST: Australia are 110/7 after 33 overs, need 78 more runs to win. Peter Handscomb 24*, Steve O'Keefe 2*
14:50 IST: Doosra by R Ashwin and Handscomb had no clue about that delivery
Apart from all else, this team under @imVkohli has given Test cricket the kiss of life in India

— Cricketwallah (@cricketwallah) March 7, 2017
2nd Test. 29.4: WICKET! M Starc (1) is out, b Ravichandran Ashwin, 103/7 https://t.co/Qj8RbwMTOS #IndvAus @Paytm

— BCCI (@BCCI) March 7, 2017
14:38 IST: OUT!! What a delivery by R Ashwin and another one bites the dust. Getting difficult for Australia and what a comeback by India. Mitchell Starc departs for 1
14:35 IST: Australia need 87 more runs to win and India need 4 wickets
14:30 IST: Welcome back after the tea break
At Tea on Day 4, Australia 101/6 need 87 runs - India need 4 wickets to win the 2nd @Paytm Test #INDvAUS pic.twitter.com/JsxMx9nkQo

— BCCI (@BCCI) March 7, 2017
That's tea on day four with India on the charge: https://t.co/iGxoJAaz64 #INDvAUS pic.twitter.com/uWxkh8JH9U

— cricket.com.au (@CricketAus) March 7, 2017
14:11 IST: It's TEA!! Australia are 101/6, need 87 more runs to win. Peter Handscomb 19*
14:10 IST: OUT!!! Edge and what a brilliant catch by Wriddhiman Saha, diving full-length to his front. Australia lose their sixth wicket and Wade goes for a duck
14:07 IST: Matthew Wade comes to the crease now. Big responsibility on his shoulders 
14:05 IST: WICKET!!! Short leg coming into play and R Ashwin strikes for India. Mitchell Marsh goes for 13 
14:02 IST: FOUR!! 13 runs came off Ishant Sharma's over. Australia need only 90 runs to win now.
13:59 IST: FOUR!! Lovely shot again by Mitchell Marsh and the target now less than 100 runs 
13:52 IST: FOUR!! This time it's Mitchell Marsh and he drives it through covers to score his first boundary
13:50 IST: FOUR!! Short and wide from Umesh Yadav and Handscomb pounces on it
13:48 IST: A bit high and not-out says the umpire
13:46 IST: Shout of an LBW and India are opting for the review. Ravindra Jadeja is sure about it
13:45 IST: Virat Kohli is pumped up. Shouts of India India from the crowd. This is excellent bowling from Umesh Yadav
13:40 IST: OUT!!! Rapped on the pads and Steve Smith got caught plumb in front. Australia in trouble now as they lose their 4th wicket
13:38 IST: Shouts of Indiaaa Indiaaa from the crowd. India still need 7 wickets to win 
13:30 IST: Oh dear!! That's a nasty delivery by Umesh Yadav. Peter Handscomb looks uncomfortable as he is not wearing a chest guard
13:27 IST: Australia are 70/3 and they need 118 more runs to win. Steve Smith 28*, Peter Handscomb 1*
13:21 IST: Ooh!! That ball kept low and Steve Smith managed to bring his bat on time before it hit his pads. Umesh Yadav is bowling a superb spell
13:20 IST: Peter Handscomb is the new batsman in
Oh dear... Australia opted not to review the Shaun Marsh dismissal #INDvAUS pic.twitter.com/tnuYtmC7vg

— cricket.com.au (@CricketAus) March 7, 2017
13:15 IST: OUT!!! Rapped on the pads of Shaun Marsh and given out by the umpire. They are not going for any review. Australia lose their third wicket
If the Lord asks Umesh Yadav for 3 wishes he will say "My Lord, one will do. Can the edges I produce find safe hands?"

— Harsha Bhogle (@bhogleharsha) March 7, 2017
13:05 IST: Australia have already accumulated 59 runs in 12 overs. They need 129 more runs now to win this Test
13:02 IST: FOUR!!! Fine shot and good use of the feet by the new batsman Shaun Marsh
12:59 IST: Edge and dropped by Virat Kohli at second slips. A big let-off for Steve Smith off Umesh Yadav 
That's the 9th time Ashwin has got Warner out.

— Michael Clarke (@MClarke23) March 7, 2017
12:52 IST: OUT!!! No bat involved and clearly hitting the stumps. Third umpire stands with the decision. Big wicket for India as Australia lose their vice captain David Warner
12:51 IST: Rapped on the pads and given out by the on-field umpire. They are going for the review. 
12:44 IST: SIX!! Warner steps out and he tonks it over deep mid-wicket. Brave shot against the spin by the left-hander
12:40 IST: Australia are 29/1 after 6 overs, need 159 more runs to win. David Warner 9*, Steve Smith 6*
12:36 IST: FOUR!! Outside the line and good stride forward by Steve Smith and hits it with the turn for a boundary
12:30 IST: OUT!!! Edged and taken by Wriddhiman Saha. Very good bowling by Ishant Sharma and the extra bounce confused Matt Renshaw. India get their first wicket
12:26 IST: A bit of drama!! Spider cam has come down and stalled it seems 
12:23 IST: Big turn and it beats everyone. Four byes again. 22 runs on the board already
12:20 IST: Thuds into David Warner's pads and India are appealing. Not out, says the umpire and Virat Kohli is not going for the review. Looked very close  
Here we go... 188 for the Aussies to win this 2nd Test match. #testcricketatitsbest

— Michael Clarke (@MClarke23) March 7, 2017
12:15 IST: Well bowled 'Ash' says Wriddhiman Saha from behind as he pitches the ball up 
12:12 IST: R Ashwin into the attack now. Virat Kohli goes for the spin straightaway
12:10 IST: FOUR!!! Gone through for 4 runs. Renshaw opening the face of the bat and went through the second slip
12:08 IST: Wavered!! Two wide deliveries from Ishant. What's wrong with him?
12:07 IST: If Australia win this match, this will be the fifth-highest successful chase against India in India. This Test is not over by a long way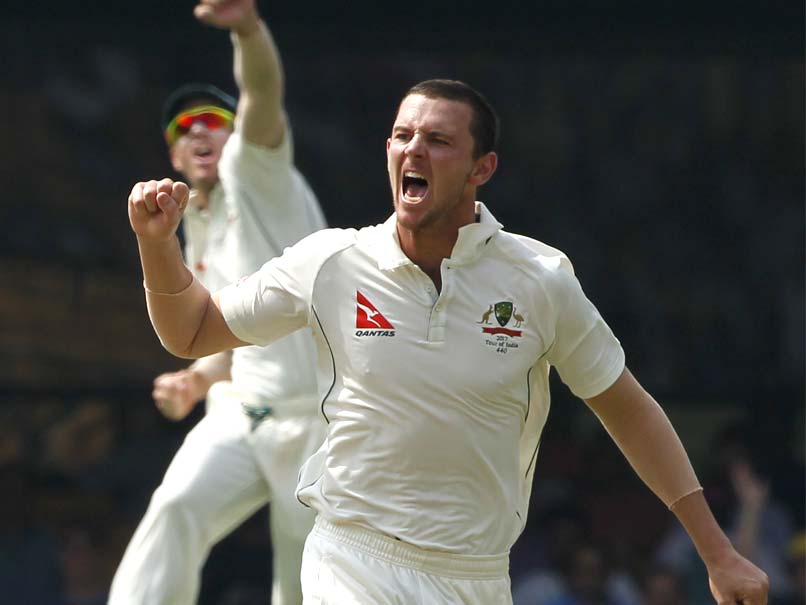 12:05 IST: So, Australia need to score 188 runs to win this Test match. David Warner and Matt Renshaw are at the crease and Ishant Sharma to start the proceedings for India
11:44 IST:  Highest 4th inngs totals at Chinnaswamy:

                262 Ind v NZ, 2012 (W)
                239 Ind v Aus, 2004 (L)
                214 Ind v Pak, 2005 (L)
                207 Ind v Aus, 2010 (W)
                204 Ind v Pak, 1987 (L)
188 not easy but India need early inroads to believe. Patience the key. Australia under pressure too because the result is so big for them

— Harsha Bhogle (@bhogleharsha) March 7, 2017
Innings Break! India all out for 274, lead Australia (276) by 187 runs #INDvAUS pic.twitter.com/ivJThsIjnp

— BCCI (@BCCI) March 7, 2017
Josh Hazlewood finishes with 6-67 off 24 overs and we've got a cracking run chase coming up this arvo: https://t.co/iGxoJAaz64 #INDvAUS pic.twitter.com/e6zCODMngZ

— cricket.com.au (@CricketAus) March 7, 2017
11:28 IST: OUT!!! That's it. Ishant Sharma going for the drive and trapped at short covers. India all out for 274 and set Australia a target of 188 runs to win. Josh Hazlewood finished with 6/67 and Wriddhiman Saha remained unbeaten on 20
11:25 IST: Edge and just short of David Warner. Saha survives
11:20 IST: So, Steve O'Keefe now comes back into the attack. It looks like Lyon has injured his finger 
11:19 IST: Review!! Hitting the stumps but pitched outside. Ishant Sharma survives
11:18 IST: Rapped on the pads but turned down by the umpire. Josh Hazlewood goes for the review again
Starcy on a trick after a of an inswinger which he was reasonably happy with #INDvsAUS pic.twitter.com/Hf14GIGBE7

— Damien Fleming (@bowlologist) March 7, 2017
11:12 IST: The highest chase at this ground by the visiting team has been 194 in 1998 by Australia 
GAME ON! Watch the Aussie quicks trigger a stump-shattering collapse: https://t.co/rDxZbVntIT #INDvAUS pic.twitter.com/ri19rWpRBD

— cricket.com.au (@CricketAus) March 7, 2017
Even if you are a tailender, in a situation where 5 or 10 runs could be critical, you have to put a price on your wicket.

— Harsha Bhogle (@bhogleharsha) March 7, 2017
11:01 IST: FOUR!! Ishant Sharma sweeps and beautifully executed for a boundary
11:00 IST: FOUR!! Saha goes for a big one and goes for a boundary. These are valuable runs for India. Lead now 175
10:53 IST: India are nine down now after a superb start in the morning. Rahane's wicket was the turning point and India crumbled in heap after his dismissal.
10:42 IST: OUT!!! Umesh Yadav goes for the big one and he is caught at mid-off. Absolutely silly by Yadav.
10:40 IST: The game has turned in matter of few minutes. Wriddhiman Saha and Umesh Yadav are at the crease now. The lead is 165
BOWLED HIM! Unreal! Hazlewood runs through Ashwin for his fifth wicket! India now 8-246, a lead of 159: https://t.co/iGxoJAaz64 #INDvAUS

— cricket.com.au (@CricketAus) March 7, 2017
10:34 IST: Four wickets in the last nine balls for 11 runs. India are falling like nine pins
BOWLED HIM! Starc sends stumps all over the place. It's carnage. The big fella is pumped. Nair is gone first ball. On a hat-trick #INDvAUS

— cricket.com.au (@CricketAus) March 7, 2017
10:26 IST: OUT!!! Pujara is gone and India in big big trouble. He departs for 92. Josh Hazlewood strikes for Australia
10:21 IST: OUT!! First ball duck for Karun Nair. What a blow for India
Congrats @cheteshwar1 on a wonderful innings.

— Michael Clarke (@MClarke23) March 7, 2017
10:20 IST: OUT!!! Impact on line and hitting the middle stump. Third umpire overturns his decision and Ajinkya Rahane departs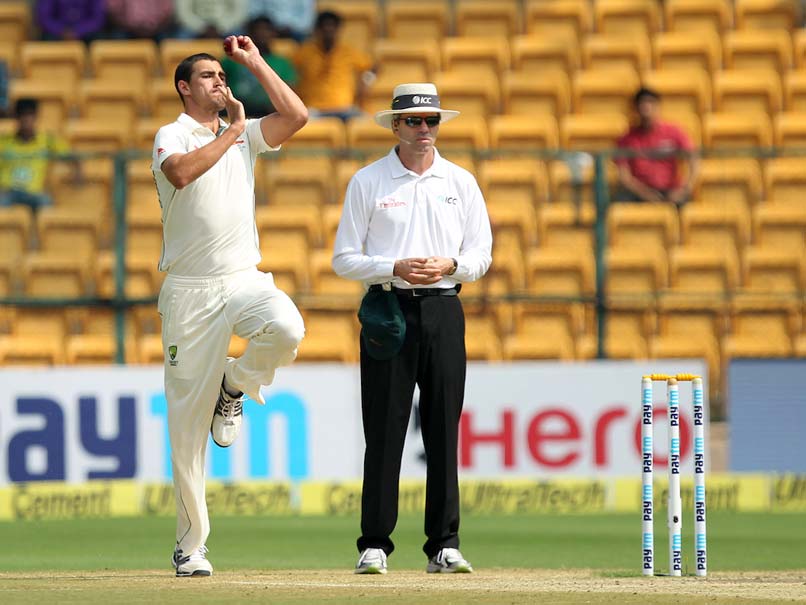 10:18 IST: Rapped on the pads but turned down by the umpire. Australia are going for a review
10:16 IST: India lost the Galle Test in 2015 against Sri Lanka and we all know what happened after that. 19-match unbeaten streak which was broken in the last Test. Well, Virat Kohli and co.started poorly again in the first innings but these two deserve a standing ovation for the way they have carried on with their innings.
10:07 IST: Cheteshwar Pujara looks very solid in his defence. He has been very patient and has played a gem of an innings. Can India repeat 2001 Kolkata Test? Can Ajinkya Rahane and Cheteshwar Pujara replicate VVS Laxman and Rahul Dravid?
10:02 IST: That delivery clocked 151 KPH!!! Nice and Sharp one by Mitchell Starc
09:57 IST: Nicely flicked away by Pujara for a quick double. India lead by 145 runs now. Pujara nearing his 100 
09:54 IST: FOUR!!! Superb shot by Rahane and that's his 11th fifty. What a superb innings this has been. Take a bow Rahane!!
Super tough pitch today, going to be hard for and #INDvsAUS pic.twitter.com/pPEVqRrsth

— Michael Clarke (@MClarke23) March 7, 2017
09:43 IST: So, a successful review by India!!! The ball clearly missing the leg-stump. First successful review in the last six calls 
09:42 IST: Appeal for an LBW by Nathan Lyon and given by Richard Illingworth. Pujara immediately goes for the review
09:42 IST: So, with that single Cheteshwar Pujara and Ajinkya Rahane complete 100-run partnership for the 5th wicket
09:40 IST: The ball clearly bouncing before the fielder grabbed it so it's a not-out
09:38 IST: Appeal for bat-pad and a bit of confusion here. Umpire Nigel Llong is unsure and he is going for the third umpire
09:36 IST: India lead by 129 runs and they will be looking for atleast 200. Remember, no overseas team has chased more than 200 at this ground 
09:35 IST: Nathon Lyon from the other end now 
09:30 IST: The players are at the crease. Cheteshwar Pujara to face the first ball and Steve O'Keege to start the proceedings for India 
Fifteen minutes until the first ball of a massive day four at M Chinnaswamy Stadium #INDvAUS pic.twitter.com/SjOiShho6V

— cricket.com.au (@CricketAus) March 7, 2017
09:20 IST: It rained last night. It is clear now. There is a small thunderstorm predicted for later in the day
Some early morning broom for the pitch before the start of Day 4 #INDvAUS @Paytm Test cricket pic.twitter.com/mZs06gqLut

— BCCI (@BCCI) March 7, 2017
09:15 IST: Australia will look for early wickets in this session. India will look to bat long enough to make sure they make Australia are batting in this first session tomorrow with the match still in balance
09:05 IST: Pitch report:  The pitch has not changed much and it hasn't necessarily flattened out, says Mark Butcher and Matthew Hayden.But, Ravi Shastri says the sting in the pitch is in the first session. There is one crack that is big enough for big Ravi's little finger to go in, but that is too short and too wide.
09:00 IST: Hello and welcome to the live blog
Pujara was unbeaten on 79 at stumps on Monday while Rahane was 40 not out. Earlier, KL Rahul scored a gutsy 51 to give India a solid start.
Australia had begun the day from their overnight total of 237/6. They looked on course to set up a big lead, but lost their remaining four wickets for just seven runs to fold their innings at 276. Jadeja finished with six wickets from the innings, the best bowling figures by an Indian in the series.
Josh Hazlewood dismissed India opener Abhinav Mukund just after lunch, following a good start by the hosts. After Rahul's dismissal from a Steve O'Keefe delivery, Virat Kohli was adjudged lbw under controversial circumstances, with Hazlewood claiming his wicket. Jadeja was dismissed soon after by Hazlewood.
However, just when another middle-order collapse loomed ahead of India, Rahane and Pujara showed immense maturity to steady the innings. The duo kept the score ticking and didn't succumb to pressure on a difficult batting track. Pujara completed his half-century after tea, with India dominating the final session of the day.
On Day 4, the hosts will look to extend their lead and set up a big score for Australia to chase. It will be interesting to see how much turn the Bengaluru track offers on the penultimate day of the match.