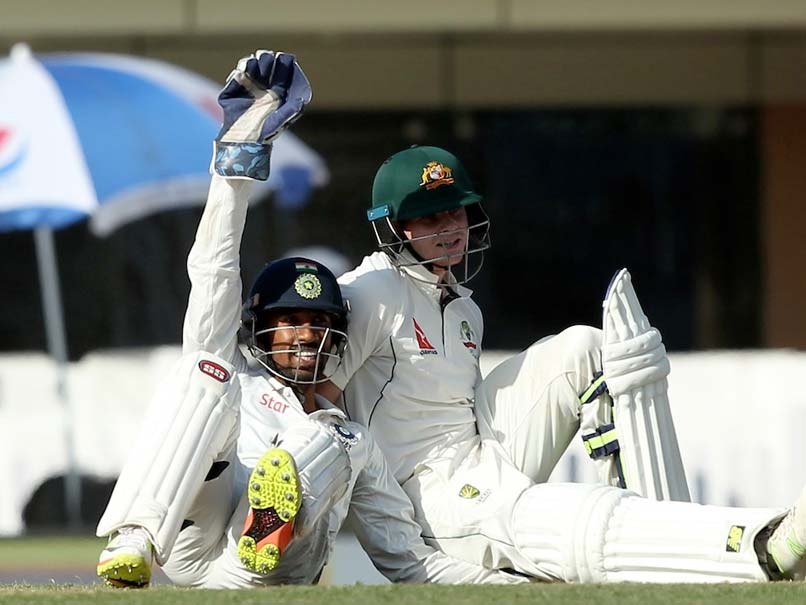 Saha and Smith were literally involved in wrestling during the match
© BCCI
Australian skipper Steve Smith did not see the funny side of it when Indian wicket keeper Wriddhiman Saha practically wrestled the batsman to the ground in an effort to grab the ball that had lodged between Smith's legs. Saha was dead serious about appealing for a catch too, once he retrieved the ball after Smith was flat on the ground, but English umpire Ian Gould was so tickled that he almost choked on his chewing gum. Smith was stuck on 97 for a very long time and with Ravindra Jadeja bowling a leg-stump and outside line, he was finding it difficult to get the ball away.
FIND, CATCH AND APPEAL - @Wriddhipops @stevesmith49 #INDvAUS pic.twitter.com/nTIWPlgTih

— BCCI (@BCCI) March 16, 2017
One such delivery missed the bat and lodged between Smith's pads. Saha jumped in from behind the stumps and tried to grab the ball.
The sum total was that Smith lost his footing and was flat on the ground while Saha, also laid out lengthwise on the ground, finally grabbed the red cherry and appealed for a catch.
Gould was nearly in tears of mirth and walked away shaking his head.
But neither Saha, nor Smith were amused at all, while the rest of the Indian team wore sheepish grins.