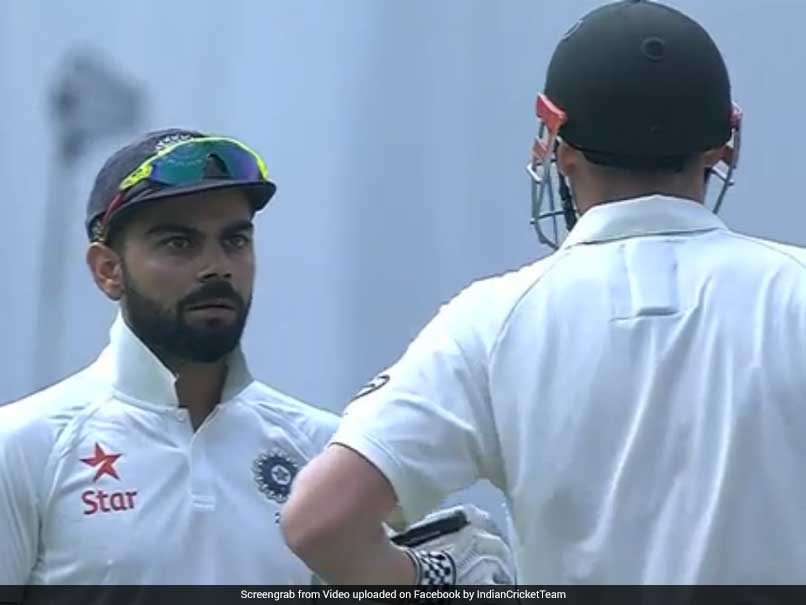 Virat Kohli confronted Matt Renshaw during the 22nd over of the Australian innings.
© BCCI
Fighting half-centuries from Shaun Marsh and Matt Renshaw helped Australia secure a crucial first-innings lead over world number one India in the second Test in Bengaluru on Sunday. Renshaw, who started the day on 15, put on 52 runs with Marsh to keep the Indian attack temporarily at bay as runs came at a miserly rate of roughly two an over. The left-handed opener, who had scored 68 in the first innings in Pune, looked ready to accelerate after hitting Jadeja for the first six of the match, but the bowler got his revenge two balls later.
In the 22nd over of the match, Renshaw and Indian skipper Virat Kohli were involved in a heated incident as the Aussie appeared to have blocked Ravichandran Ashwin after Steve Smith stroked his delivery straight down the ground. The off-spinner was prevented him picking up the ball due to Renshaw's presence. Renshaw stood his ground despite Ashwin's attempt to get to the ball. The batting duo then quickly completed a single.
Kohli immediately stepped, walked towards Renshaw and gave him a cold stare. The 28-year-old, clearly unhappy over Renshaw's conduct, also exchanged a few words with the Australian, who ignored Kohli's advances. Ashwin and Smith too argued over the incident as the umpire tried to calm the situation down.
The visitors were 237 for six at stumps on the second day, leading India by 48 runs at the M Chinnaswamy Stadium. Matthew Wade on 25 and Mitchell Starc on 14 were at the crease.
(With inputs from AFP)