Story Progress
Back to home
India vs Australia: Virat Kohli is Frustrated, Says Mitchell Johnson
Virat Kohli and Mitchell Johnson had several face-offs when India toured Australia for four Tests from December 2014 to January 2015.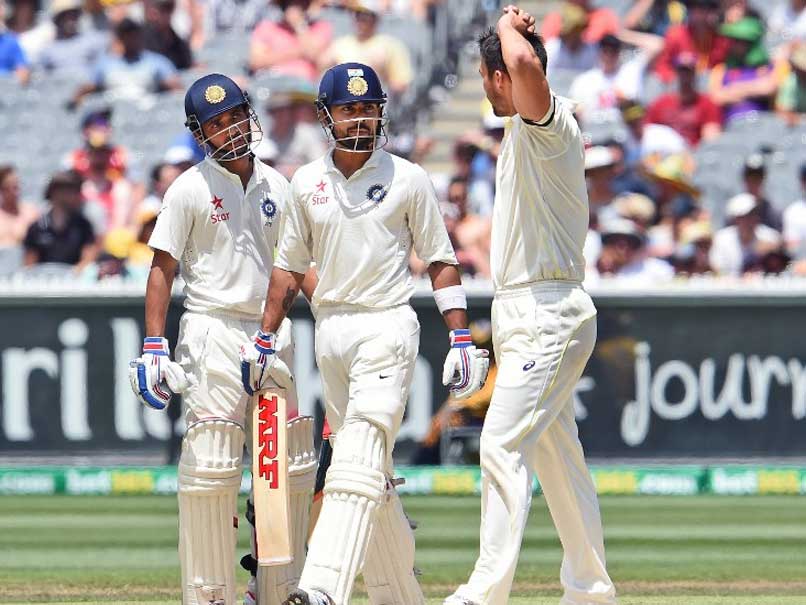 Virat Kohli and Mitchell Johnson had quite a few run-ins during the latter's playing days.
© AFP
Highlights
Virat Kohli has had a poor run with his bat in Pune and Bengaluru

Mitchell Johnson played 73 Tests matches for Australia

He also played 153 One-Day Internationals
Virat Kohli is 'frustrated', feels former Australia pace great Mitchell Johnson. The 35-year-old has taken a dig at the India captain after the hosts won the second Test in Bengaluru which levelled the four-match series 1-1. The match also brought several controversies to the fore with Kohli and his Australian counterpart Steve Smith in the midst of it ahead of the third Test scheduled to begin on March 16 in Ranchi. Johnson said that Kohli was up to "his old tricks as usual in Bengaluru".
"He's obviously quite passionate, but I just think he's frustrated because he hasn't scored a run and he's letting his emotions get the better of him. You could sense the vibe change halfway through the match and it coincided with India getting ahead in the game," Johnson has written in a blog for foxsports.com.au.
"Obviously whenever there's a wicket the cameras go straight to Kohli to see his reaction - they know they're going to get those kind of reactions from him. And they did! He was giving a send-off to just about every player, which you've got to be very careful with. It can happen sometimes, when you're pumped up and you get a bit too fired up."
Kohli has had scores of 0, 13, 12 and 15 in the four innings he has had so far in the ongoing series.
Johnson wrote that he was reminded of his duel with Kohli during India's tour of Australia from December 2014 to January 2015. The visitors fought well during the then four-Test series but went on to lose 0-2. However, Kohli was in top form, notching 692 runs at an average of 86.5 which also included four centuries and one half-century.
"I felt completely at home watching the action as Australia and India went toe-to-toe in the second Test because of one man: Virat Kohli. Virat was in the thick of everything. He was pumping up the crowd, giving every Australian player a send-off and generally being fired up. It reminded me very much of my playing days because, well, I had a few run-ins with Virat," wrote Johnson, who retired from international cricket in November 2015.
"To be honest, I think it was every time we played. He hasn't had any time for me since the Boxing Day Test in 2014, when he finished the day saying he had no respect for me. The moment that changed everything was when he blocked a ball back to me and I threw it back at the stumps, seeing Virat was out of his crease and thinking I was a chance of a run out.
"The only problem was that Virat was in the way. He got hit in the back and I apologised straight away because it was a complete accident, but that message didn't seem to get through. There were plenty of verbals after that and he hasn't really stopped since."
Kohli had scored 169 at the Melbourne Cricket Ground then and was eventually out when wicketkeeper Brad Haddin took a catch off Johnson's bowling.
"He scored a very impressive century that day, and I took his wicket with the final ball of the day. After play, he said this of me: 'I respect quite a few of them. But someone who does not respect me, I've got no reason to respect him.' Luckily, that doesn't bother me because opinions like that don't mean anything - it's fair to say we've had our battles," says Johnson, who played 73 Test matches and 153 One-Day Internationals (ODI) for Australia.
Promoted
Johnson also praised Kohli for the player he is.
"But he's a great player and the sort of guy you want to have on your team, because they're the ones that are going to back you up. You want to have passionate players in the game and see that out on the field. It makes the game interesting," concluded Johnson.
Topics mentioned in this article