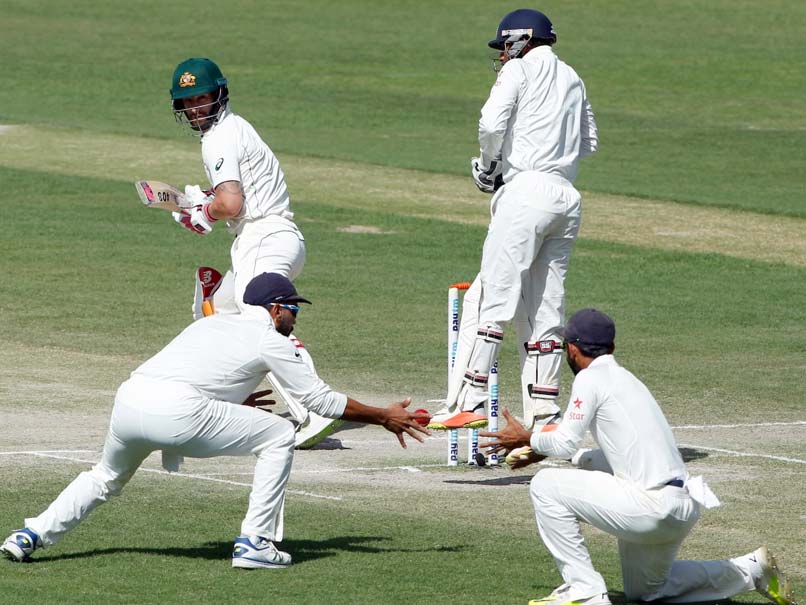 Murali Vijay took the catch at second slip off R Ashwin's bowling.
© BCCI
The Indian team was left in dismay and confusion as the TV umpire adjudged Australian last man Josh Hazlewood not out after he had edged Ravichandran Ashwin to Murali Vijay at second slip. The Indians celebrated even as on-field umpire Ian Gould gave the batsman out and Vijay rushed off the ground to get his batting gear on for India's second innings.
However, TV umpire Chris Gaffaney was not convinced that the ball had carried to Vijay and reversed the decision.
The entire Indian team, including the normally cool Ajinkya Rahane, was quite amazed and upset with the decision. Even Virat Kohli was seen with a disbelieving expression.
Vijay returned to the ground with a rather unhappy expression on his face and indicated that he had taken a fair catch.
Umpire Gould intervened to cool things down and the match resumed.
Thankfully for India, the change in decision did not really make much of a difference as Hazlewood was trapped LBW two balls later with no change to the score.
The Australian fast bowler went up to Gaffaney too, but this time there was not escape as Australia were dismissed for 137, leaving India with a target of 106 runs to win.