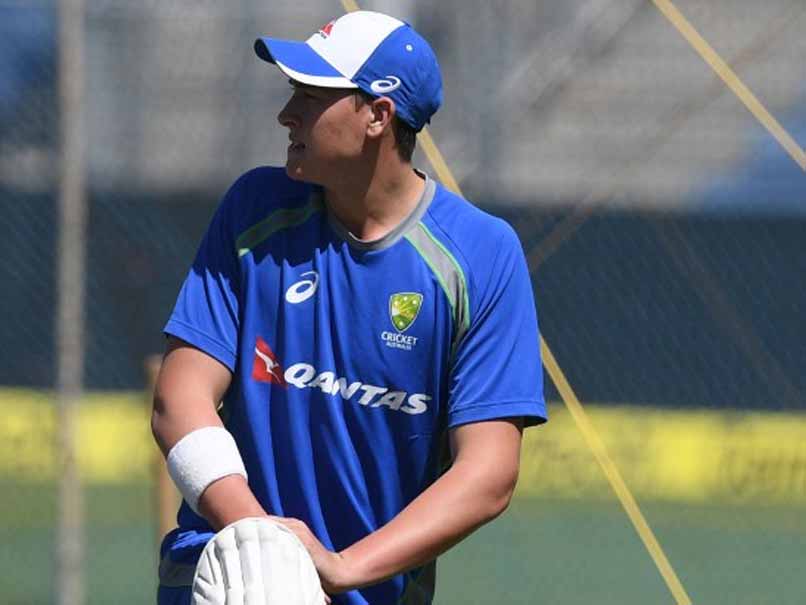 Matt Renshaw made 68 and 31 in the first Test match against India
© AFP
Matthew Renshaw made a name for himself in the first Test against India in Pune with a gritty 68 on a pitch where most batsmen found it difficult to play their natural game. He impressed one and all with his defensive technique, especially against the spinners, keeping both Ravichandran Ashwin and Ravindra Jadeja at bay for most part of the first and third session on the first day of the first Test match. His teammate and opening partner David Warner praised the youngster and said that he can certainly play in these conditions.
"First Test match in India, India probably didn't expect that. We have never seen him (Renshaw) play in these conditions as well, so we know how he can play and that's the good thing about this game. When you have fresh people in the team, you don't know what they are capable of as well and it adds another string to your bow," Warner told reporters on Wednesday.
Renshaw also made his presence felt in the second innings and made 31 off 50 balls when the Aussies were looking for quick runs. He used his feet to good effect and every now and then came down the track to negotiate the spin twins of India.
"He (Renshaw) played fantastic. It could have been a different story if he stayed out there or he didn't come off (in first innings) but the way he played and the way he adapted from coming off, being sick and going back out there was credit to him."
Warner said the week-long training in Dubai before arriving in India was the best thing that could have happened to the Australian team.
"Having that week in Dubai and having freshened up as well after our summer was fantastic for me and my preparation. And I know the guys that went to Dubai early, they were all talking about how good it was to prepare over there and get their mind set and get the miles in the legs to come here," he said.
The dashing opener feels that staying in Dubai helped them overcome the fatigue factor.
"We are truly grateful for that opportunity. Sometimes when you come here to these countries, in these conditions you probably don't have as much preparation because as a player sometimes when you are in this heat you fatigue quite fast.
"And the next day, when you are not used to it, you can't back up. So being in Dubai with the temperature at 24, 25 degrees the guys could back up day-in, day-out. We were fortunate for that and the boys are prepared and have prepared well," he said.
(With PTI Inputs)