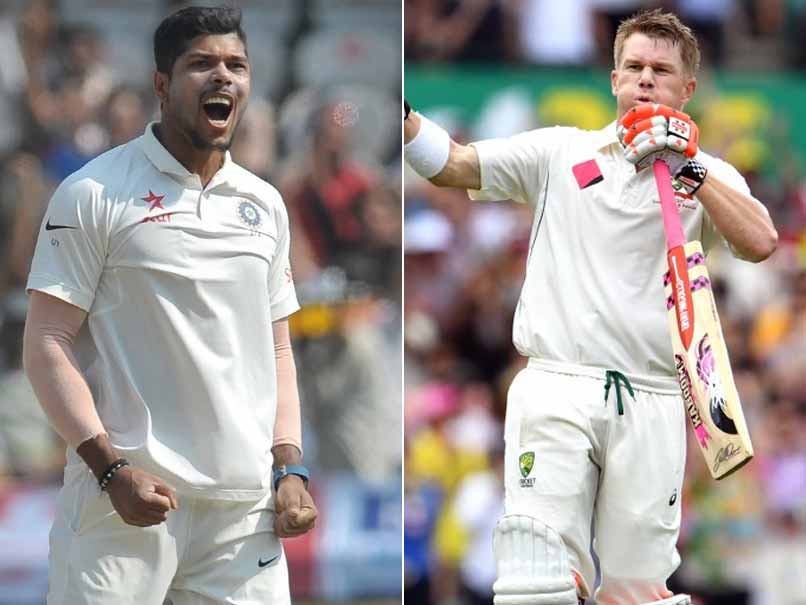 Umesh Yadav and David Warner will have the onus of giving their sides good starts.
© AFP
The Australia squad, here for the four-test series with India, is being termed as one of the weakest to visit. That makes David Warner's role on top of the innings that much more important. Given that everyone thinks India will win comfortably, he will have to stand and deliver. Equally, since the hosts are such favourites, Umesh Yadav, who will open for India with the red cherry, will need to land a few wickets as well. The difference is that Warner can score a 1000 runs and Australia still would not win, since only a side that can take 20 wickets will emerge victorious.
This is where the onus will be on Yadav, to run through Warner and the rest of the top-order and then leave it to the spinners.
However, that's easier said than done against Warner, who will swing at everything that is going to be in his half of the pitch.
That, combined with Yadav's tendency to go for runs on both sides of the track, will make his job that much more testing.
More so since Mohammed Shami is out for the count. Ishant Sharma does show patches of brilliance, but Yadav surely will be the pace lynchpin for India.
As the Indian batting and the spin of Ravichandran Ashwin and Ravindra Jadeja make the fast bowlers practically irrelevant, it is difficult for the seamers to keep focus and form.
That makes this as much of a challenge for Yadav and his peers, a challenge which we hope they can conquer.