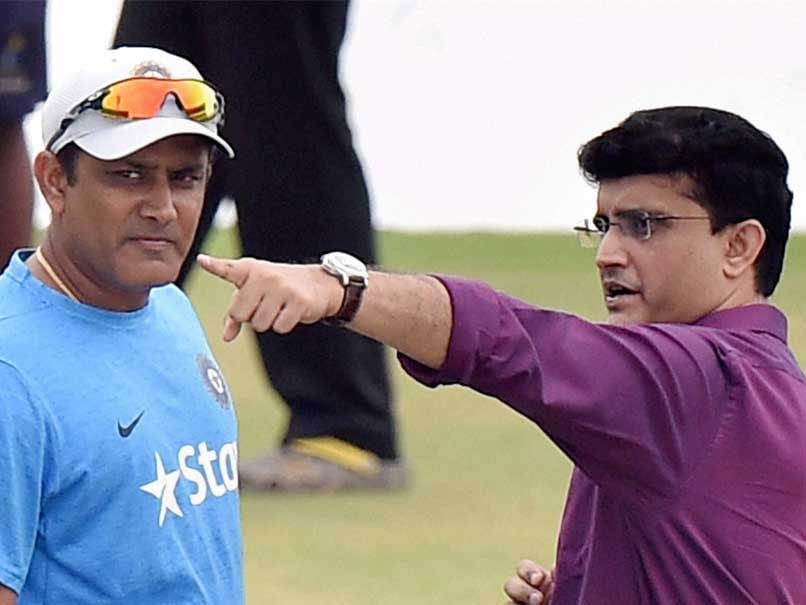 Sourav Ganguly refused to comment on the future of Anil Kumble as India coach.
© AFP
Cricket Advisory Committee (CAC) member Sourav Ganguly has denied meeting any member of the Indian cricket team, including captain Virat Kohli, for feedback on coach Anil Kumble. On Friday, the Indian media was abuzz with reports that the former India captain had met Kohli's boys at the team hotel. "This morning, I've been at the ground since 8 o'clock. I'm supposed to have spoken to players, spoken to Virat. I've not done it one bit, and neither am I keen to," Dada said.
Considering the team is in the middle of an important tournament, Ganguly said it was best if the focus was kept on cricket.
"Just deal with it. You're a name, you're captain of India, you're coach of India, you'll have to deal with it. Just keep quiet and play the game," he said.
Ganguly also refused to comment on Kumble's future as coach of the Indian cricket team.
"Whether there is uncertainty (over the coach's future) or not I don't know. We'll have to wait and see. All of us can talk. But there are two exceptional cricketers: Virat Kohli and Anil Kumble. They're responsible cricketers; they know what they're doing," Ganguly added.
The 44-year-old said the Kohli-Kumble 'rift' had been blown out of proportion.
"Sometimes small things just get blown out of proportion. If two of you are sitting in the media box discussing players, each has a different opinion. Doesn't mean you don't get along."
BCCI's acting secretary Amitabh Choudhary had told NDTV that there was no rift between the Indian skipper and Kumble. He, along with MV Sridhar, who is the board's General Manager,, Cricket, had met members of the Indian squad on Wednesday.