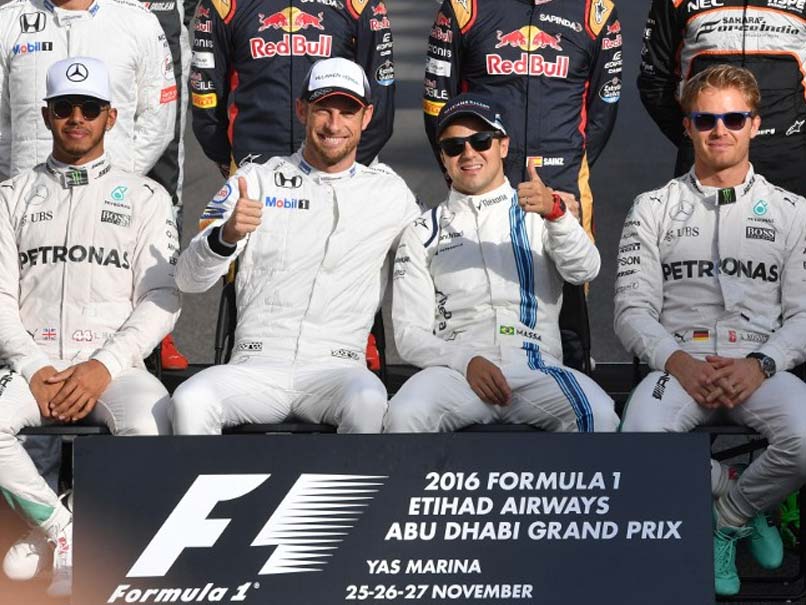 Jenson Button and Felipe Massa both retired from Formula 1 following the conclusion of 2016.
© AFP
Abu Dhabi:
Jenson Button and Felipe Massa made emotional exits from Formula One on Sunday when they took part in their final races of long and successful careers.
Briton Button, the 2009 champion, and Massa, who missed out on the 2008 title in dramatic circumstances after winning his home Brazilian Grand Prix, were both given warm farewells by their teams, friends and paddock regulars.
Button was forced into retirement after only 12 laps of the Abu Dhabi Grand Prix won by former McLaren team-mate and compatriot Lewis Hamilton, for Mercedes.
The last word of this weekend goes to Jenson. All eyes on the future. Thanks for your awesome support today, guys. #BelieveInMcLarenHonda pic.twitter.com/JwVipCKwz9

— McLaren (@McLarenF1) November 27, 2016
Hamilton's current Mercedes team-mate Nico Rosberg finished second to claim his first drivers' world title.
Massa finished the race in ninth position to score points in his final race for Williams, the team with which Button started his career.
"I am so proud and it is very emotional," said Massa. "I have enjoyed it all so much and will have wonderful memories of my time."
Massa drove 250 races for Sauber, Ferrari and Williams.
Button, who came into Formula One aged 20 in 2000, started 305 races and, like Massa, has been much admired for his easy-going personality.
"Our reliability is something we pride ourselves on -- we don't have failures. It's so unusual. It's unlucky, but to be fair I don't really care," he said on Sunday.
"But it doesn't change any feelings of my career and ending my career. I'm very content with what I've achieved. Tonight's going to be a hell of a lot of fun."